Student research moves towards a more just and sustainable future
Catamount Fellowship Community Showcase happens April 9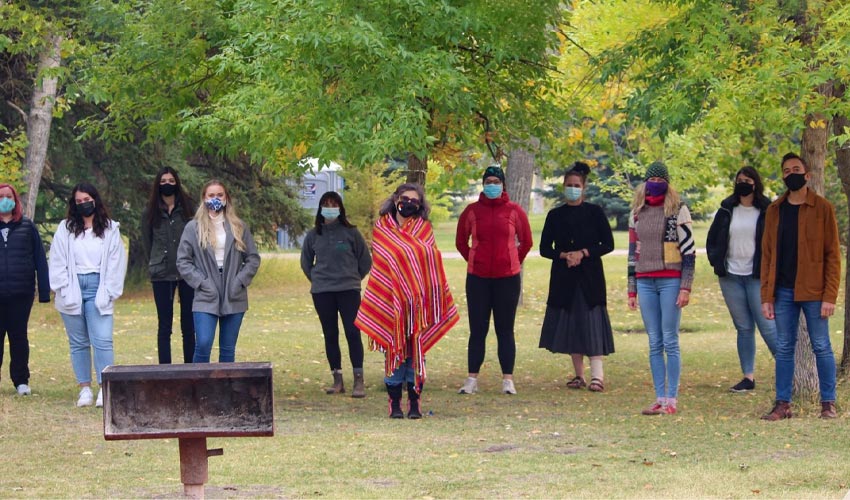 Student participation comes from all faculties and the collaboration has resulted in strengthened community relationships, meaningful mentorship roles for faculty and practical experience for students.
---
Catamount Fellowship students have been spending the 2020/21 school year gaining hands-on experience trying to understand the root causes of community-identified ecological, social, economic and cultural issues, including the long-term impact the pandemic will have on Calgary. This valued research and community work will be on display during this year's Research and Scholarship Days.
Reserve your ticket and a link will be provided to registered attendees in advance of the April 9 Catamount Fellowship Community Showcase, an opportunity to hear directly from student fellows about their learning reflections as they showcase their creative works, discovery snapshots and scholarly outputs.
'Catamount' is actually a synonym for a cougar, which is the moniker for Mount Royal's athletics teams. Not only does 'cat' derive from 'catalyst,' but 'mount' references the University evokes the challenge of climbing a summit. The Institute for Community Prosperity, which runs the fellowship program, chose 'catamount' because it is an example of a keystone species and their range extends throughout virtually all of southern Alberta. After watching so many lives flourish during the first cohort of this program, it only made sense to reimagine a name that suggests the substantial journey the fellowship took them on.
The Catamount Fellowship is a cohort-based learning experience for Mount Royal students committed to building a more just and sustainable future for all. The program runs from late September through the end of April and meets weekly. The fellowship is one part community-partnered research and one part transformational learning. Diving into social innovation frameworks, involving experiential learning and partaking in deep listening, "Student fellows build meaningful connections with a broader community of changemakers, including community leaders, public officials, activists, social entrepreneurs and innovators, while exploring their own voice, agency and identity as an emerging changemaker," says Barb Davies, program lead for the Fellowship.
For the past two years, Davies has overseen the Catamount Fellowship cohort learning experience. She works closely with from eight to 10 senior-level undergraduate students, who are matched with a community partner and a faculty mentor to guide their research. Partners identify a systemic issue that's affecting communities and work alongside the student fellow as an informant and connector to stakeholders also working to address the issue. This year's community partners include Silvera for Seniors, Action Dignity, the Brenda Strafford Foundation, Trellis, Canada Bridges, Leftovers Foundation, the Alberta Ecotrust Foundation and Vibrant Communities Calgary. Four of the community partners are actively involved in COVID-relief efforts. As such, the student fellows matched with these community partners have had to deal with rapidly changing timelines and schedules while keeping up to date with deliverables for their program.
Join students, faculty, and the broader community of learners for @mountroyal4u Research and Scholarship Days from April 6-13. @MRUResearch @MRULibrary For a list of events: https://t.co/gb8M7gsH6t pic.twitter.com/AZIJnAaGw4

— Institute for Community Prosperity (@CPMRU) March 31, 2021
Student participation comes from all MRU faculties and the collaboration has resulted in strengthened community relationships, meaningful mentorship roles for faculty and practical experience for students.
Nursing student Laura Alongi partnered with Trellis and was provided with the opportunity to connect with many individuals ranging from peers, faculty mentors, community partners, parents, teachers and changemakers throughout her time with the program.
"The connections I made and lessons I learned about systemic thinking will enable me to engage with communities in the future to hopefully make lasting change," Alongi says. "Connecting and engaging with individuals in the community and within Trellis has demonstrated the resilience, knowledge and determination of individuals involved in addressing child-care deserts in Calgary.
"I have valued the authenticity and integrity of the individuals I had the privilege of meeting throughout the Catamount Fellowship."
Davies says the partnerships are bringing together community-serving organizations and connecting them with the talent pool at MRU. "Faculty provide mentorship to the student, supporting them with their research and bringing academic rigour to their inquiry. In addition, students have the opportunity to meet with librarians from the Riddell Library and Learning Centre."
With delivery completed in a virtual setting, the cohort gathered remotely every Friday and met with their community partners and faculty mentors as needed in an online setting.
"I have deeply valued the opportunity to work with students and faculty from other educational backgrounds," says ecotourism and outdoor leadership major Claire Mieszkalski, who partnered with the Alberta Ecotrust Foundation. "I've learned so much from the other fellows. Many of their questions and ideas have stuck with me over the duration of the Catamount Fellowship. I find I'm able to ask deeper questions now, often informed by different information than what I've engaged with through my degree alone."
Associate professor and chair of the Department of Child Studies and Social Work, Dr. Yasmin Dean, PhD, who acted as a faculty mentor, believes the Catamount Fellowship has been the perfect way to further MRU's reach.
"Serving as a Catamount faculty mentor has been an incredible learning journey for me. I have been inspired by these students whose knowledge, passion and creativity is boundless," Dean says. "There is no better way for a faculty member to be connected with community, students and emerging issues than to say 'yes' to the Institute for Community Prosperity's invitation to mentor a Catamount student fellow. What an opportunity for meaningful community engagement, scholarship and teaching."
Attend the Catamount Fellowship Community Showcase on April 9.
April 6, 2021 ― Jonathan Anderson
Media request contact information.
Have a story idea? Please fill out this form.