Second World War pilot Ken Lett donates $2.4 million to MRU aviation program
Love of flying and business leads to gift geared towards student success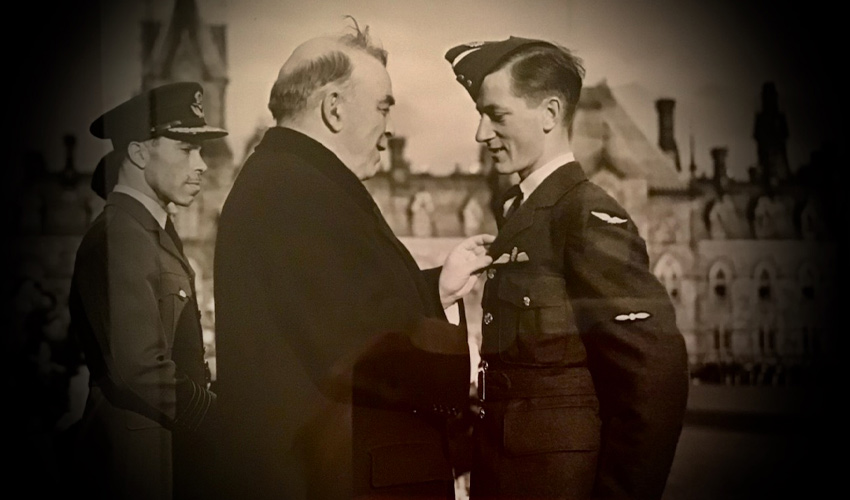 Ken Lett receiving his wings from Prime Minister Mackenzie King in 1942.
---
A Second World War veteran who flew Spitfires in combat, survived the harrowing invasion of Normandy, served in the Cold War and then found success in the aviation support industry, Ken Lett has lived a life dedicated to the skies. Now, at 97, he is giving back to a new generation of pilots with a $2.4 million donation to the Mount Royal University Aviation Diploma program.
"We are so grateful to Ken for this gift. It is testament to his generosity, but also to the strength of the program and its important role in the future economy of Alberta," says Dr. Elizabeth Evans, PhD, interim provost and vice-president academic at MRU.
Mount Royal's two-year Aviation Diploma is one of Canada's elite Aviation Accreditation Board International programs, integrating academic preparation with flight simulator training for a Commercial Pilot Licence with multi-engine and instrument ratings.The program marked its 50th anniversary in 2020.
"Aviation has been my life. I just love flying," Lett says. "My heart is full of joy when I think of helping young people have careers in aviation."
Lett's donation to MRU will be used for scholarships and bursaries with a focus on the participation of underrepresented groups, including Indigenous Peoples and women. It will also go towards aircraft, maintenance, technology, MRU's flight simulator and other infrastructure.
"As we emerge from the pandemic and the aviation sector takes flight, Mount Royal University aviation students will continue to be in high demand," says Deanna Wiebe, chair of the aviation department at MRU.
"The Mount Royal Aviation Diploma stands out as it offers students the opportunity to graduate with both the academic qualifications and the in-flight training needed for careers in the aviation industry. This gift will help us reach even higher and let more students achieve their dreams."
Lett's generosity and love of aviation history is well known. In 2015, The Military Museums in Calgary opened an exhibit marking the 40-year Cold War in which Canadian airmen patrolled the skies. Lett donated $1 million towards the exhibit, named for him and for his wife Roma, his beloved partner of 65 years who passed away in 2012.
A lifetime of service to his country and its people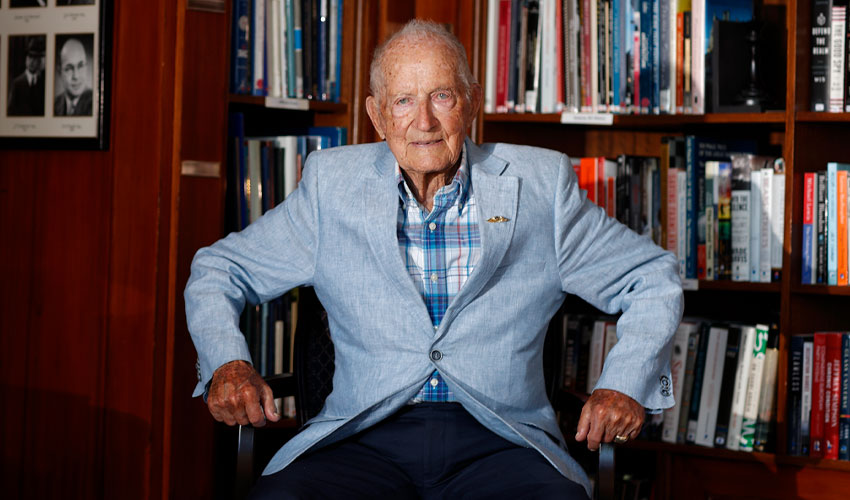 Lett's donation to MRU will be used for scholarships and bursaries with a focus on the participation of underrepresented groups, including Indigenous Peoples and women.
---
Born July 13, 1923, in the farming community of Carp, Ont., Lett spent his youth at school, playing hockey, attending community socials and visiting the Byward Market in Ottawa every Saturday with his mother to sell chickens and eggs.
When the Second World War broke out, at age 18, swept up in the sense of duty of the time and inspired like many young Canadian men by the exploits of First World War hero pilot Billy Bishop, Lett, alongside his brother, enlisted with the Royal Canadian Air Force (RCAF) and earned his wings with the British Commonwealth Air Training Plan. Growing up on the farm, he says, was good motivation for joining up and becoming a pilot.
"I was glad I didn't have to milk any more cows," Lett recalls. He says "an old bush pilot" teaching his class some difficult maneuvers was the turning point for him and launched him on his path.
"Once I got through that, I knew flying was for me and I never looked back."
Overseas, Lett flew a Spitfire on Channel patrols and, as the Allied front advanced through Normandy, Belgium, the Netherlands and into Germany, Lett and his fellow pilots in the 402 Squadron were in the thick of the action.
Of one sortie during the Normandy Invasion in June 1944, Lett told the Air Force Museum of Alberta:
"My aircraft escaped untouched, but as we regrouped over the channel I noticed we were missing the leader's number four and my two, three, and four. We never learned the fate of those missing until a half century later when I was attending a WW2 reunion. There I met my number two, who survived the crash landing and became a prisoner of war."
Lett says growing up amongst elm trees on the farm may have saved his life on D-Day.
"I didn't get scared when I had to fly my Spitfire across a field below the treetops (to avoid flak behind enemy lines)."
Lett was back in England by the time the war ended, serving as an instructor. He returned to Canada but stayed in the air force, where he flew the first CF-104 in the early '60s, eventually rising to the rank of Major General. In 1978, Lett came to Calgary and joined the aviation industry. He and partners focused on refuelling operations and related services through Executive Flight Centre Fuel Services, finding great success as Western Canada's oil industry boomed.
That business side of flight is important to Lett, who applauds MRU's desire to grow the current program towards a four-year degree with expanded curriculum around business and managerial training for broader career pathways for graduates.
"I'm glad MRU is expanding the aviation curriculum to include more business management training," Lett says.
"In my opinion, this will provide great value to the students in their careers so they can go beyond being pilots if they wish. The aviation sector's greatest deficiency is in people who can manage, at all levels. Every airline, every airport, every aviation services operation needs good business leaders who understand flying."
The Mount Royal difference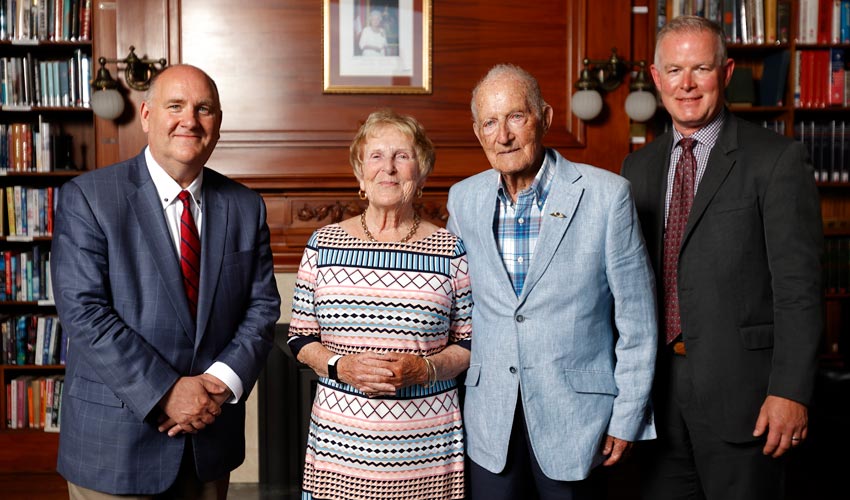 Terry Kellam, AVP Development; Pat Firth (Ken Lett's partner); Ken Lett and Paul Rossmann, Vice-President, University Advancement.
---
MRU's program teaches aviation and business theory while building connections between students and MRU's airline partners: Jazz, WestJet, Porter, AirSprint and Sunwing. These partnerships provide students with direct access to mentorship, experiential learning and interview possibilities.
Students graduate as highly trained pilots, with a minimum of 200 hours of flying time. While the pandemic was a major challenge for the industry, demand for pilots is expected to rise again as people are able to travel more freely. MRU grads are sought after in the airline industry and prior to the pandemic there was a 100 per cent employment rate for students who enter the second year of the program.
Before COVID-19, Alissa Stirling was employed as a flight attendant for Air Canada. She'll start her second year of the MRU Aviation Diploma in the fall and is grateful to Lett for the donation that is so focused on students.
"As my love for and interest in the aviation industry grew, I began to question my colleagues in the flight deck about the best route to become a pilot," Stirling recalls.
"The most frequent recommendation I heard was to attend an accredited aviation program such as MRU as they hold their pilots to a higher standard as well as incorporate an academic post-secondary component instead of focusing solely on licensing and ratings.
Stirling chose MRU because of its reputation, its solid relationship with Canadian employers and its alignment with the industry.
"MRU goes above and beyond in demonstrating aspects of the job, which are not typically shown in the basic training process. The program is structured to create the most competitive resumé possible upon graduation and I am so grateful to be part of such an amazing school."
The first time she flew in a Cessna, Stirling knew that being a pilot was what she wanted and that a career in aviation was for her.
"It is absolutely a feeling of euphoria seeing the world from a completely different perspective that only we as pilots have the opportunity to experience."
Her long-term goal is to work for a commercial airline, continuing to experience that same euphoria and also having the opportunity to wake up in a new place every day. 
"I would like to sincerely thank Ken from all of the students. His generosity greatly contributes to the future careers of all of us lucky enough to be enrolled in the program."
George Noel Keith, one of Mount Royal's fallen who are honoured through Military Memorial Bursaries, also served in the 402 Squadron. In all, 17 of MRU's fallen honoured through the bursaries served in the RCAF. Read more about
MRU's Military Memorial Bursaries.
June 29, 2021 — Peter Glenn
Media request contact information.
Have a story idea? Please fill out this form.