Aviation Diploma
MRU Aviation has a solid reputation across the country, built on nearly 50 years of experience in helping students reach their aviation dreams. The unique Aviation Diploma combines an academic diploma with the flight training you need to become a commercial pilot.
Students require a completed Private Pilot License by August 31st in order to begin the program.
Practical flying experience is accumulated on Mount Royal's fleet of aircraft consisting of Cessna single-engine aircraft and Seneca multi-engine aircraft. Our fleet is equipped with the latest GPS avionics, and is located at our Springbank Hangar at the nearby Springbank Airport (CYBW) just west of the Calgary city limits.
Mount Royal also provides simulator training on a state-of-the-art ALSIM ALX Flight Training Device, which includes high resolution visuals on a 270° wrap around screen. In the simulator, you can experience take off and landing at any airport in North America, in all forms of weather systems and in engine or aircraft emergencies.Open House in October
The Aviation Department, along with Mount Royal University, holds our annual Open House each October. Prospective students and their families can connect with University faculty, staff and student representatives and enjoy an introduction to Mount Royal's academic programs, admission requirements and process, student services and campus life.
Interested Aviation students can tour the sim room throughout the day and ask questions of our dedicated Aviation volunteers. The sim room is located in the Bissett Building on the second floor across from the reception area.
Continue the Open House tour with a hangar tour located at 143 MacLaurin Drive at the Springbank Airport. The Springbank Campus is approximately 30 minutes from the main campus, or 15 minutes west of Calgary.
For more information on the Open House, please check mru.ca/OpenHouse or email aviation@mtroyal.ca.
We look forward to meeting you at the Open House.
Objectives of the program
We are proud to be a professional program with high standards for aviation education. One way in which we ensure these standards are met is to be an Aviation Accreditation Board International (AABI) accredited program.
On November 2019 MRU complies with AABI Policy 3.4.2
In addition to the knowledge and skill required to obtain the Commercial Licence and Multi-Engine Instrument Rating, students learn about human factors and safety, team work, leadership and decision making. These are important skills required by professional pilots.
Leadership skills, human factors and application of safety standards, and the ability to work well with others are skills that are integrated into both the classroom and flight training portions of the program.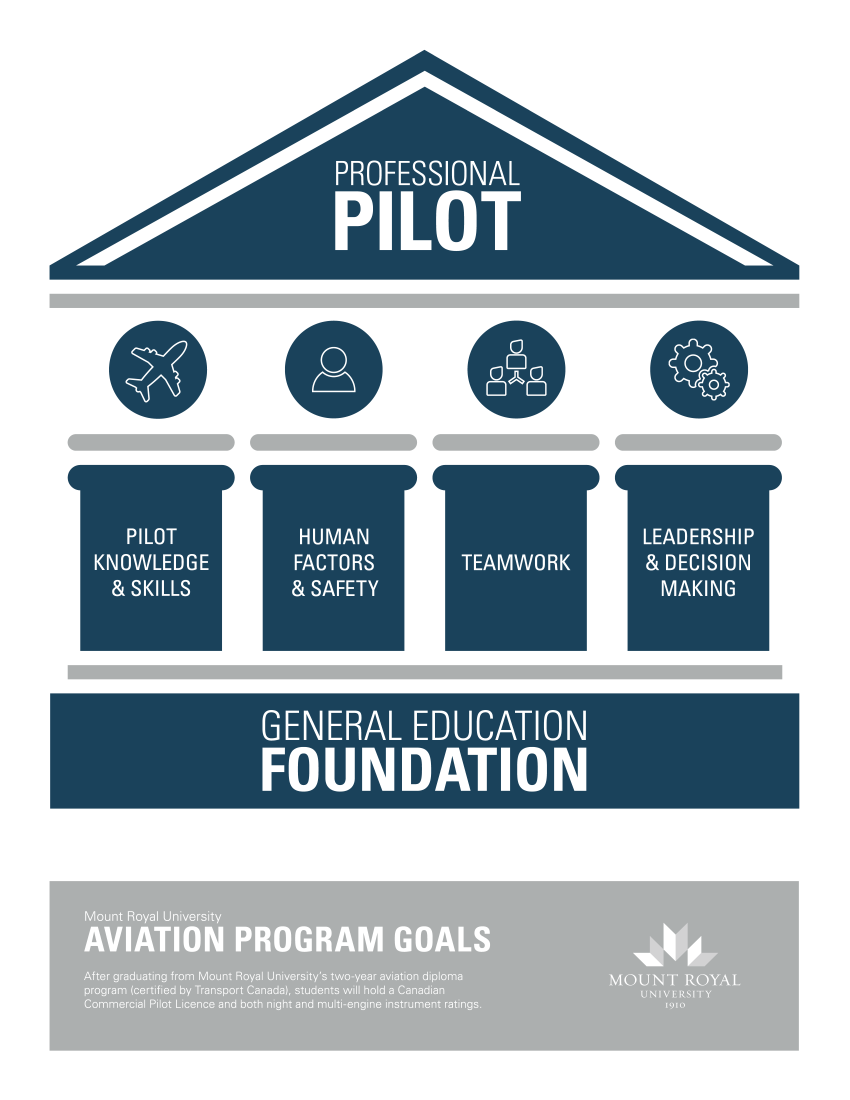 Program assessment measures
The unique Aviation Diploma combines the flight training you need to become a commercial pilot with an academic diploma. Students are assessed in academics and flight training. A minimum grade of "C" is required in aviation courses. Flight training consists of 10 courses, each requiring a check flight at the end to ensure the required outcomes are met.
Graduation rates
We have a 100% graduation rate for students who enter the second year of the program.
Rates and type of employment of graduates
MRU Aviation graduates have an average employment rate of 100% after completing the Aviation Diploma. Over the last two years graduates have been employed with the airlines, charter and corporate operations, as flight instructors and with pipeline patrol operations.
A future in aviation
The current demand for graduates of this program is very high. Since the average age of Canadian commercial pilots is 57, the demand will continue to grow. Boeing's 2018 Pilot and Technician Outlook report predicts that 790 000 pilots will be needed around the world over the next 20 years. Alumni have gone on to fly with Air Canada, Cathay Pacific, Japan Airlines, KLM, WestJet and even the Canadian Forces Snowbirds.
Aviation offers many career opportunities:
Commercial, charter or corporate pilot - fly jumbo jets for major airlines or smaller planes for corporate travel
Airline or airport administrator - ensure the smooth, safe and consistent operation of an airline or airport
Medical evacuation pilot - fly in medical evacuation missions
You could also find yourself working for delivery and courier companies or helping fight forest fires.Degree options
Aviation students have several options to continue with a degree program. The two year diploma courses are transferable to the Mount Royal University General Management program.
Courses in the Aviation Diploma are transferable to the degree program at Embry-Riddle Aeronautical University in the United States, the only aviation-oriented university in the world. Studies can be done online through Embry-Riddle Worldwide.
Massey University of New Zealand also has a partnership that allows MRU Aviation students to continue with an aviation degree.
Private pilot program
This Private Pilot Program is offered annually beginning in February. Applications for this program can be obtained by contacting aviation@mtroyal.ca beginning in October.
Partnerships
Jazz Aviation Pathways Program

Jazz's Aviation Pathways Program (Jazz APP) is the premiere education and training pathway for pilots in Canada. Through the Jazz APP, aviation students are provided an industry-leading education experience based on:
Collaborative training and curriculum development,
Prestigious scholarship awards,
The continued opportunity for top-performing graduates to transition to first officer positions at Jazz.
As a partner institution, every qualified Mount Royal University graduate of the Aviation Diploma receives an opportunity to interview for a job at Jazz.


Memorandum of Understanding and Sunwing Airlines Cadet Pilot Program



Mount Royal University has partnered with Sunwing Airlines as part of its direct entry cadet program for Aviation graduates. Through the MOU and Direct Entry Cadet Program, Sunwing Airlines will:

Hire two MR

U Aviation graduates through the Direct Entry Cadet program


Assign a representative to participate in the M

ount Royal University Aviation Program Advisory Committee

Provide training materials and support, as determined by Sunwing, to Mount Royal University for the delivery of their aviation related programs

When requested by MRU, provide feedback on the program and candidate performance
WestJet Encore's Flightpath Partner Program

Mount Royal University has partnered with WestJet's Encore's Flightpath Partner Program which provides mentorship and professional development opportunities through the use of company's facilities and access to resources such as training manuals. The partnership also provides the opportunity to qualified graduates of the Aviation Diploma who have successfully acquired their commercial license, MIFR and IATRA or SAMRA/SARON written exams to obtain a job interview. Following a successful interview, graduates will be placed in a first officer hiring pool and considered for a future ground school after meeting the first officer qualifications.
AirSprint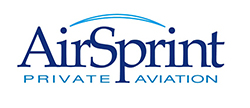 AirSprint is Canada's premier leader in fractional ownership and private aviation. Areas of operation include Canada, the United States, Mexico, and the Caribbean. Each year an AirSprint award is given to one graduate. In addition to other benefits, the award includes a job with AirSprint.
Porter Airlines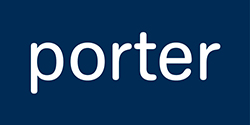 Porter Airlines is a regional airline that flies in Canada and the United States. Porter offers students a mentorship program to assist students in the transition after graduation.
The Aviation Partnership Council
The Aviation Partnership Council is made up of a variety of industry members and alumni. The MRU Aviation program is well supported by these partners and they are a strong support to our program. We work with these partners to incorporate feedback into our continuous improvement plan.
---
"When training under Mount Royal, you get the sense that you're not just a student, but instead a colleague surrounded by experienced mentors working to continuously strengthen your skills as a pilot, as well as a person." Tamer Bou Saleh, class of 2018
"Mount Royal Aviation prepares its pilots to become part of the community of aviators around the world. We are trained to see the importance of our jobs as pilots, and the importance of the whole crew in the success of every flight. What I am proud to say is that the program also provided us the skills we need to succeed in working as a crew in the industry, not only as individuals." Rafael Acuna, class of 2018
"The classes you take aren't just about flying, they teach you about interpersonal skills, human factors, and how to operate in a two crew setting." Trisdan Bracken, class of 2018