From ammonites to zinc
Geology students spread out to work across the west and north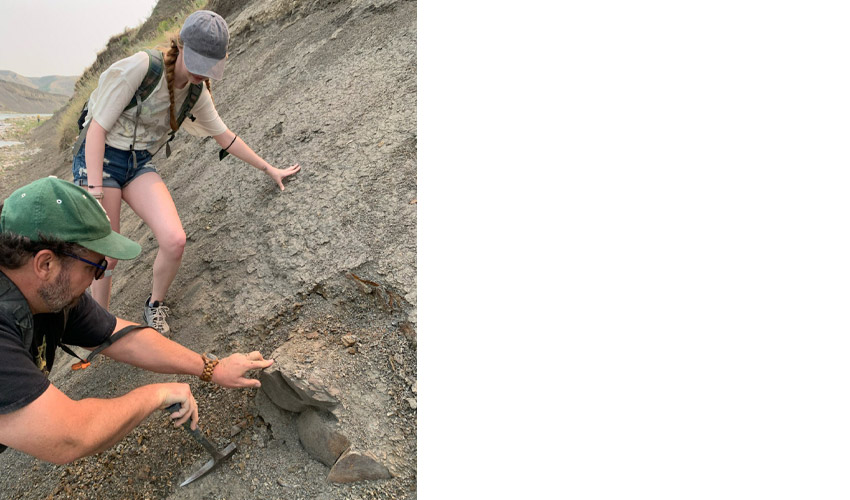 Third-year geology student Michelle Harris at an ammonite mine near Lethbridge, Alberta.
---
As a child who loved rocks, Michelle Harris knew she wanted to be a geologist before she knew what geology was. "People would say that's not a real job, but I'd tell them, 'Yes it is, and I'm going to do it.' "
The third-year geology student has made good on that promise, experiencing a full spectrum of what a geologist can do through a unique job opportunity this past summer. Involving everything from discovery to the finished product, Harris worked for Korite, an Alberta-based ammolite producer, and helped to mine for the 71-million-year-old fossils to see them turned into jewelry or large display pieces.
Ammolite, a vivid, multicoloured gemstone found only in marine rock strata in Alberta, originates from the shells of ammonites, extinct, red, squid-like creatures of the Mesozoic Era. The company's mine is near Lethbridge and its processing facility is in Calgary.
Harris was able to observe the painstaking process of mining for the fossils by hand. "You have to move so slowly to spot the fossils but also not damage them," she explains. Full-size fossils vary a lot in their dimensions but can be thick, heavy and about the width of the seat on a stool.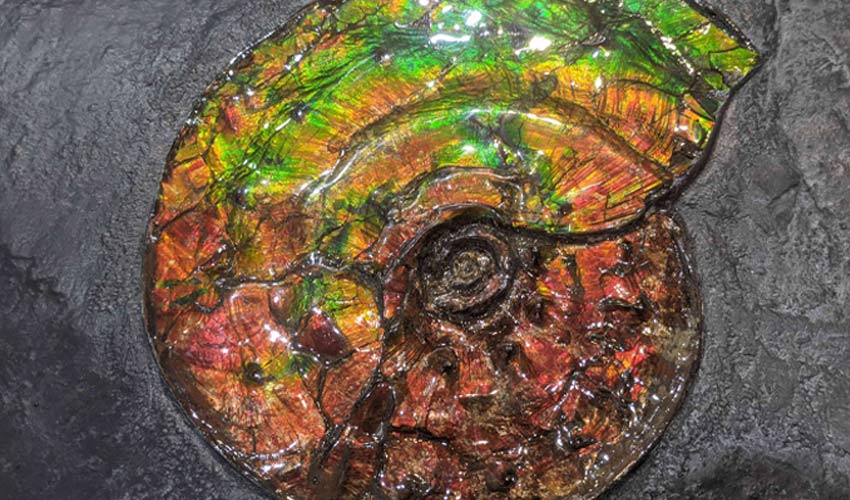 Full-size fossils vary a lot in their dimensions but can be thick and heavy.
---
Working with the mined fossils, Harris would sort through the smaller pieces and look for ones that could be turned into jewelry. "I was in the bins from the mines. I got covered in dirt — it was so much fun. All of the pieces were so beautiful to look at." She learned how each is graded and priced, some of which are sold and shipped worldwide.
Harris also got to see how a previously mined area is restored, or even enhanced, when the company is done at the site, such as one area being turned into a bird sanctuary. The overall experience was "absolutely amazing," she says.
Dr. Paul Johnston, PhD, paleontologist and associate professor in the Department of Earth and Environmental Sciences, says this kind of work experience is popular among students. "Korite Minerals has been a good friend of MRU, giving our fourth-year class a tour of their facility every fall. They also donated the large, colourful ammonite on display in the East Gate entrance."
Johnston says third- and fourth-year students enjoyed a range of work experiences over the summer, across western and northern Canada.
Kosi Ule-Chimbo and Emma Burnett conducted gold exploration in northern B.C. with MRU geology alumni Orlando Lanto and Alex Hutchison. Lanto and Hutchison are grad students in Halifax supervised by Mount Royal's Dr. Margaret Stewart, PhD.

Dayne Wingrove spent the summer conducting prospecting and geochemical analysis of limestones in Yukon and northern B.C. for cement production as well as tin exploration near Atlin, B.C. by the historic gold rush-era Klondike Trail.

Pawel Kuczaj was a geotechnician for NorZinc, which involved exploration for zinc, lead and silver in the Northwest Territories.

Shamus Harder and Stuart Barg spent the summer with MRU's economic geologist Dr. Michelle DeWolfe, PhD, mapping two-billion-year-old rocks north of Yellowknife, commuting to work each day by float plane.
Charbel Aranha, Stuart Barg and Zane McNaught worked with MRU's sedimentologist Dr. Jenni Scott, PhD on dinosaur-bearing strata at Whiterock Coulee in southern Alberta where they conducted geochemical analyses of sediments and even got involved in excavating an armoured dinosaur. Later in the summer, Barg and McNaught worked for Dias Geophysical Survey near Smithers, B.C.

Vanessa Benjafield conducted soil sampling for Barkerville Gold Mines Ltd. in the Cariboos of B.C. and was a geotechnician with the company for a year.

Celina Darwent worked as a geo-interpreter at the Canadian Rockies Earth Science Resource Centre in Canmore, where she explained the local geology to visitors, went on numerous geo-hikes with the Centre's staff and composed a geologic map.

Yakov Aluph worked in the People's Jewellers labs cutting diamonds and using crystallographic spectroscopy to determine impurities, sometimes with other gems such as rubies, sapphires and emeralds.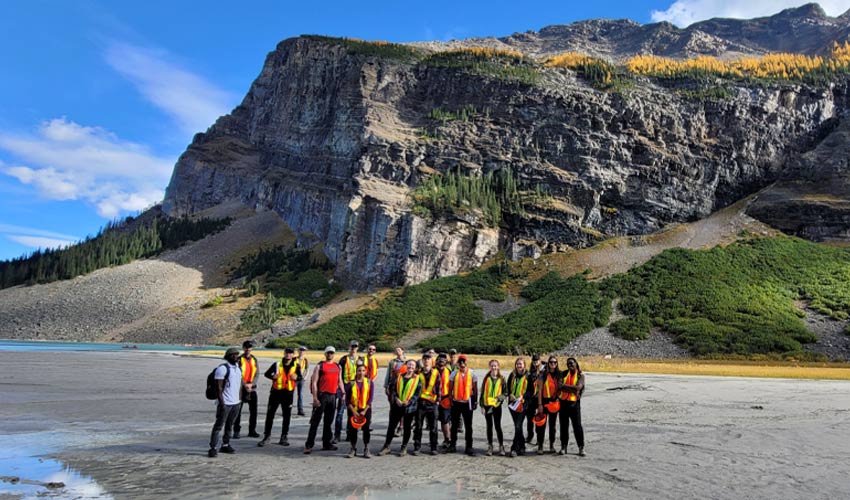 The GEOL 4107 (Geological History of Western Canada) class on a recent field trip to Lake Louise. Photo courtesy of geology student Yakov Aluph.
---
Harris says learning about the many career opportunities in geology has been one of the best experiences for her, particularly in Alberta, where geology has been heavily associated with oil and gas development. "There's so much more than I realized," she says, proving the early doubters wrong about her job prospects.
"I picked Mount Royal because it's a much smaller program, so it's a lot more hands-on and interactive. I love it." She's been on field trips already this semester and is looking forward to more, including field schools this year to the Canadian Shield and Iceland.
"Because it's a small program, even with COVID and all the restrictions we've still been able to have a pretty hands-on experience. And that's crucial for learning geology."
Find out more about geology major and the Earth and Environmental Sciences department at Mount Royal University. Explore all the programs offered in the Faculty of Science and Technology. Future students can apply now.
Oct. 26, 2021 — Melissa Rolfe
Media request contact information.
Have a story idea? Please fill out this form.