Challenge!
MRU donor to match funds for new scholarships on Giving Day Nov. 30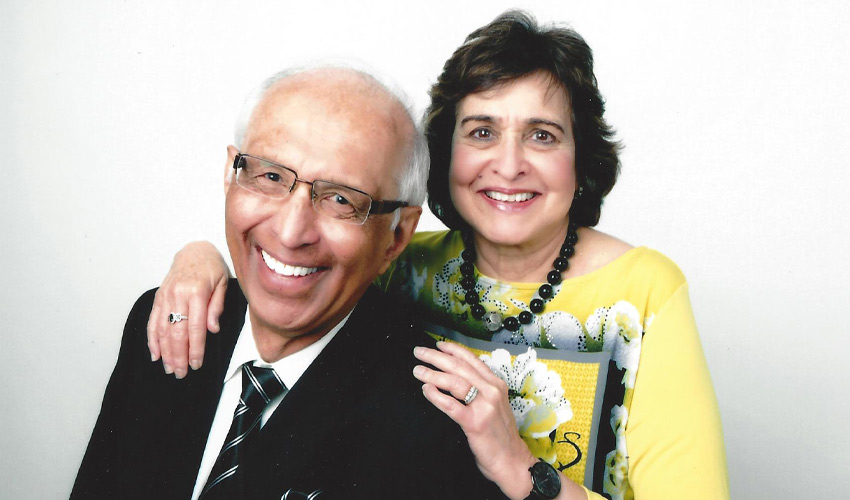 Esmail and Safana Bharwani of the Esmail Safana Farzana Fayaz Bharwani Foundation are issuing a challenge for MRU's first ever Giving Day. For every donation in support of one of their three new scholarships the Bharwani's will provide up to 50 per cent in matching funds to a maximum of $50 per donation.
---
As part of Mount Royal's first annual Giving Day on Nov. 30, well-known Calgary philanthropist and former lawyer Esmail Bharwani is issuing a very special challenge to the MRU community. Bharwani has generously provided $15,000 for the creation of new scholarships in support of students from marginalized communities, such as newcomers, single parents and Indigenous students. For every donation to one of these new scholarships focused on supporting a diverse student community at MRU, Bharwani will provide up to 50 per cent in matching funds to a maximum of $50 per donation.
The bursaries are:
Mikhail Kassam & Ariana and Zoya Bharwani Bursary for Newcomers

Safana & Esmail Bharwani Bursary for Indigenous Students

Farzana & Inayat Kassam and Jabeen & Fayaz Bharwani Bursary for Single Parents
This donation is a testament to Bharwani's ongoing commitment to post-secondary education and his passion for supporting students who are faced with challenges accessing resources. These new scholarships are in addition to an endowment created through the Esmail Safana Farzana Fayaz Bharwani Foundation, which has provided for nine unique awards that go to students across several faculties each year.
Bharwani and his family have created a true legacy impacting MRU students as well as students in other Calgary post-secondary institutions, including Bow Valley College, U of C, Athabasca University and SAIT. His family foundation is responsible for over 65 annual awards, with 55 of those to continue on in perpetuity. Along with his wife Safana and with the support of his children, the family has made a major impact on education across the city.
As a former MRU Foundation Board member (2011 to 2017) and a donor for the past several years, Bharwani is pleased to be able to put out this challenge and raise funds in support of students during MRU's first MRU Giving Day.
"Mount Royal operates as a comprehensive community institution with academic excellence," Bharwani says. "When you walk around one can see the broad and diverse community it represents. It serves the needs of newcomers very well and is open to everyone."
Through his involvement with MRU, Bharwani has had many opportunities to attend events and meet with students. He says he can clearly see that their education is preparing students to face the challenges ahead and is setting them up for strong futures.
"It is so gratifying to know that Mount Royal University can provide the confidence, strategies and skills needed to succeed," Bharwani says. He hopes others join him in giving so that even more can access the power of education.
"Education moulds individuals. It changes their attitudes and behaviour, enhances their skills, and enriches their ability to market their knowledge."
Citing the generosity of his parents for instilling in him his philanthropic attitude, Bharwani was once a newcomer to Calgary himself, and has travelled around the world as a teacher in post-secondary institutions, witnessing massive gaps in wealth among citizens. He says he often hears how difficult it is for students to afford their education and believes that access to additional funds is imperative for the betterment of society. It is even more important now, as the pandemic has severely limited students' ability to earn and learn.
"If one member of the family is educated and they can support a family member with their income to pursue further education, then we have not only helped one person but many more — the multiplier effect continues."
The goal of Bharwani's challenge is to maximize the number of awards available and assist as many students as possible. "No amount is too small," he says, and that his hope is that there are enough contributions to establish an endowment so that a simple gift can live on forever.
"It is also our wish that people learn more about Mount Royal University and what it does for students and what kind of environment it provides."
A gift that keeps giving
Sabahat Paracha recently graduated with a Bachelor of Education ― Elementary and a minor in mathematics. She is a mother and grandmother who began her post-secondary journey later in life, after raising five children while working two or three jobs at all times. A recipient of the Gulshan Madatali Dharamshi and Gulzar Bharwani Memorial Award, Paracha says the funds she received allowed her to fully concentrate on her studies and helped greatly ease her financial stress.
"I think I made the best decision of my life and I feel proud of myself for working hard and always trying my best," Paracha says. "Mount Royal University has been an amazing place for learning and meeting amazing people."
Without donors such as Bharwani, Paracha says students end up struggling to fulfill their dreams. "Goals end up focusing on cost and limitations rather than our futures," she says.
"The multiplier effect of one person's success is many-fold," Bharwani says. "If their life can improve or change for the better, then we feel good that we have contributed in some small way for providing the tool of happiness for that person."
Bharwani's family's philosophy is to share what they have rather than spending on things they don't need. The genuine appreciation they felt after their first contribution to MRU in 2012 led them to establish their foundation and work towards creating their endowment, an achievement of which Bharwani is very proud.
"Education is an asset nobody can take away," he says. "Money can be made and lost but education remains with you and opens doors to a world of opportunities."
The Bharwani family foundation is now encouraging others to join in the culture of giving. They invite everyone to join them in their endeavours on Nov. 30. 
There are a million reasons to give. What's yours? Join in on Mount Royal's first ever Giving Day Nov. 30. To direct your funds to the new Bharwani family bursaries, select "Other" in the drop-down menu. 
Nov. 24, 2021 — Michelle Bodnar