What Olympic athletes can teach us about physical literacy and striving for excellence
MRU's health and physical education faculty break it down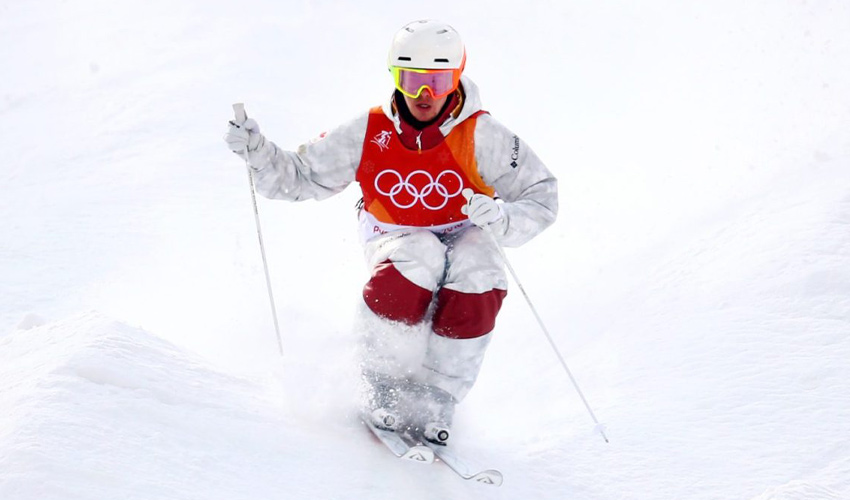 Elite athletes benefit from great genes, immense focus and years of training. Photo of Canada's Mikaël Kingsbury. Photo courtesy Team Canada.
---
As we get set to watch Canada go for gold at the upcoming Winter Olympics and Paralympics, let's stop for a moment to consider just what sets our elite athletes apart, whether it's Mikaël Kingsbury smashing moguls, Ivanie Blondin leading the pack on the speed skating oval or alumnus Kurt Oatway hurtling down the Paralympic downhill course on a sit ski.
For a physical literacy perspective, we reached out to health and physical education faculty in Mount Royal University's Faculty of Health, Community and Education.
Many of us aspired to sporting greatness at one time in our lives, but it is a tiny fraction of athletes who make it to the Olympic stage. For most, the quest for gold unfortunately probably stalled before we were born.
"There certainly is a genetic component to being an elite athlete, and lots of recent research has shown various genes to be associated with elite athlete performances. Genetics has also been shown to play a key role in how different athletes respond to exercise training even when they do the exact same training program," says Dr. Jared Fletcher, PhD, assistant professor in health and physical education, who references Canadian researcher Claude Bouchard's work on the topic in the late 1990s.
"So, the adage that I've heard often in elite athlete circles is to 'pick your parents well.' "
That said, genetics only goes so far. Beyond that, it's picking the right sport and long, focused hours of training for years leading up to a Games that make good athletes into Olympic champions.
"Elite athletes train very methodically, day in and day out, to maximize their physiology and to perfect their skills — in some cases 10 to 14 times per week or more while avoiding injury or overtraining," Fletcher says.
"These elite competitors have the time, money and resources to truly be a '24-hour athlete,' where all aspects of their lives are tightly controlled in an attempt to optimize performance. They train hard and smart with the help of talented coaches and sport science support staff. And all of this with the hope that on the day of your Olympic performance that you and your team got it all correct."
Fletcher says that what we can all learn from these athletes is that perfecting a skill takes tremendous dedication, perseverance and talent, and that not every Timbits hockey player in Canada will make it to the NHL, and not every young skier will make it to the Olympics, regardless of how often they hit the ice or the slopes.
"I think we can also learn that it's OK if we step on the treadmill and can only run 30 seconds at the current world record pace for the marathon. At least we're on the treadmill. Performance gains, whether it be physical, tactical, or emotional, take time and a heck of a lot of effort."
Focus on activity for life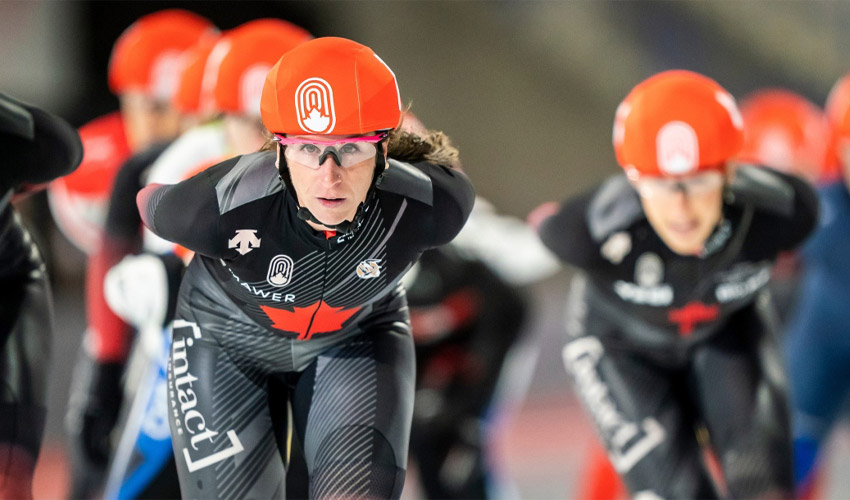 Olympic competitors can teach us a great deal about physical literacy. Photo of Ivanie Blondin and Team Canada speed skaters. Photo courtesy Dave Holland/Speed Skating Canada.
---
In advocating for youth to avoid being locked into one sport, hockey icon Wayne Gretzky tells the story of how at the end of hockey season, he couldn't wait to put his skates away for the summer and grab his baseball glove. While Gretzky was speaking on how an elite athlete can benefit from a wider range of sports, and urging parents to keep sports fun for kids, the study of physical literacy points to broader benefits for a person's well-being, specifically the skills and qualities that an individual exhibits through diverse movement experiences throughout their life.
"Well-being not only includes the health benefits associated with physical activity but also the social and emotional rewards that are often experienced through movement," says Dr. Nadine Van Wyk, PhD, assistant professor of health and physical education at MRU. "Meeting new friends, building confidence and physical competence are such examples. The ultimate end goal of physical literacy is for individuals to lead an active and healthy life."
Those who study physical literacy argue individuals should be introduced to a variety of fundamental movement skills in diverse physical activity environments, including snow, ice, water, air and land. Such exposure provides greater opportunity to be active for a lifetime, whether it's playing hockey, tennis or skiing.
"Does an elite-level figure skater have the physical competence and confidence to throw a baseball so that they could join a softball team after they retire from their sport? This is why many sports promote the multi-sport component of their program," Van Wyk says.
"Olympic athletes teach us about commitment, perseverance and excellence in sport. They exhibit extreme physical competence and motivation. They also have strong emotional and social connections to those around them, such as trainers, coaches, and teammates, all of which are important components of the definition of physical literacy. Olympic athletes should be applauded for their physical competence and dedication to their sport. However, we should encourage children at a young age to experience as many activities as possible so they develop a variety of skills and experiences to be active for life. If they find a sport that they become passionate about and have an opportunity to excel, that is a bonus."
Connection to outdoor play
Finally, it's important to note that focusing on elite sport, while beneficial in some ways,  can detract from the immense value of unstructured, outdoor play for children.
"I think that the Olympics and elite sports definitely model physical activity for children, but I don't think that the connection to outdoor play is there," says Dr. Shannon Kell, PhD, associate professor in health and physical education at MRU.
"Play is considered unstructured, non-adult-facilitated, imagination-focused, and usually non-sport-centred activity. This might be one of the reasons that children, their families and schools don't engage more in outdoor play: We don't turn on the TV and see a live feed of kids playing in an open, outdoor space with loose parts and natural features like trees, stumps and rocks, but there are enormous benefits to outdoor play for children's social-emotional development, not to mention connection to nature and respect for the outdoors."
Mount Royal's Bachelor of Health and Physical Education responds to the growing need for community health and physical activity champions in Western Canada and beyond.
Feb. 4, 2022 — Peter Glenn
Media request contact information.
Have a story idea? Please fill out this form.