A model of reconciliation and resilience
Elder and human rights activist Doreen Spence granted an Honorary Doctor of Laws June 1
Matthew Fox | May 27, 2022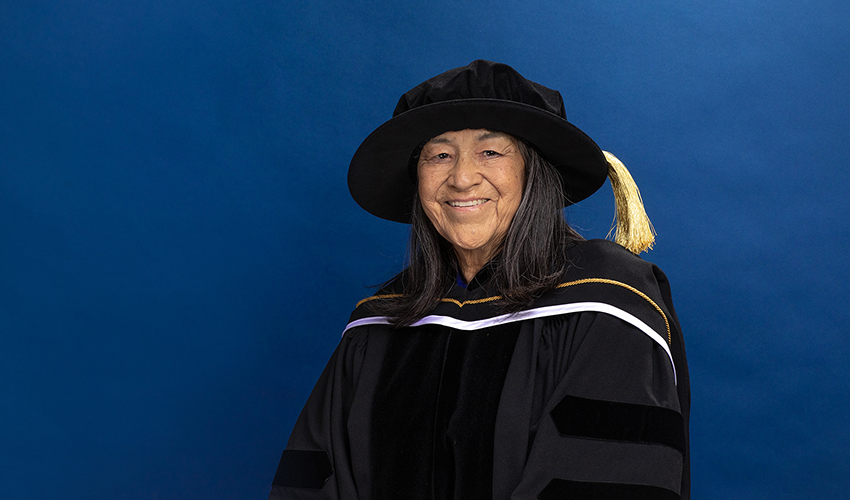 Doreen Spence became one of the first Indigenous licensed nurses in Canada in the late-1950s, beginning a 40-year career.
---
When Elder Grandmother Doreen Spence took to the Convocation stage to receive a Mount Royal University Honorary Doctor of Laws on June 1, she was reliving a dream she first experienced more than 40 years ago.
Spence says sometime in the 1980s she dreamt she was walking down a hallway and entering a large room. "I was wearing a gown, it was blue and gold, Mount Royal's colours, and I was receiving an honorary doctorate. Who could have thought this dream would ever become a reality?"
Spence did not believe it would happen, having grown up under Canada's Indian Act of 1876, which stated Indigenous children shouldn't receive an education beyond Grade 3. After attending an Indian Day School, where as a teen she was forced to teach the younger students, at 18 years old Spence earned a scholarship to Berean Bible College in Calgary.
"To survive the government policy, to survive all of the dark racism, the extreme and blatant putdowns, it's like coming through a holocaust," Spence says emphatically.
"When you have survived that, it is incumbent upon you to marry reconciliation with resilience. I see them as one."
That resilience has driven Spence, who prefers to be called Grandmother and whose sacred name is "Bald Eagle Woman Who Leads," to craft multiple careers dedicated to human rights, peace and social justice.
From the Goodfish Lake Nation to the United Nations
Raised at the Goodfish Lake Nation in northern Alberta (now recognized as part of Treaty 6's Saddle Lake Cree Nation) by her grandparents, who succeeded in sparing Spence from residential school, Spence became one of the first Indigenous licensed nurses in Canada in the late-1950s, beginning a 40-year career. Soon after its establishment in 1979, Spence became president of the Plains Indian Cultural Survival School in Calgary, the first school run by and for Indigenous people in a Canadian city, a position she held until 1993.
In 1994, Spence was named a Canadian representative among Indigenous community leaders to the Working Group on Indigenous Populations to the United Nations. The group helped create the Declaration on the Rights of Indigenous Peoples document that the U.N. formally adopted in 2007 and the Canadian government ratified in 2021.
Spence also founded and ran the Calgary-based Canadian Indigenous Women's Resource Institute, served as an Elder for the United Nations, and was nominated for the Nobel Peace Prize for the 1,000 PeaceWomen Project in 2005.
Other recognitions Spence has received through the years include the Chief David Crowchild Award in 1992 for her leadership in building relationships between Indigenous and non-Indigenous communities in Calgary, the Alberta Centennial Medal in 2005, and in 2017 the Indspire award in the culture, heritage and spirituality category. That year, Mount Royal also bestowed an Honorary Bachelor of Nursing upon Spence, which until now was, in her own opinion, the highest honour she has been granted, even when taking into account her appointment as an Officer to the Order of Canada in 2020.
"To have someone like Grandmother listed amongst our distinguished Doctor of Laws speaks to the importance MRU places on her commitment to eliminate systemic racism and make the world a fairer place for Indigenous Peoples," said Dr. Elizabeth Van Den Kerkhof, DrPH, director of the School of Nursing and Midwifery in her letter of support for Spence's nomination.
Spence has contributed to learning and campus life at Mount Royal for years, particularly benefiting Indigenous students. She has served as a presiding Elder in many MRU programs and groups, including the Indigenous Health Community of Practice, the Bachelor of Nursing Curriculum Redesign Committee and at the Iniskim Centre, among others.
"I see myself as an activist Elder, constantly keeping an eye out, decoding and decolonizing the curriculum, that has been my focus over the years," Spence says. "I've worked closely with Dr. Steven Price and Dr. Andrea Kennedy to bring change into the curriculum, and to the way we view each other as people."
Creating the conditions for decolonization
"Decolonization is a messy process, and Grandmother holds space for staff, faculty and students to engage with an open heart and mind in ongoing reflection to inspire meaningful action," said Dr. Stephen Price, PhD, MRU's dean of the Faculty of Health, Community and Education in his letter of support. "For example, she has worked closely with me, with Elder Roy Bear Chief, and with members of the Indigenous Health Community of Practice, who conducted research examining the faculty's response to the Calls to Action of the Truth and Reconciliation Commission."
Spence remembers a time when Mount Royal wasn't as welcoming to Indigenous students. As a Mount Royal College nursing student in the early 1970s, she recalls a "very unfriendly" campus. "I felt like I was walking into a typical business institution and that there needed to be changes within the College to be far more welcoming. I didn't see anything there for Indigenous people." A heart attack landed her husband in intensive care, and, with virtually no support network, Spence was forced to drop out to care for him.
Thanks to her own efforts and those of the Indigenous community she helped inspire, today MRU's campus feels like a different place. "Now, you don't feel excluded when you go in. There is the Iniskim Centre and all these different programs and dynamics. They have housing for Indigenous students, that's just amazing," she says. "This gives Indigenous students an opportunity to unite rather than be disconnected from other students."
As for receiving an Honorary Doctor of Laws from MRU, Spence simply says, "I have no words in the English language to express what this means to me. It is the ultimate gift one could get."