Library Awards for Research Excellence recipients announced
Recognizing students producing outstanding scholarly projects
Rob Petrollini — Mount Royal University | Posted: June 28, 2022
This year, the seventh-annual Library Awards for Research Excellence recognized four Mount Royal students for their outstanding scholarly projects. Students entered their projects in two different categories: Individual Research Excellence and Group Research Excellence.
The entries were judged by two separate committees comprised of faculty members from departments across campus and four faculty librarians.
Dr. Marty Clark, PhD, an assistant professor in the Department of Health and Physical Education, was involved with the selection committee and was impressed by the high-quality submissions.
"I enjoy being a judge for the Library Awards for Research Excellence because I get a first-hand look at the wide range of excellent research that is happening across campus."
That said, it is a difficult process.
"The quality of individual research just keeps getting stronger. It's incredible to witness," Clark says.
Individual Research Excellence Award
A Bachelor of Business Administration student with a double major in human resources (honours) and general management, Anna Reimer took home the Individual Research Excellence Award. Now a new alumna, Reimer's project, "Seeking a 'Decisive' Leader: The Role of Stereotype Threat and Self-Efficacy in Women's Leadership Application Intentions," investigates gendered stereotypes of leadership.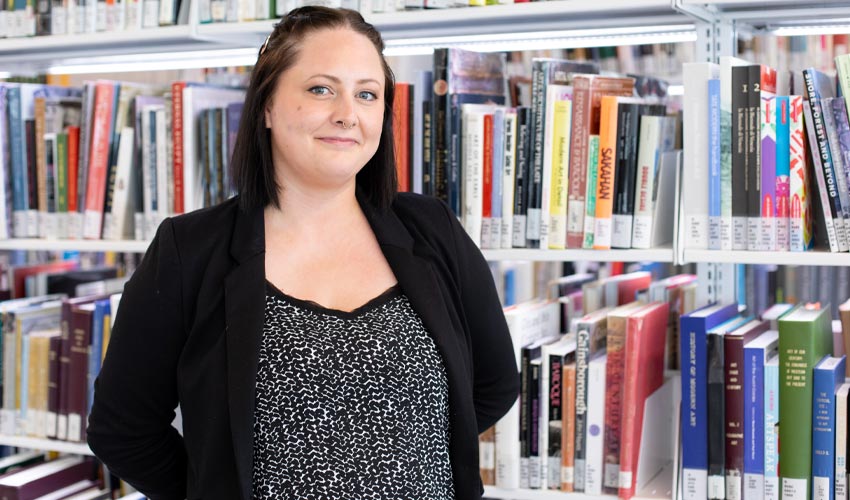 Anna Reimer, Mount Royal university alumna.
---
Reimer's thesis focuses on gendered language in leadership job postings and whether the use of masculine-associated words in these job postings prevents women from applying.
"There has been a longstanding gender gap in leadership, and while progress is definitely being made, a substantial gap still exists," Reimer says, explaining that women currently make up 10 per cent of positions such as chief financial officer or chief operating officer, and just 5 per cent of chief executive officers.
"I wanted to see if masculine-associated words like 'decisive,' 'ambitious' or 'strong' in a leadership job posting affected whether women could see themselves applying for that role."
Reimer explored this topic through two studies: a content analysis of existing leadership job postings looking at the prevalence of gendered language, and an experiment where women viewed a job posting with masculine wording and no feminine wording, feminine wording but no masculine, or neither, who then answered questions measuring their application intentions, stereotype threat susceptibility and perceived self-efficacy.
"Unfortunately, my study did not find evidence for stereotype threat, and the women in our sample were mostly unaffected by masculine language. But, the findings did suggest that feminine language may improve leadership identification for women, increasing their likelihood of applying for a leadership role," Reimer says.
Reimer was also awarded the Bissett Honours Award and best Research and Scholarship Days 2022 presentation from the Faculty of Business and Communication Studies for the same project. She has presented her thesis at two academic conferences: The Canadian Psychological Association Annual National Convention and the National Conference for Undergraduate Research. These days, Reimer is preparing a submission for an academic journal and working to continue exploring gender stereotypes and how they affect people in the workplace through graduate studies in organizational behaviour.
Reimer says that "it feels incredible" to have won a Library Award for Research Excellence.
"I'm so proud of the work that I have done, and so grateful to everyone who has supported me at MRU, from my thesis supervisors, Dr. Leah Hamilton and Shelley Rathie, all of my professors, the librarians who guided me, and the academic advisors who helped me navigate everything."
Individual Honourable Mention Research Excellence Award
Recent Bachelor of Science — Health Science graduate Banin Al-Shimari won the individual honourable mention research excellence award for her work: "How younger and older adults stabilize themselves in the mediolateral direction while walking."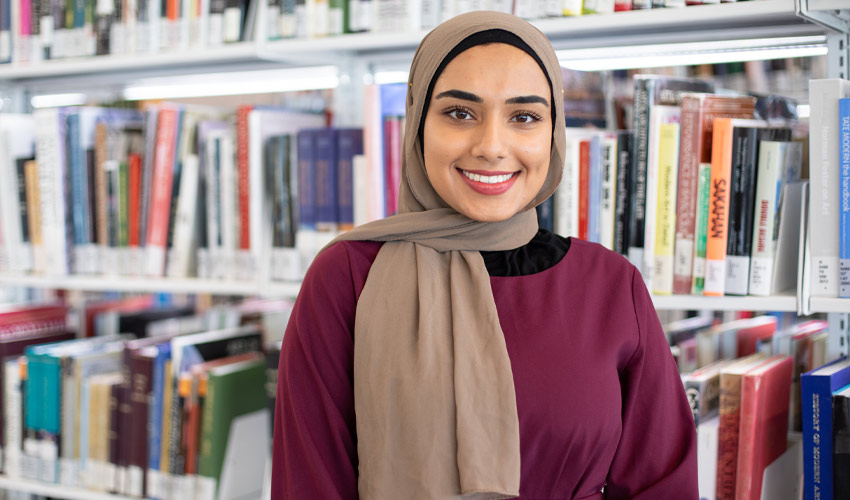 Banin Al-Shimari, Mount Royal university alumna.
---
"The goal of my research was to determine how human stability is challenged as we age, which may be relevant in determining novel clinical interventions needed to restore older adults' locomotor function," Al-Shimari says.
Al-Shimari felt that information around mobility independence and falls among older adults was lacking and she began the investigation during her first research course at MRU.
"I conducted a literature review investigating why older adults are more susceptible to mediolateral instabilities while walking. I found that older adults mostly use the hip for stabilization due to foot and ankle instabilities. This persuaded my research topic in the second course where I explored how ankle joints maintain mediolateral stability while walking on uneven surfaces in younger adults."
Her research earned her a Natural Sciences and Engineering Research Council of Canada Undergraduate Student Research Award and the first-place award in the Physiology Session at the Undergraduate Research in Science Conference of Alberta.
Currently, Al-Shimari is collaborating with Dr. Michael Asmussen, PhD, assistant professor of biology at Mount Royal, to further explore the mechanisms of foot-ankle stability.
"My hope is to extend this research in the future to older adults to further understand their instability during locomotion," Al-Shimari says.
"Research can be difficult; however, this award reiterates that my hard work and dedication towards this issue really did pay off."
Group Research Excellence Award
The group award was presented to Jinan Daqqa and Anne Copeland. The duo collaborated on a project named "A Critical Review of the State of Cultural Competence Education in Athletic Training Programs in the United States."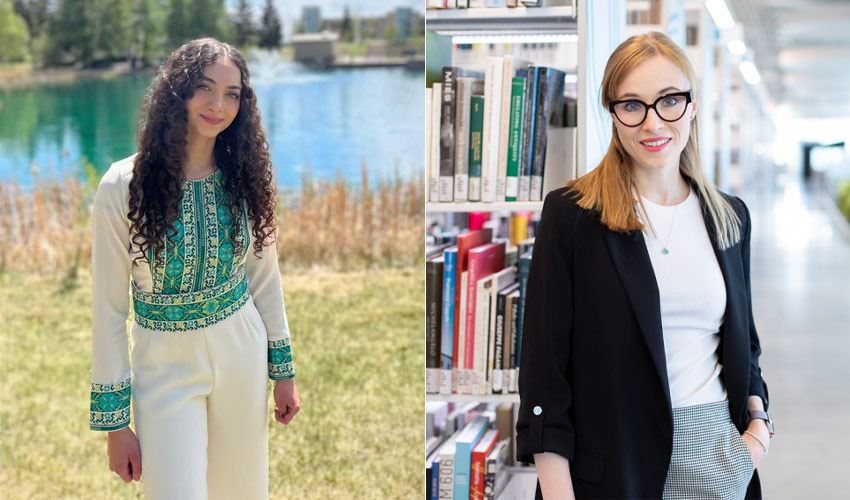 Jinan Daqqa, left, and Anne Copeland.
---
"We explore how cultural competence education is being implemented in Canadian athletic therapy schools," Copeland says.
"Our goal is to identify gaps in the curriculum and to hopefully bridge these gaps."
The duo are ready to advocate for better patient-centred care through cultural competence development.
To get there, Daqqa and Copeland explored the following variables: the students' cultural competence levels, the preparation and confidence of the professors teaching cultural competence, the pedagogical strategies utilized to infuse cultural competence, the challenges faced by the instructors and programs, and additional findings such as how standardized testing may lead to systemic discrimination.
"The research identified three significant gaps: limited literature that specifically delves into the state of cultural competence education in athletic training and athletic therapy; an absence of a consistent tool that specifically evaluates and assesses the cultural competence levels of athletic training students and educators; and an absence of a tool that measures the effectiveness of current cultural competence education in athletic training programs," Daqqa says.
The athletic therapy alum were both honoured and humbled to find out that they were award recipients.
"It is rewarding to know that this research is being recognized," Daqqa says, describing that as an immigrant she has witnessed the positive impact that culturally competent health-care providers can create, both on a community and individual level.
"This topic is very close to home," Daqqa says.
Copeland describes the win as confirmation that this area of research is something that needs to be explored further.
Research changes everything. Discover the depth of inquiry at MRU.