Ahead of her time
$5-million gift from Calgary philanthropist, businessperson and music and sports lover Joan Snyder creates long-term legacy
Michelle Bodnar | September 16, 2022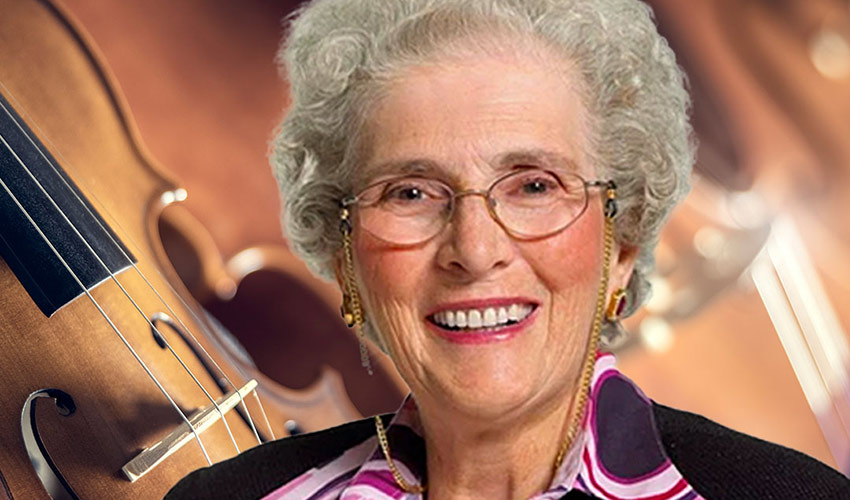 Joan Snyder appreciated the importance of the Mount Royal Conservatory for its incredible record of training some of the world's best artists for more than 100 years and the gift of music it provides.
---
In a planned gift to MRU, well-known Calgary philanthropist and businessperson Joan Snyder has donated $5 million in support of Mount Royal's world-class music and speech arts Conservatory and the Cougars women's hockey team, which finished first overall in the Canada West conference last season.
When the music lover and sports benefactor passed away in April, it was immediately apparent just how deep Snyder's impact has been. Condolences came pouring in from WinSport Canada, hockey superstar Hayley Wickenheiser, the Calgary Humane Society and Heritage Park, with her generosity of spirit, and that of her family's, touching nearly every aspect of life in the city — including the Mount Royal University community.
"Joan lived life to the fullest and was always there to listen to the concerns of others and help out if she could. Hers was a life well lived and a legacy to envy and admire," said Don Brownie, a close friend and business adviser of Snyder's since the early 1980s and one of the executors of her estate.
Snyder appreciated the importance of the Mount Royal Conservatory for its incredible record of training some of the world's best artists for more than 100 years and the gift of music it provides. An endowment of $4 million will allow for sustainable funding and will be groundbreaking for maintaining the Conservatory's influence in advanced performance.
Another endowment of $1 million will go to the Cougars women's hockey team. Always ahead of her time, Snyder has been a longtime supporter of women's issues in the community and was a champion for women in sport. An avid hockey fan and lover of anything sports-related, Snyder's appreciation for athletics came from her mother, Phoebe, an amateur athlete who earned success playing hockey, tennis and curling.
Memories live in melodies
Snyder's final gift to Mount Royal is in addition to close to $500,000 donated in 2013 in contribution to the Conservatory's purpose-built early childhood learning suite in the Taylor Centre for the Performing Arts (named the Joan C. Snyder Early Childhood Suite) and annual gifts made towards the Joan C. Snyder Academy Scholarships since 2006. The scholarships are divided among qualified students in the Conservatory's Academy Program for Young Artists and the Advanced Performance Program for university-age performers to hone their performance skills.
"Joan had a deep appreciation for music and the arts and her generosity has extended even beyond this transformative gift," said Evan Cortens, interim dean of continuing education at Mount Royal.
"I know that Joan would pay to transport talented musicians from outside the city into Calgary for lessons and that she often hosted chamber music events, featuring our students, in her home. She was a great friend of the Conservatory and will be dearly missed, however her legacy will live on through the students that will be supported by this incredible gift, for which we are sincerely grateful."
Laurie Matiation, artistic director of the Conservatory's Academy and Advanced Performance Programs, said, "Joan was a long-time friend of the Conservatory. Since 2006, she has generously provided annual gifts to students in the Academy and Advanced Performance Program. Through these gifts, students have been able to pursue their passion and work towards their dreams. When we learned of Joan's passing, the students wanted to honour and recognize her by dedicating one of their last concerts to her and her incredible generosity."
Many of the students performing that night were recipients of Snyder's annual scholarship, Matiation says, making the music that much more meaningful.
"Thanks to Joan's generous gift we can continue to honour her and keep her legacy going with new and exciting programs and opportunities for our students. Thank you, Joan, for all your tremendous generosity and support."
Appreciation for athletics and others born in the family
In addition to being kind hearted and forward thinking, Snyder was also known as being fun, spunky and with a fondness for an occasional dram of fine single-malt whisky. She was often present at MRU concerts, events and sports games, including being in attendance when Mount Royal was announced as a University in 2009. The annual Crowchild Classic, a yearly double-header between the Mount Royal Cougars' and University of Calgary Dinos' women's and men's hockey teams (hosted at the Scotiabank Saddledome), was a favourite for her.
Known for purchasing packages of season tickets to the Flames and Stampeders and doling them out to anyone who might enjoy a game, Snyder believed sports should be for everyone.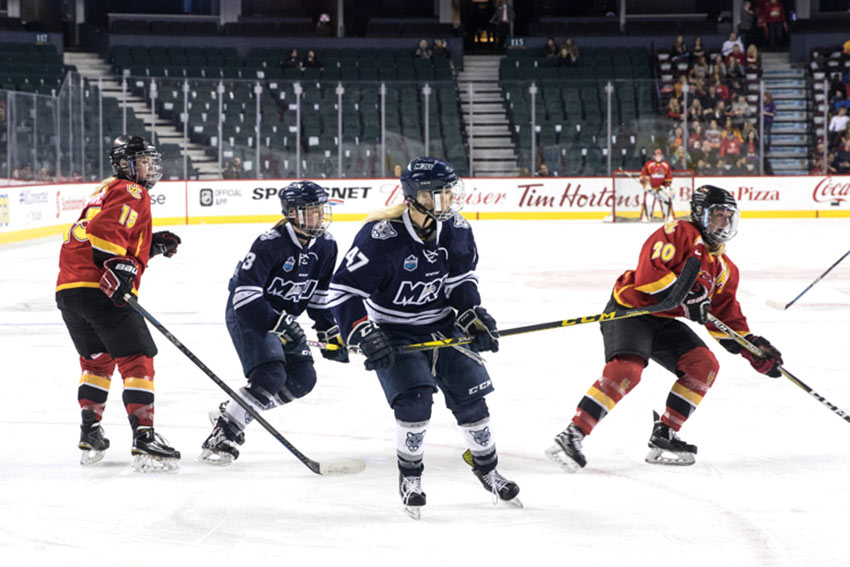 The record-setting Crowchild Classic is the most-attended game in the U SPORTS calendar.
---
Snyder's donation to the Cougars' women's hockey team will go towards student awards to allow the student-athletes to achieve their best both on and off the ice, said Karla Karch, director of Cougars Athletics and Recreation at MRU.
"We are extremely thankful for this generous donation Joan provided to us. She will be remembered for splitting her allegiances between the Cougars and the Dinos at the Crowchild Classic while also making astute comments on the games. Her legacy has become an indelible part of Cougars Athletics and Recreation."
Born in Eatonia, Sask., Snyder has credited her parents Calvin and Phoebe, who experienced the Great Depression and witnessed the hardships it caused, with instilling in her the wonderful prairie values of caring for others and community-mindedness. Eventually, the family would become successful due to wise investments in mineral titles, real estate, farmland and oil and gas. They moved to Calgary in 1952 and worked together to grow their businesses and make a difference in the city.
From her parents' actions, Snyder inherited a deep sense of the importance of sharing what one has, Brownie said.
"Although Joan was an accomplished businesswoman, she was always best known for her overwhelming generosity and her intense concern for the well-being of others."
Snyder was also a supporter of the Salvation Army, the Calgary Humane Society, Agape Hospice, the Glenbow Museum, Fort Calgary, the Calgary Zoo, Meals on Wheels, Wood's Homes and the University of Saskatchewan. In 2011, she made a substantial contribution to WinSport Canada in support of women's hockey development at the local, national and international levels. One of the rinks at WinSport's Markin MacPhail Centre is named after Snyder and gives priority to women's hockey bookings.
Among what Snyder considered to be her greatest accomplishments are the establishment of the Calvin, Phoebe and Joan Snyder Institute for Chronic Diseases and the Snyder Chair in Critical Care Research at the University of Calgary. In 2011, Snyder made another substantial contribution to the Dinos women's hockey team.
"We are all incredibly touched by the generosity of Joan's gift and miss her remarkable presence at MRU," said Paul Rossmann, vice-president of University Advancement.
"Sports and the arts were especially hard-hit during the pandemic, and so Joan's donation has provided a bright light for so many talented people in the Conservatory and the Cougars. It is fitting, as Joan was also a bright light in the Calgary community who made life better for many without asking anything in return. Thank you, Joan, from everyone at MRU."