The Canadian Library installation on campus
Display of books wrapped in fabric remembers missing and murdered Indigenous women and girls
Nadia Moharib — Mount Royal University | Posted: September 27, 2022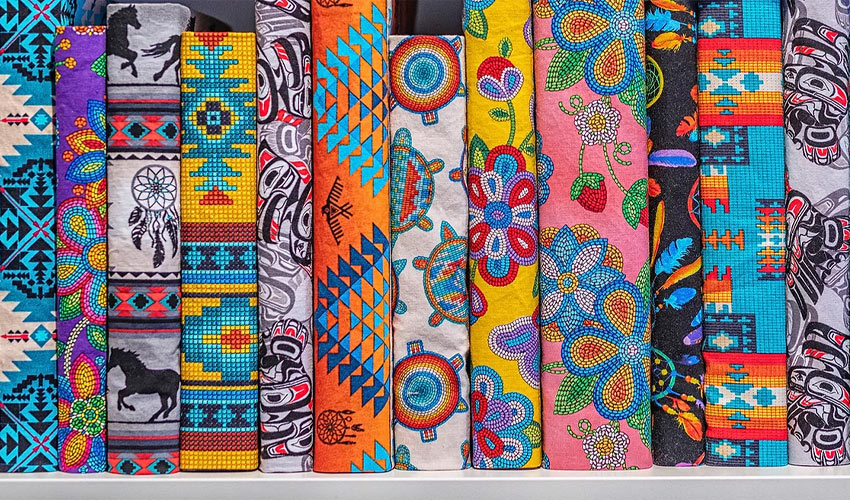 The Canadian Library is an assortment of hardcover books wrapped in colorful material decorated with Indigenous artwork. Photo courtesy Dana Leigh.
---
It got rolling with six women, $100 in donations, 20 metres of fabric featuring Indigenous artwork and a social media call-out for support.
But before that, The Canadian Library began with an Ontario woman coming up with a stunning way to start a conversation to honour the more than 8,000 First Nations, Métis and Inuit women and girls among those murdered or still missing. Relying on art to draw people in, The Canadian Library is an assortment of hardcover books wrapped in colorful material decorated with Indigenous artwork. An installation is currently being housed in MRU's office of indigenization and decolonization as part of the University's annual Journey to Indigenization, where they are selling hair scrunchies made out of scraps of fabric used to cover the books to help fund this unique and important project.
Register to hear a talk about this living art initiative from 1 to 2 p.m. on Oct. 4 in honour of Sisters in Spirit Day.
"I did not realize how badly Indigenous people had been treated. It was a huge eye-opener for me," founder Shanta Sundarason says. "At the end of the day, this is Canada's story. This is what happened and is happening and Canadians need to take ownership."
Before each one is put on a bookshelf the name of a woman slain or not yet found is written in gold along its spine and a QR code takes those who scan it to a database where the stories of those individuals are archived.
"We had more than 300 inquiries from just 10 installations," Sundarason says.
dr. linda manyguns, phd, MRU's associate vice-president of indigenization and decolonization, says the Library allows Canadians to "contribute in a gentle way," which is why it works.
"It's not promoting anger, focussing on police or who didn't do this or do that. Instead it is bringing people together to ensure missing and murdered women are never forgotten," manyguns says. "We have to walk together to move forward."
The grassroots initiative is a healing collection of those women's stories shared across the country in cafés, museums, and, of course, art galleries.
"Her family tells you her story," manyguns says. "She is not just a number or a name."
manyguns hopes MRU's Journey to Indigenization will help with a nation trying to heal.
"I think that the whole of Canada was traumatized with the discovery of children's bodies (at residential schools) and I think that was a waking-up point. People want the truth and want to know how on earth this happened," she says.
Sundarason says The Canadian Library is about something beautiful emerging out of the ugliness of the "dark and true history of Canada" she learned about shortly after moving here about a decade ago.
Wanting to know more, she connected with an Indigenous elder who took her on a journey to help Canadians move forward while never leaving behind the memory of thousands of those murdered or missing. The Canadian Library is now a joint effort among many Canadians, both Indigenous and non-Indigenous, who share one sentiment — they care. Penguin Random House donated 2,000 books, Value Village added to the collection and Ikea has committed to creating installations in all their Canadian stores, each displaying 150 books.
"When you see the books in an installation, it takes your breath away and the hairs on the back of your neck stand up because of the beauty. It reminds me so much of the beauty in the lives of people so disregarded. The whole idea of using beautiful Indigenious fabrics and trying to tell stories in a beautiful way is to help people remember they are important. Their lives were important," Sundarason says. "Everybody has a story."
The goal is to see 8,000 books in installations before they are permanently exhibited in one place.
"I'm just an ordinary immigrant who wanted to learn about the country I've chosen to call home but I need to do my part to make things better," Sundarason says. "Reconciliation will only happen when the majority of Canadians are truly educated. It's not going to be a political thing. It will be through conversations and education and that's what we are hoping to create."
Visit The Canadian Library to learn more or to create an installation email decolonize@mtroyal.ca.
Wear red on Oct. 4
Red dresses will be displayed around campus on Sisters in Spirit Day as inspired by Métis artist Jaime Black's REDress Project, which is designed to serve "as a visual reminder of the staggering number of women who are no longer with us" and "draw attention to the gendered and racialized nature of violent crimes against Aboriginal women." All on campus are encouraged to wear red.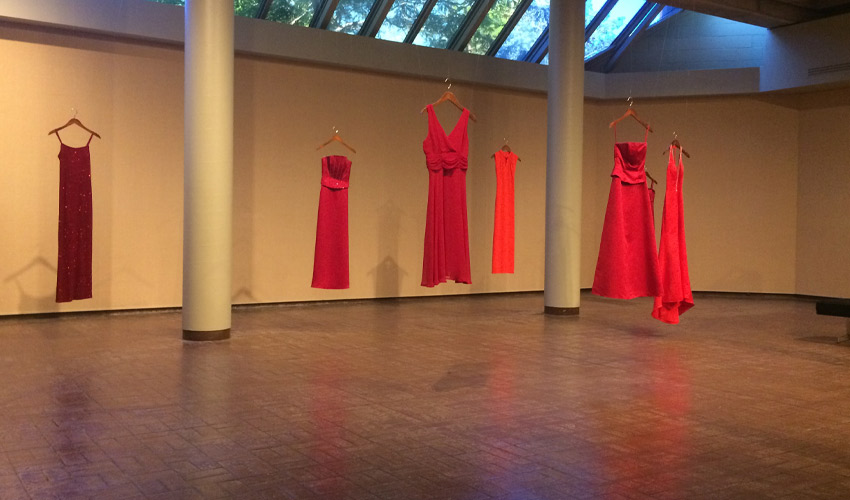 The REDress Project focuses around the issue of missing or murdered Aboriginal women across Canada.
---
A Sisters in Spirit vigil and march will be held downtown Oct. 4 and MRU will spend the day honouring and recognizing Missing and Murdered Indigenous Women and Girls through various events held on campus. 
The Iniskim Centre's Indigenous housing and events coordinator Steve Kootenay-Jobin says MRU is bringing three more interactive projects from the Legacy of Hope Foundation to campus to further bolster the impact of The Canadian Library.
"It really humanizes the issue. For far too long people looked at these as an Indigenous issue, when in reality it is a Canadian problem and resulted in genocide against Indigenous people," he says. "Feeling sad and hopeless is not going to get us anywhere. I feel very privileged we are hosting the exhibit for our community to learn."
He says promoting conversations in a place of learning is the start of taking it beyond campus with graduates eventually sharing the knowledge out in the world.
"The history and realities of genocide and colonization were not taught by the Canadian school system and (some were) left with horrendous stereotypes," he says. "Education got us into this mess and education will get us out."
Legacy of Hope Foundation projects on at the West Gate throughout 2022
The Waniskahtan Project on display until Oct. 24 is dedicated to discourse about missing and murdered Indigenous women and girls and lesbian, gay, bisexual, transgender, queer, and 2-spirit people (2SLGBTQIA+.)
Killing the Indian in the Child: Generations Lost runs from Oct. 25 to Dec. 15 and shares stories from some of more than 150,000 children sent to residential schools where they were not allowed to speak their native languages or practice their culture while enduring sexual, mental and physical abuse, which left deep wounds that continue to affect generations of survivors, their families and communities.
Escaping Residential Schools: Running for Our Lives runs from Dec. 16 to Feb. 1, 2023, and relays first-person testimonies from those who managed to flee while honouring those who did not survive.