MRU Aviation Diploma program to receive $8.1 million for expansion as part of partnership with WestJet
Announcement aims to see aviation sector soar in Alberta
Peter Glenn — Mount Royal University | Posted: October 5, 2022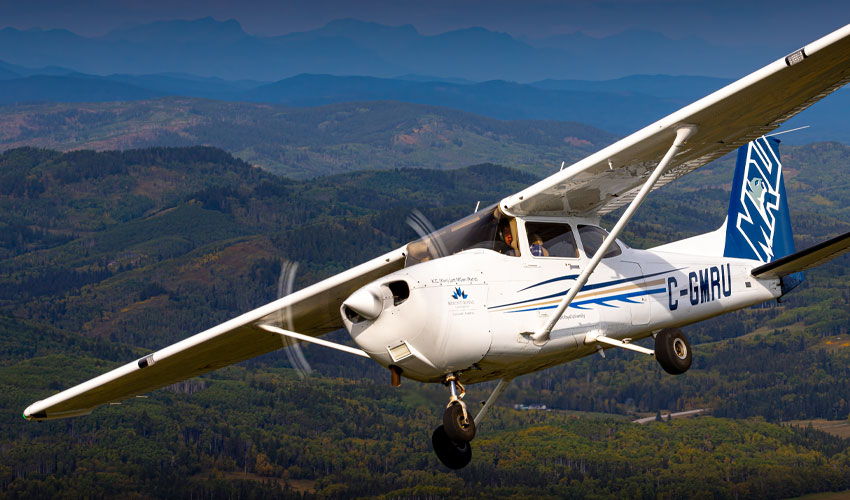 MRU's program teaches aviation and business theory while building connections between students and MRU's airline partners. Photo courtesy Alex Praglowski.
---
A Memorandum of Understanding (MOU) between the Government of Alberta and WestJet Airlines will see $8.16 million in funding for the expansion of Mount Royal University's Aviation Diploma program.
The provincial funding is part of a historic partnership announced Wednesday that aims to make Alberta the most cost-competitive aviation market in Canada, as well as promote the province worldwide, drive sustainability, enhance post-secondary programs, and improve skilled labour supply for the aviation sector.
As part of the agreement, the province will provide Mount Royal with $7.1 million in capital and a total of $1.06 million in operating funding. The new operating funding will allow MRU to add an additional 40 seats to the aviation diploma program to help meet the known labour market demand for pilots. The government will also expand bursary and student loan programs for in-demand aviation occupations, including pilots and aviation maintenance personnel.
"We are thrilled to be included in this partnership with WestJet and the Government of Alberta," said Dr. Elizabeth Evans, PhD, interim provost at MRU.
"The demand for pilots continues to grow and today's announcement speaks to the strength of MRU's aviation program, the vital role of education in advancing the aviation sector and its importance to the future economy of Alberta. It also speaks to our long-standing and productive working relationship with WestJet."
MRU's program teaches aviation and business theory while building connections between students and MRU's airline partners such as WestJet, Jazz, Porter, AirSprint and Sunwing. These partnerships provide students with direct access to mentorship, experiential learning and interview possibilities. Students graduate as highly trained pilots with a minimum of 200 hours of flying time. MRU grads are sought after in the airline industry.
Under the partnership announced Oct. 5, WestJet will invest in aircraft capacity, with an asset value in excess of $7 billion, in Calgary alone, through significant fleet commitments to be based within the province.
The government, meanwhile, will invest in developing Alberta's aviation sector. The MOU further lays out strategic, collaborative priorities to ensure provincial policies are aligned and in support of the development of the entire aviation industry in Alberta. The Government of Alberta and the WestJet Group will seek opportunities to address overall cost-competitiveness challenges for the sector.
"This is a blockbuster day for Alberta and a game-changer for our economy," said Premier Jason Kenney. "Diversification and economic development are happening right here in Alberta. By choosing Calgary as its single global hub, locating its entire Dreamliner fleet here and increasing its annual seat capacity by 80 per cent, WestJet will massively improve global connectivity, tourism and options for passengers."
WestJet will designate YYC Calgary International Airport as its single global connecting hub and will concentrate all intercontinental 787 Dreamliners flying in the city, unlocking opportunities for new routes within North America, to Europe and with the potential to reach Asia. Alongside the 787s, WestJet will grow its mid-range fleet and strengthen its North American offerings, with a commitment to double capacity in Calgary before the end of the decade.
"As Western Canada's home-team carrier, Alberta is an area where we want to continue to invest to secure WestJet's thriving future," said Alexis von Hoensbroech, chief executive officer, the WestJet Group. "Through the pandemic and onward, the Government of Alberta prioritized the importance and advancement of aviation and the visitor economy across the province and recognized that aviation is central to the economic diversification of Alberta."
Aviation training highlights include
Improving access to pilot training with investment and expansion of the Mount Royal University aviation program;
Collaboration to ensure pilots are trained in Alberta with the appropriate technology and partnerships;
Potential development of advanced commercial aviation training programs for aviation-related specialties, including a potential degree program;
Funding of an annual hiring training grant to ensure support for training and other associated costs.