Mount Royal English professor explores resilience in fiction of Miriam Toews
Canadian novelist's work basis for Oscar-winning movie
Peter Glenn — Mount Royal University | Posted: March 16, 2023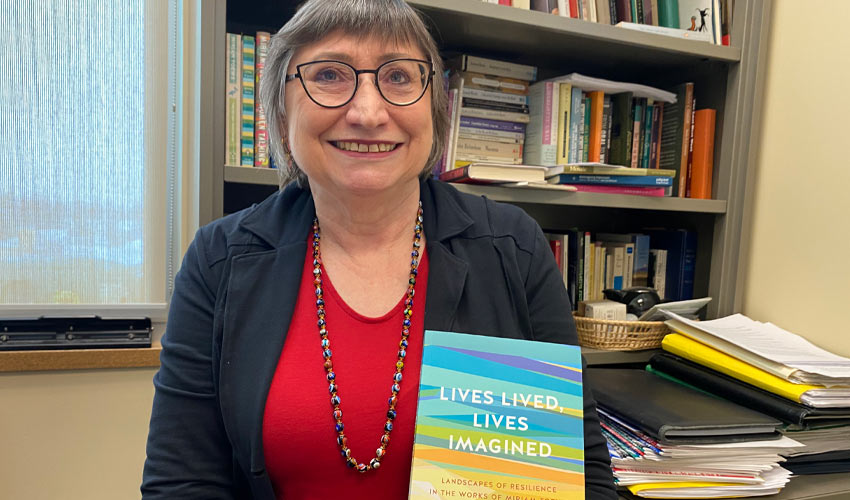 Mount Royal University English professor Sabrina Reed, PhD.
---
Poignant, sad, but at times laugh-out-loud funny: novels by Miriam Toews are incisive classics of Canadian literature.
That said, surprisingly little has been written about the Manitoba author's work. In a new book, Lives Lived, Lives Imagined: Landscapes of Resilience in the Works of Miriam Toews (University of Manitoba Press, 2022), Mount Royal University English professor Sabrina Reed, PhD, examines Toews' novels through the lens of trauma and resilience.
"I started reading her work about 20 years ago when I became interested in how mental illness is depicted in literature, and Canadian literature especially," Reed explains.
"Toews has a lot to say about that. Her works often feature people who deal with mental illness, and in her own life Toews lost a father and a sister to suicide. I came at her work first that way. And then as she published more and I started looking at her work in more detail, I thought, 'What an amazing writer and nobody's written a full-length book on her.' In fact, there wasn't that much written on her in general, so I thought, 'There's somebody who needs a full-length treatment.'"
Towes' novels include A Complicated Kindness, All My Puny Sorrows, Irma Voth, Fight Night  and Women Talking. She has won the Governor General's Award for Fiction (A Complicated Kindness) and the Writers' Trust Engel/Findley Award for her body of work.
Lives Lived, Lives Imagined focuses on how resilience emerges in Toews' work as a key theme, including the home as both a source of trauma and an inspiration for resilient action; the road trip as a search for resolution and redemption; and Toews' retelling of the story of the Mennonite diaspora, not as an escape from religious persecution, but as a critique of patriarchal oppression within the community itself. Reed further explores Toews' use of autofiction as a "reparative gesture" in the face of the Toews' family trauma.
These are weighty topics, but Toews infuses her novels with an abundance of humour. This balancing act is one of the reasons she has proven popular as well as critically acclaimed.
"She has this amazing knack of combining the comic with the tragic. People respond to that," Reed observes. "She is an excellent writer in terms of portraying a character's voice as well; and then you add to that how often you're laughing out loud as you read her books, even when she's talking about something extremely sad. I think it's that combination of ability to be funny while also talking about very serious topics that makes her so interesting to people."
Reed emphasizes Toews' treatment of issues such as fundamentalism and bullying of all sorts.
"She also criticizes the Canadian health-care system and its tendency to bully people into compliance and how that can be very difficult, especially if someone is mentally ill and so is not, by nature, compliant."
The Canadian writerly bond
While Reed was able to interview Toews online, the pandemic scuttled a planned in-person meeting in March 2020 at the author's home.
"She was so helpful in answering my questions, in being available for an interview online," Reed recalls. "One of the things I learned was that the honesty of her books translates into honesty in person and a warm and giving nature. I think you see in her work how open she is to revealing her own self. It might be a fictionalized self, but there's definitely a lot of revealing her own inner pain in public. That takes a certain amount of courage."
Reed says she has tried to make the book accessible, but also not compromise on its academic rigour. "I tried to keep the writing clear and not bog it down in heavily weighted theoretical discussion, and I seem to have been able to do that."
A movie adaptation of Toews' novel Women Talking was nominated for Best Picture at this year's Academy Awards and the film's producer/director Sarah Polley won the Oscar for Best Adapted Screenplay. Reed has seen the movie twice and says Canadian filmmaker Polley got it right in terms of casting (it stars Frances McDormand, Rooney Mara, Claire Foy and Jessie Buckley), cinematography, tone and adapting the novel to bring this harrowing true story of women in an isolated religious community to the screen.
"I thought Sara Polley made really good artistic choices making a movie from such a complicated book. In the book it's mainly just a dialogue … but I think she made the right decision focusing more on the women than the male narrator, and she really got the feeling of the tension of what Polley called 'democracy in action.' I thought it was a really brilliant adaptation."
Discover more about how the Bachelor of Arts — English at MRU can open doors to a career in writing, editing and communications.