Finding beauty in clinical settings
2023 writer-in-residence Bahar Orang draws inspiration from medical work
Katherine Sharples — Mount Royal University | Posted: March 16, 2023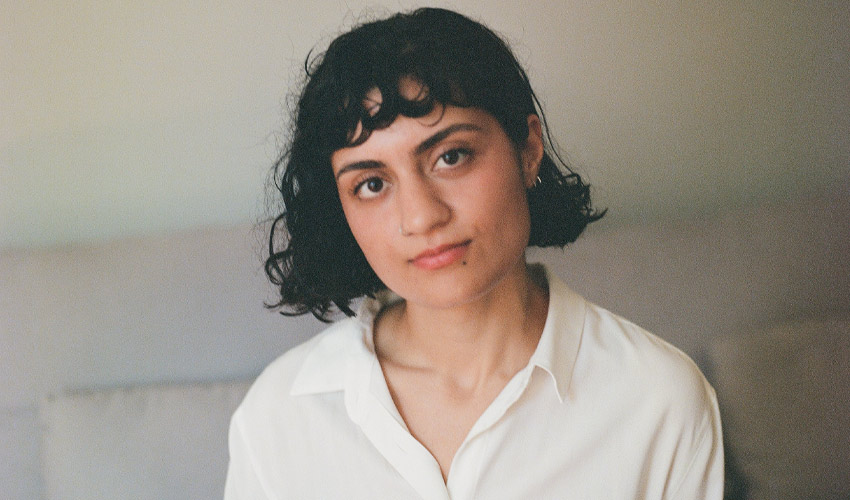 Bahar Orang is a writer and psychiatrist-in-training at the University of Toronto.
---
Mount Royal's 2023 writer-in-residence is Bahar Orang.
Natalie Meisner, director of changemaking, former Calgary Poet Laureate and a professor in the Department of English, Languages and Cultures, says Orang was chosen because she is both a physician-in-training and a rising star in the field of creative non-fiction.
Each year a writer is selected who connects with students and faculty not just within the Faculty of Arts, but speaks to issues important to the whole campus. Coming out of the pandemic, Orang's book, Where Things Touch: A Meditation on Beauty, was suggested to Meisner, who also runs the writer-in-residence program, by a nursing faculty member after a Changemaker conversation at the Trico Changemakers Studio.
"Her work draws on her experience as a physician-in-training and considers how to find beauty in clinical settings. It's a great selection for MRU as we all come together and reconnect post-pandemic," Meisner says.
"Her work asks us, 'What is intimacy in this new light? What is home, memory, love, queerness... what is critical care?' "
Orang is the program's youngest writer-in-residence to date.
"It is exciting for our creative writing students to have someone just a few years older than themselves who is thriving in medicine and arts," Meisner says.
Having been involved with the program since its early days, Meisner shares that decolonization and diversity has been at the heart of the writer-in-residence program since its inception in 2006/07, and has featured Black, Indigenous, queer and diverse creatives such as Austin Clarke, Yvette Nolan, JD Derbyshire, George Elliot Clarke, Billy Ray Belcourt, Ivan Coyote and Michael Yahgulannaas.
"We want writers who are as diverse and dynamic as our student body."
About Bahar Orang
Bahar Orang is a writer and psychiatrist-in-training at the University of Toronto. Her first book, Where Things Touch: A Meditation On Beauty (Book*hug Press, 2020), was shortlisted for the Gerald Lampert Memorial award and appeared on best books lists from the CBC and NPR.
On March 20, Orang is visiting Mount Royal's Ideas Lounge to read from her new manuscript. "You Try To Write A Love Story: An Essay On Clinical And Creative Life," is a hybrid event where participants can attend in person or virtually. Register here.
Leading up to her event, Orang answered a few questions about writing.
1. What is the power of words and writing?
Language tends to determine what we know, how we know, what we think and what we imagine might be possible in our world. So paying close attention to words, language and writing is a crucial practice. I try to listen carefully to what words get deployed in which contexts — what words do our leaders use? What does that reveal about what's happening around us? And related to these questions — what other worlds and arrangements for life do the words and writings of artists and poets make possible?
2. Why is writing important?
I think aesthetic expression and aesthetic practices, including writing, are important because they're not beholden to the pragmatic, the practical or the utilitarian. So it's a space where all kinds of experiments and improvisations can take place, and bring into view other ways of living and being together.
3. What are some tips on the writing process for new-ish writers?
Building friendships with other writers! People with whom you can share your writing, talk about the difficulties and pleasures of writing, work out different ideas, expose each other to new forms of writing, go to literary things together, experience the joy of loving and supporting their work — making friends with the poet and translator Khashayar Mohammadi was the most wonderful thing that's happened for my writing life in the last few years.
4. Can you walk us through a "day in the life" of writing?
I wish I had a consistent "day in the life" to describe! But writing really feels like it happens (these days) in stolen moments. Early mornings, late evenings, weekend afternoons… I think most writers would relate. I'm a psychiatry resident and have recently started a PhD in cultural studies, so it's a balance of many projects at the moment (which do nourish each other!). I hope to bring these multiplicities together in my talk next week, and read from different writing projects that share common themes and interests.
About the Writer-in-Residence program
The Writer-in-Residence Program brings authors of national and international standing to MRU to work with and mentor students. Visiting writers hold office hours and meet with student writers. They also visit classes, give public readings/multi-media presentations and host debates and discussions with other writers. The Department of English, Languages, and Cultures' writer-in-residence program forges links between the academic and the creative communities within Calgary and across the country. This gives students direct contact with their role models and inspires them in all aspects of writing and the study of literature.