The Writer-in-Residence Program brings authors of national and international standing to Mount Royal University to work with and mentor students. For the last decade the program has provided "an opportunity for authors, students and faculty to meet, exchange ideas and increase awareness of scholarly and artistic endeavors.... The goal of the program is to allow students, faculty and the greater community access to distinguished and unique voices in the Canadian literary landscape in a personal and professional way that encourages new ideas" (Cope).
Visiting writers hold office hours and meet with student writers. They also visit classes, give public readings/multi-media presentations, and host debates and discussions with other writers. The Department of English, Languages, and Cultures' Writer-in-Residence program forges links between the academic and the creative communities within Calgary and across the country. This gives our students direct contact with their role models and inspires them in all aspects of writing and the study of literature.
Writer-in-Residence 2020/21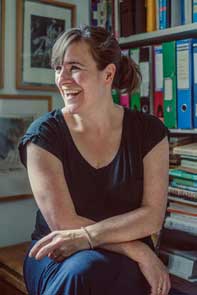 Morgan Lloyd Malcolm
March 8–12, 2021
Morgan is an Olivier Award-winning Playwright and Screenwriter. 
She was commissioned by The Globe to write Emilia which became a sell-out in summer 2018 and transferred to the West End at the Vaudeville theatre in 2019. It has been optioned as a film and she is in development on this currently. It won three Olivier Awards in 2020 for Sound Design, Costume Design and the Noel Coward Award for Best New Comedy or Entertainment.
Previous theatre includes Belongings and The Wasp. She has co-written four pantomimes for The Lyric Hammersmith and various site-specific one-on-one shows for Look Left Look Right. She has also written several Christmas, Community and Family shows. 
Current theatre commissions with Headlong, Lyric Hammersmith, Royal Court and Clean Break. 
She was due to have two plays produced in 2020 and one for 2021 before Covid hit. Typical Girls for Clean Break, Sheffield and Soho Theatre and also Mum for Francesca Moody Productions, The Traverse, Plymouth Drum and Soho Theatre. Her play When The Long Trick's Over was due to go on tour with High Tide Theatre in 2021. They will hopefully be produced once things settle again.
She is working with Lucky Chap, Fremantle and Dog Rose Productions, Gaumont and Moonage. She is also adapting her play The Wasp into a screenplay for Paradise City Films. She is represented by David Higham Associates and WME.
Photo credit: Charles Moriarty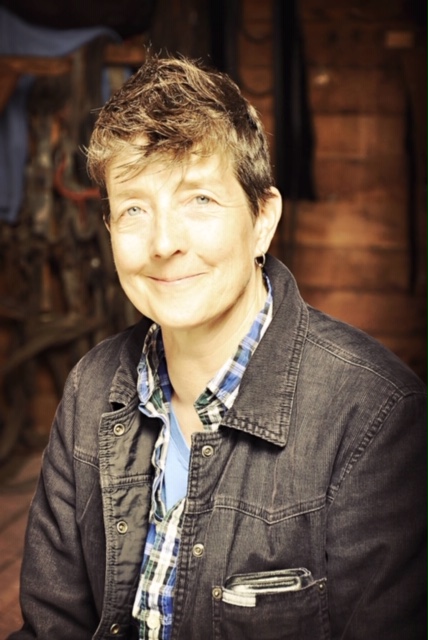 Jan (JD) Derbyshire is an established multi-disciplinary artist. She specializes in the design of playful and participatory experiences in theatre, movement, comedy, media and events that push forward ideas of diversity, belonging, civic engagement, perception change and practical applications of theory. She has recently co-created participatory projects with The Banff Centre for the Arts, Conference Board of America, New World Theatre, The Vancouver International Children's Festival, The Republic of Inclusion, National Art Centre, Ottawa, The University of Guelph revisiting Disability Project, All in, Frank Theatre and Young People's Theatre, Toronto. Jan is an award-winning Canadian Playwright and is the co-founder of POD, a Vancouver based citizen designer lab. She has a Masters in Inclusive Design from OCAD University in Toronto (2014) She is currently the Artistic Director of Nervous System Performance based in Vancouver and Inclusive Designer in Residence with Calgary Arts Development. Her latest show, Certified, where the audience becomes a mental health review board will tour this year to Uno Fest, Victoria, FoldA digital arts festival in Kingston, High Performance Rodeo, Calgary and will be part of Vancouver's Touchstone Theatre's 2019/20 season.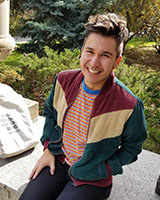 Billy-Ray Belcourt is from the Driftpile Cree Nation. He is a PhD student (though I should *fingers-crossed* be a candidate by the time the residency happens) and 2018 Pierre Elliott Trudeau Foundation Scholar in the Dept. of English & Film Studies at the University of Alberta. His first book, THIS WOUND IS A WORLD (Frontenac House 2017), won the 2018 Canadian Griffin Poetry Prize (making him the youngest winner ever), the 2018 Robert Kroetsch City of Edmonton Book Prize, and a 2018 Indigenous Voices Award. His next book, NDN COPING MECHANISMS: NOTES FROM THE FIELD, is due out with House of Anansi in the fall of 2019.
Read more about Billy-Ray's experience as writer-in-residence.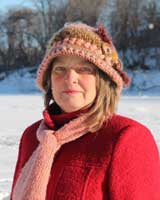 Di Brandt's acclaimed and award-winning poetry titles include questions i asked my mother (which was recently re-issued in a 30th anniversary tribute edition with an Afterword by Tanis MacDonald); Agnes in the sky; mother, not mother; Now You Care; and Walking to Mojacar, with French and Spanish translations by Charles Leblanc and Ari Belathar. She has collaborated with numerous other writers, musicians and visual artists, including Aganetha Dyck, Kenneth Nichols, Rebecca Campbell and Carol Ann Weaver, Jane Finlay-Young Annie Jacobsen and Barbara Godard. She has lived and worked in Winnipeg, Edmonton, Windsor (ON), Toronto, Berlin and Brandon (MB), and has held Creative Fellowships and Guest Lectureships in Scotland, Switzerland, Germany, Austria, Spain, New York, Colombia and Japan.

Read more about Di's experience as writer-in-residence.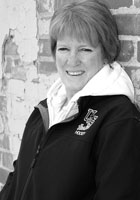 Maureen Ulrich was born in Saskatoon, but spent most of her formative years growing up in Calgary. She started writing horse stories when she was 11 and historical fiction while attending Milton Williams Junior High and Henry Wise Wood High School. In 1976, she returned to Saskatoon to attend university and graduated in 1980 with an education degree. Her first teaching assignment was in Lampman in the southeast corner of Saskatchewan and she has pretty much been there ever since.Maureen didn't have much time for writing during the '80s because she was too busy getting married, finishing a BA, teaching middle years at Estevan Junior High, raising two wonderful daughters and spending most of her free time at rinks and ball diamonds. However, in 1996, she was asked to write a student production for the junior high, and the floodgates opened. Twenty years later, she is still writing for young people. Samuel French has published two of her plays, and Coteau Books published the Jessie Mac series, a trilogy about girls' hockey and teen issues. In her free time, Maureen loves to watch the Riders and the Jays (although not always in that order) read and write, golf, ski, ride her motorcycle - and of course - talk about writing to just about anyone who will listen.
Read more about Maureen's experience as writer-in-residence.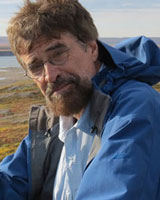 Ken McGoogan has published a dozen books, among them How the Scots Invented Canada, Fatal Passage, and Lady Franklin's Revenge. His honours include the Pierre Berton Award, the UBC Medal for Canadian Biography, the Drainie-Taylor Biography Prize, and the Canadian Authors' Association History Award. Ken teaches creative nonfiction at the University of Toronto and in the MFA program at King's College in Halifax. Ken has crisscrossed Ireland and Scotland, and also circumnavigated both countries. This September, for the seventh time, he will sail in the Northwest Passage as an author-historian with Adventure Canada.
Read more about Ken's experience and the writer-in-residence program.
Alan Cumyn is the award-winning author of nine wide-ranging and often wildly different novels, seven for adults and two for children. His historical novels The Sojourn and The Famished Lover Chronicle the First World War and Great Depression experiences of artist Ramsay Crome. His human rights novels, Man of Bone and Burridge Unbound, follow a torture victim through survival and post-trauma. Losing It is a darkly funny and truly twisted novel about madness, while his Owen Skye books for kids hilariously trace the calamitous trials of childhood and the pangs of early love. Cumyn has a master of arts in creative writing from the University of Windsor where he studied under Alistair Macleod. He taught English in China and Indonesia, ran a group home in Toronto for Katimavik, and for eight years wrote on international human rights issues for the Immigration and Refugee Board of Canada. He has also been a writing mentor through Humber College and writer in residence at the University of Ottawa. A two-time winner of the Ottawa Book Award, Cumyn has also had adult novels nominated for the Giller Prize and the Trillium Award, while his work for children has won or been nominated for ten national awards. He is currently adapting two of his novels for the screen.
Gartner
is an award winning journalist and author of the short fiction collections Better Living Through Plastic Explosives (shortlisted for the Giller Prize) and All the Anxious Girls on Earth. Her stories have been widely anthologized and broadcast on CBC and NPR's Selected Shorts.
Fiction writer, musician, memoirist, teacher and performer Ivan Coyote was the Visiting Writer January 23-26, 2012. Ivan Coyote's visit demonstrated the many ways in which a visiting writer can touch the university and community. Coyote's reputation as a storyteller ensures that she was in great demand by instructors, and her class visits were one of the many highlights because of her great gift of storytelling. Coyote draws on her family's and her own experiences for her writing, and her discussions about how she transforms "kitchen table stories" into writing and performances gave many students the courage to write honestly about their own lives, and to see their experiences as meaningful to themselves and to other readers. The relevance tone and style, and emotional effect of her writing can be summed up by in one memorable visit:
"Renae [Watchman] and I joined forces and Ivan spoke to both our classes - to my students, she opened their eyes…to the religious strife and notions of histories - plural - that we had been speaking about in our Postco Ireland unit...she did this by beginning with a story about her recent trip to Belfast in which she went to a tourist centre, requesting a city tour. She was asked whether she wanted an orange bus or a blue bus. (You can imagine Ivan's response - I just wanted a $%%& bus!!) When she exclaimed she just wanted an expletive bus, she didn't care what colour it was, the tour guide said well, you just might - the orange bus is the protestant tour of Belfast and the blue bus is the R[oman] C[atholic] tour….

I think her candour about the constraints of the normative paradigm of masculinity really touched several students, one of whom came down, shook her hand, and thanked her for recognizing that there are more to men than the narrow roles seemingly available to them. Her emphasis on the importance of story, overall, to one's identity...her emphasis on the fact that we are all story-tellers resounded for those many closet English student/writer types."

Kelly Hewson
Associate Professor, Department of English
In addition to her fiction classes, she has distinguished herself by teaching memoir writing to seniors, where she discovered her "true calling," encouraging elders to write down their stories, and to view them as an essential contribution to the knowledge of their communities (Brandt).
Coyote's recent novel, Bow Grip and other writing was on the syllabi of several English department courses, and Ivan provided many informative and inspiring class visits to post-colonial, novel and other literature courses. Like Austin Clarke, Coyote also emphasized the discipline, perseverance and hard work required to turn life into memorable and inspiring stories. Ivan's experiences of growing up gay in a small community near Yellowknife were one of the features of her public performance on the evening of January 26 to a packed lecture hall, which alternately had her audience in stitches or in tears as she told a variety of stories based on her family, her childhood, the way she has dealt with gender, class and gay/lesbian issues in a number of contexts, including how she, as a writer with few formal academic qualifications is treated in universities. As part of her lecture/performance, Coyote reinforced the importance of storytelling in bringing various communities together, to promote understanding and empathy, to prevent bullying, and to inspire people who did not think that they could write that they had a worthwhile story to tell.
Like many of the other writers in the Visiting Writer program, Coyote commented on the importance of such programs, not only for readers, students, faculty, and the public, but as a way to for writers to continue their craft through discussion and engagement with a diverse reading audience. As one memorable story from her performance illustrated, a teenaged writer summed up Ivan's characters and achievements more pithily in a few sentences than any academic study of her had ever accomplished. As she observed in an interview in Mount Royal's This Week, "I get the chance to entertain and inspire writers, social justice advocates and hear from individuals who are learning to tell their own stories" (Brant).
Michael Yahgulannaas, who visited Mount Royal April 4-8, 2011, is a contemporary Haida artist who works in a variety of media including art, installations, illustrated books and graphic novels. His visit enabled students, faculty and the public to think about the ways that visual arts and film are related to creative writing, and his visit was of particular interest to students in the Department of English's graphic novels course. Yahgulannaas's innovative synthesis of modern popular and traditional culture, for example his Haida Manga graphic novel, encouraged discussions about cultural continuity, and the living traditions of Aboriginal culture existing within modern Canadian writing and art. Yahgulannaas's involvement in the Haida community and politics and his contributions to Canadian art, were recognized through an Iniskim centre reception, and helped Mount Royal promote cultural relationships between Mount Royal and Aboriginal communities on campus and beyond.
Carmine Starnino is a recognized and accomplished poet from Montreal, as well as an editor, literary critic and essayist who was able to provide a critical and aesthetic perspective on poetry and literature. He visited Mount Royal the week of November 26, 2009. He has strong and influential views, encompassed in essays such as "Vowel Movements: Pointless Toil and Empty Productivity," and has engaged in a long-running literary and critical duel with Christian Bök, who has equally provocative views and approaches to poetry. This led to an innovative public presentation, a debate between Starnino and Bok, billed as the Cage Match of Canadian Poetry, a figurative battle with no less at stake than the "future of Canadian poetry, [which] lies at the heart of this conversation, according to poet and critic Micheline Maylor" (Cope). Starnino's visit also coincided with the inauguration of the Mount Royal University Centennial Reader, an online treasury of non-fiction on a wide range of academic subjects. The transcript of the debate, and essays inspired by Bök and Starnino's ideas, appeared in the first issue, which has since become a valuable teaching resource for writers and researchers, and a way to promote and support creative and academic non-fiction.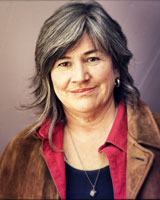 Yvette Nolan came to Mount Royal during Native Awareness Month, March 2009, and combined her visit to the English department with events sponsored by the Iniskim Centre, including the Iniskim Centre's Speaker Series. Nolan was also director of Native Earth Performing Arts in Toronto. Her discussions about her play on the life of Annie Mae Aquash was complemented by a screening of a documentary on the native activist. She also held office hours for manuscript consultation with creative writers. Nolan observed how the visit not only provided university members and public with insight about writing, but also provided a forum for people of aboriginal and non-aboriginal backgrounds to come together: "It's important for people to not be afraid of the culture….A lot of the obstacles to understanding have been about fear - fear of inequality, fear of someone taking something that I think is mine. When in reality, I think we all have to believe in abundance. We're all in it together, both Aboriginal and non-Aboriginal people" (De Ruyter). She noted that she loved meeting with students, faculty and the public because it gave her the "opportunity to be in an environment where you can engage in discussion and become inspired" (De Ruyter).
The first writer in the Visiting Author series,
Austin Clarke
visited Mount Royal November 13-22, 2007. Clarke is a member of the Order of Canada, and the winner of many national and international writing awards, including the Giller Prize for The Polished Hoe. Clarke gave a public reading on November 14, 2007 at the Leacock Theatre, and gave a number of classroom visits, to which the public were invited. He gave aspiring students and other writers advice and encouragement about their own writing, including the need to take criticism and "work hard - there is no such thing as inspiration that will fall from heaven like snow" (Van Wyk). Clark himself noted that programs such as the one sponsored by Mount Royal were "One of the reasons creative writing in this country has become so interesting….Without that, I don't think we would have made such tremendously fast progress" (Van Wyk).