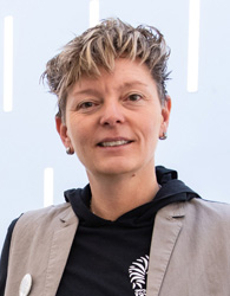 Natalie Meisner, PhD
Administrative title: Director of Changemaking
Academic title: Professor and Poet Laureate of Calgary
Education
PhD (University of Calgary)
MFA  Creative Writing (University of British Columbia)
BA (Dalhousie/Kings University)

Office: EA3122
Email: nmeisner@mtroyal.ca
Phone: 403.440.5925
---
 A playwright / poet from Nova Scotia, a full Prof at MRU and Calgary's 5th Poet Laureate. Her work deploys the power of comedy for social change.  BADDIE ONE SHOE is a collection of odes to renegade women. LEGISLATING LOVE: THE EVERETT KLIPPERT STORY illuminates the life of the last Canadian jailed for homosexuality. SPEED DATING FOR SPERM DONORS was a hit at Lunchbox & Neptune. DOUBLE PREGNANT: TWO LESBIANS MAKE A FAMILY topped non-fiction lists and MY MOMMY, MY MAMA, MY BROTHER & ME is about a two-mom biracial family finding community.
Selected Scholars Activity
Baddie One Shoe (Frontenanc House) 
Speed Dating For Sperm Donors (Playwright's Canada Press)
Legislating Love: The Everett Klippert Story (University of Calgary Press)
My Mommy, My Mama, My Brother & Me (Nimbus Publishing)
Double Pregnant: Two Lesbians Make a Family (Fernwood Publishing)
Selected Honours. Grants and Awards
Growing Up Salty (Fernwood Publishing)
Fifth Poet Laureate of Calgary
Canadian National Playwriting Award, first place
Alberta Playwriting Award, first place
---
Link to my professional website.
---