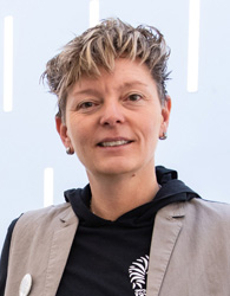 Natalie Meisner, PhD
Administrative title: Director of Changemaking
Academic title: Professor and Poet Laureate of Calgary
Education
PhD, University of Calgary
MFA — Creative Writing, University of British Columbia
BA, Dalhousie/Kings University

Office: EA3122
Email: nmeisner@mtroyal.ca
Phone: 403.440.5925
---
Scholarly Interests
Natalie Meisner is an award-winning multi-genre author, the director of Changemaking at MRU and a full professor in the Department of English, Languages and Cultures where she works in the areas of creative writing, drama and gender/sexuality studies.
Teaching
My background in live theatre and community development informs my student-centred approach. I use principles of equity, diversity and inclusion to make my classes as rich as possible for every kind of learner.
Selected Scholars Activity
Speed Dating For Sperm Donors (Playwright's Canada Press)
Legislating Love: The Everett Klippert Story (University of Calgary Press)
My Mommy, My Mama, My Brother & Me (Nimbus Publishing)
Double Pregnant: Two Lesbians Make a Family (Fernwood Publishing)
Selected Honours. Grants and Awards
Growing Up Salty (Fernwood Publishing)
Fifth Poet Laureate of Calgary
Canadian National Playwriting Award, first place
Alberta Playwriting Award, first place
---
Link to my professional website.
---