Government announces funding to support aviation at MRU
More students set to take flight with new bursary and proposed new program
Haley Jarmain — Mount Royal University | Posted: March 9, 2023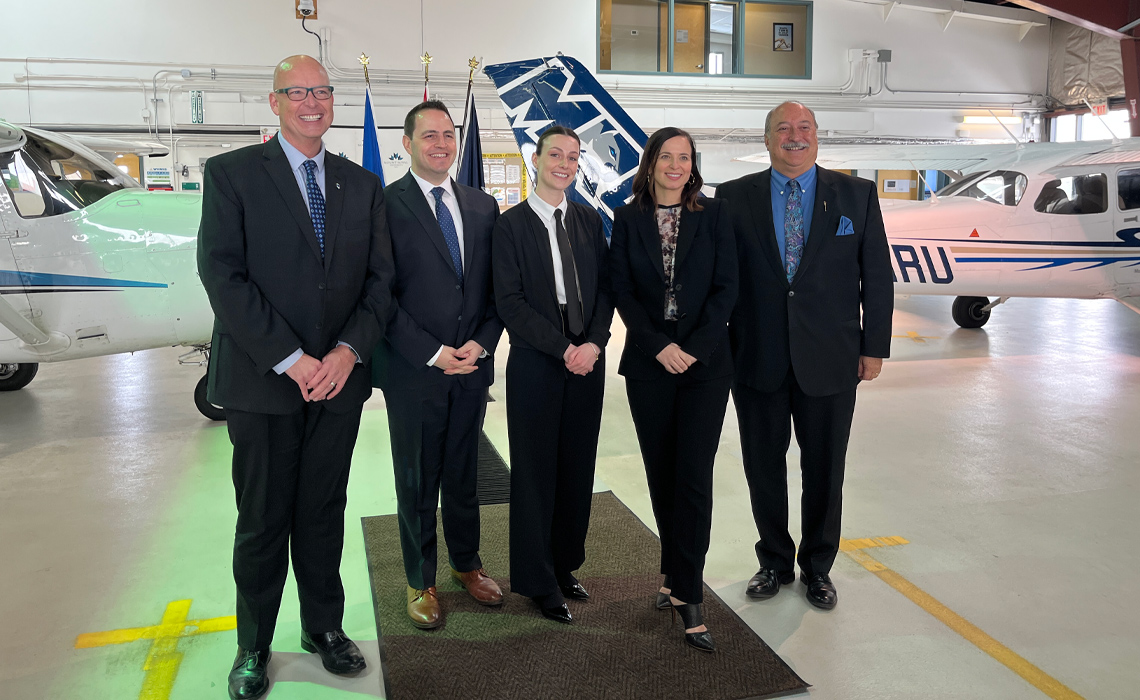 From left to right: Tim Rahilly, PhD, president and vice-chancellor at MRU, Demitrios Nicolaides, PhD, minister of advanced education, Ashleigh Morrow, second-year MRU aviation student, Jennifer Bue, interim chief financial officer at WestJet Group and Richard Gotfried, MLA for Calgary-Fish Creek.
---
The Alberta government is committing more than $11 million to support the province's aviation industry, which includes funding for Mount Royal's Aviation Diploma.
At an announcement held at Mount Royal's Springbank Campus, the honorable Demitrios Nicolaides, PhD, minister of advanced education, committed $6 million over three years to help Mount Royal establish a Bachelor of Aviation Management. Another $4.5 million will go to a new aviation student bursary, and $500,000 to an aviation centre of excellence.
"These investments will help ensure Alberta's air industry has the resources and workforce it needs to succeed, further supporting the growth and vitality of Alberta's aviation industry, the diversifying of our economy, and leading more students to successful careers," Nicolaides said.
The proposed Bachelor of Aviation Management would be a 120-credit degree and would see 120 seats added over four years. The first of its kind in Alberta, students wanting to get into the degree program would not need to have their Private Pilots Licence.
The program would offer one generalized major in aviation management, however at MRU the program would be offered under two different six-course concentrations.
One concentration in flight-crew operations would include a commercial pilot and multi-engine instrument rating course to prepare students for a role as a pilot as well as other courses designed to prepare them for management opportunities in their flying careers.
The second concentration in aviation operations would focus on greater development of management skills and specific aviation business content.
"We thank the Government of Alberta for this support of Mount Royal's aviation program and the future pilots it educates. With the demand for pilots continuing to grow, this announcement speaks to the strength of the program, the vital role of education in advancing the aviation sector and its importance to the economy of Alberta," said Mount Royal president and vice-chancellor Tim Rahilly, PhD.
He noted that this will help address industry concerns about pilot shortages. By 2025, Canada will need as many as 7,300 more pilots, according to data from the Canadian Council for Aviation and Aerospace.
Additionally, a new bursary has been announced for aviation students. A total of $4.5 million will support up to 450 students over three years.
The new air-access bursary offers up to $10,000 in non-repayable support for aviation students in Alberta.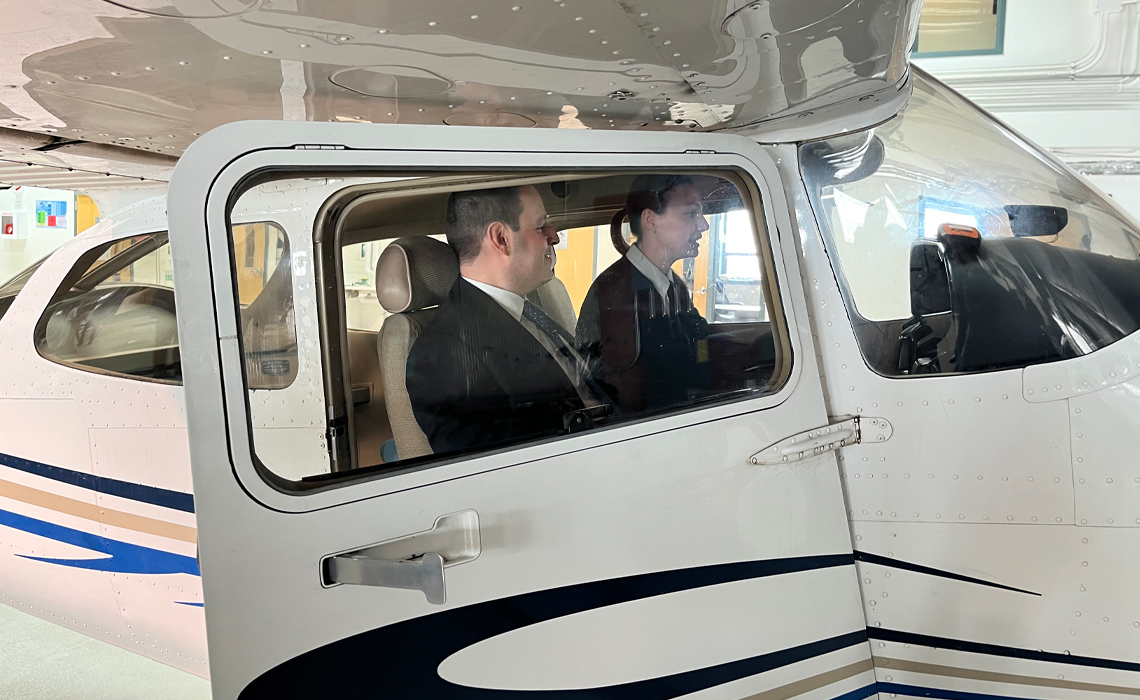 Demitrios Nicolaides sits with Ashleigh Morrow in a Cessna 172 at MRU's springbank airport campus.
---
Second-year aviation student Ashleigh Morrow says this new bursary will support incoming students, pointing out that the expenses of flight training are a barrier to entry for many potential candidates.
"Not only did I have to consider the cost of the aviation program itself, but also the opportunity cost of leaving full-time employment," Morrow said, who had been working as a flight attendant prior to coming to MRU.
"My hope is that a new aviation bursary will make the program more accessible for prospective students of all backgrounds and encourage more diversity of the industry."
Student Ethan Best, president of the aviation student executive, agrees and said he's excited for the program and for a career in the industry.
"Aviation is a growing field and the demand for pilots continues to soar. We thank the Government of Alberta for their financial support for students like me in the aviation program," Best said.
WestJet's interim CFO Jennifer Bue was on hand for the announcement, which took place during Women of Aviation Worldwide Week.
"WestJet wants to acknowledge that only seven per cent of our pilots are women. That is actually high for the sector, but we know that women are underrepresented, and with these announcements we are confident we will be able to grow our female presence not only within our flight deck, but our entire organization."
The remaining $500,000 will support planning of an aviation centre of excellence in Alberta. Bue says the centre, when complete, will ensure aviation training is done at home, rather than overseas.
Bue also commended MRU's "elite" aviation program, which "offers academic preparation along with commercial pilot, multi-engine, instrument and simulator training."
Learn how to fly with Mount Royal's aviation program, which has established connections with  airline partners such as Jazz, WestJet, Porter, AirSprint and Sunwing.