Convocation 2023: From introvert to mentor
Compiled by Erin Guiltenane — Mount Royal University | Posted: May 29, 2023 | Lasted updated: May 31, 2023
Naavneet Aulakh
Bachelor of Business Administration — Finance and Supply Chain Management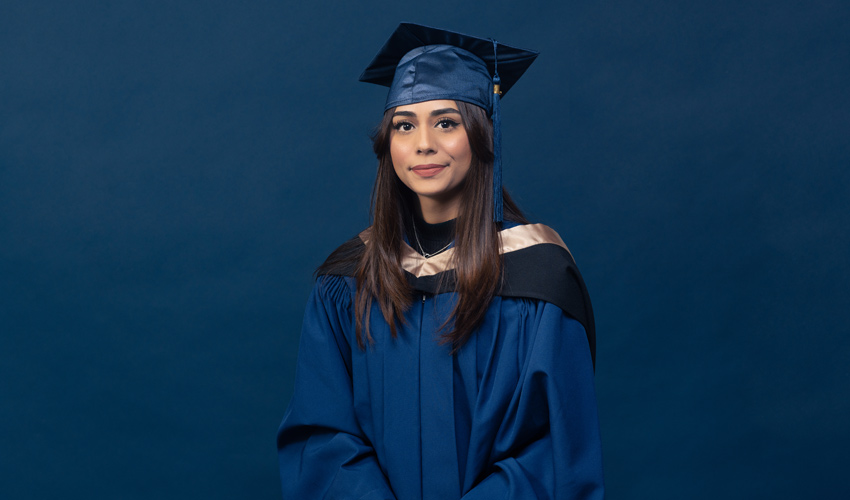 Personal growth is one of the best things an undergraduate student can gain from the university experience, alongside their academic achievements. During her four years at MRU, Naavneet Aulakh made friends, met mentors and struck out on a path that diverged from her original plan. The skills she gained through an internship completed while studying at MRU will now be used at her new job at Petronas.
Aulakh graduated during the 2023 Convocation ceremonies with a Bachelor of Business Administration with a double major in finance and supply chain management.
What was your most memorable MRU experience?
My most significant MRU experience was the Chancellor's Dinners I got to attend and partake in as a student ambassador. I had some of the best conversations with donors to MRU, which is now a very insightful memory looking back.
Which on-campus groups or programs should more students know about?
The MRU Supply Chain Students Society (SCSS). Being co-president, it was a lot of work to spread awareness of this club, especially during COVID times. It is a society that is helped by MRU's supply chain faculty and industry professionals and gives students a lot of opportunities to network and gain the mentorship needed for their future growth.
Was there someone specific who made an impact on you during your studies?
Dr. Rajbir Singh Bhatti, PhD, chair of the Department of International Business and Supply Chain Management, was the reason I joined supply chain management. I would have continued down my path of finance if Rajbir did not show me the doors this industry could open. As well as encouraging and mentoring me and so many of my peers, he really gave us the confidence we needed to take the next step in our careers and step outside our "boxes."
"The growth I had from when I started my degree to now finishing has been a complete 180-degree turn."

Naavneet Aulakh
What was the biggest obstacle you had to overcome during your time in university?
Myself. The growth I had from when I started my degree to now finishing has been a complete 180-degree turn. I started off as a shy individual who did not know what I wanted to do and where I wanted to go. I grew into being a mentor — leading my club and organizing various events and making so many industry connections.
It didn't happen overnight. It took one small step outside of my comfort zone and having so many people believing in me.
What do you consider to be your greatest achievement?
My greatest achievement so far would definitely have to be giving a speech to the Government of Alberta and Calgary Economic Development about how work-integrated programs have benefited my education at MRU.
What are your plans for the future?
After finishing my Bachelor of Business Administration, I will be working as a supply-chain management (SCM) co-ordinator at Petronas Canada, where I did a one-year SCM internship during my last year of university.
MRU grads are helping shape the future here in Calgary and across the country. We invite you to join us in celebrating the unique combination of confidence, vulnerability and boldness that goes into the university student experience and read our profiles of exceptional students from the Class of 2023.
A note for soon-to-be MRU alumni! As you prepare to transition from student life, we encourage you to check out our Alumni Hub — custom-built to inform you about the programs, benefits and services available to you as a member of the MRU alumni community.