Convocation 2023: Uncovering newfound confidence and leadership abilities
Compiled by Erin Guiltenane — Mount Royal University | Posted: May 29, 2023 | Lasted updated: June 1, 2023
Kyle Mackenzie
Bachelor of Nursing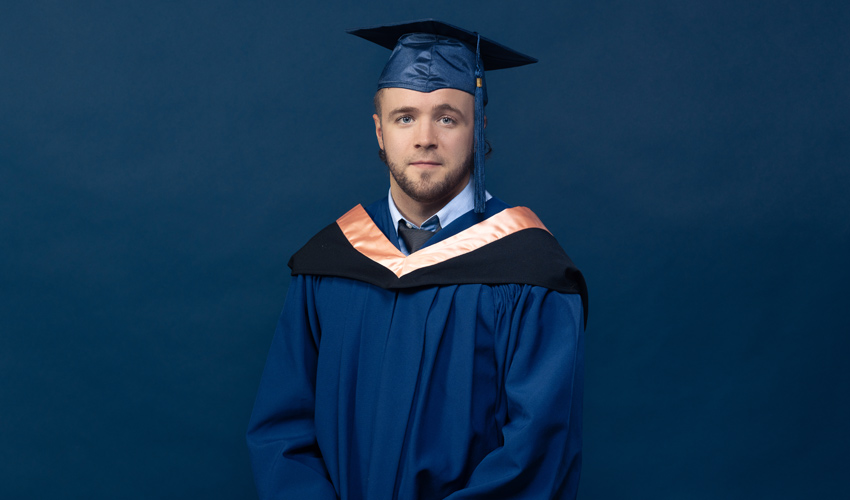 Kyle Mackenzie's time as a student in MRU's nursing program was one of perseverance and transformation. It's not always easy to maintain a sense of self-confidence while taking part in a rigorous field of study leading to a demanding profession. Through showing up authentically and embracing the discomfort that comes with the transition from post-secondary student to working professional, Mackenzie made the most of his university experience. He graduated with a Bachelor of Nursing at MRU's 2023 Convocation ceremonies.
What was your most memorable MRU experience?
The experience that sticks out for me would be the all-day study sessions at the Riddell Library and Learning Centre. Setting up a date with my study group, writing on all the available whiteboard walls, endlessly repeating the same information, then stumbling downstairs in an exhausted brain fog to recharge at Barrow for the afternoon push … those days all blur into what feels quintessential to my MRU experience. I'm going to miss the unique blend of stress leading to the inevitable delirious cackling by the end of the day, signalling it was time to go home.
Which on-campus groups or programs should more students know about?
The SAMRU Food Support program, where you can get free breakfasts from Monday to Friday and food, self-care and hygiene products. Having the fuel to keep you going throughout long, stressful semesters is really important. The free breakfasts are a great alternative for those who don't want to or can't spend money buying food every morning.
Secondly, I'd like to highlight the support programs for dating, domestic and sexual violence at MRU, such as Stepping Up. You are not alone and there are advocates to help support you through the situation you're going through. It's not an easy subject to talk about, but it is relevant and important for students to understand and know that there are programs to support them, from counselling to seeking advice on what to do if they find themselves in an uncertain situation. Awareness and visibility help to ensure students and employees who need help can access these services.
Lastly, I'd like to highlight Access and Inclusion Services, located just inside and to the right of the West Gate Entrance. We are all unique, and the intersections of who we are and how we learn come to the forefront during our time at university. I strongly encourage any student who feels as though they are struggling in their academic journey due to their race, place of origin, gender expression, physical or mental status, sexual orientation, or any other aspect of who they are to reach out to these services.
Struggling through years of university just to find out there was help all along is not worth it. Start the conversation early in your journey!
Was there someone specific who made an impact on you during your studies?
I had amazing instructors who impacted me in significant ways. Each semester listening to and learning from amazing strong women helped me grow tremendously. They cultivated a sense of pride and unabashed passion in me for being a nurse who can advocate for my patients in numerous ways. I'd be remiss if I just named one, so thank you to Christine Brownell, Marg Olfert, Giuliana Harvey, Joanna Szabo, Devan Hrupp, Pam Wudel, Kim Brown and Devon Kennedy.
How did the scholarships and awards you received help you during your studies?
Over the course of my studies, I received the Jason Lang Scholarship and the Donna B. Hinde Memorial Scholarship in gerontology. These scholarships allowed me to continue to strive towards academic excellence by relieving part of the financial strain in the later years of university. Due to the intense time requirements of nursing practicums, the scholarships allowed me to maintain my focus on where I wanted it to be, which was taking full advantage of the learning opportunities practical experience provided.
Additionally, leading into my third year I received the Exceptional Leaders Scholarship through the DeGroote School of Business at McMaster's University. This scholarship helped fund my participation in the Emerging Leaders Program at McMaster's University. An opportunity that was highlighted by MRU, the program helped me to excel in my confidence to work within a team and as a leader. This confidence massively impacted the way I was able to approach my third- and fourth-year studies, moving from a student mentality into that of a budding professional.
"We are all unique. The intersections of who we are and how we learn come to the forefront during our time at university."

Kyle Mackenzie
What was the biggest obstacle you had to overcome during your time in university?
New uncertainty in who I am was my biggest obstacle during university. University has a unique way of challenging your identity simply by challenging your understanding of the world. When combined with a constantly changing health-care landscape with peers to compare myself to, I found myself questioning my abilities.
The feeling of being an impostor and not knowing what I was doing followed me up until my last days of university. Every shift was a struggle. I didn't conquer this obstacle; I didn't all of a sudden become certain in who I am and what I was doing. However, I did overcome it through consistently showing up as myself, being authentic in how I was presenting my abilities, and despite my four years of education, owning the discomfort that comes with being new within an incredibly complex profession.
What do you consider to be your greatest achievement?
I consider my newfound confidence in being a leader to be my greatest achievement.
Going into school, I had no qualms about expressing my thoughts and opinions about the state of public health care within Alberta. However, throughout these past four years, I have worked to exemplify a person who can put in the work to advocate for the safety and positive learning experiences of my nursing peers. Looking back, I am immensely proud of my consistent approach and who I have been in working to be a voice for change.
What are your plans for the future?
For the past four years, I have had to focus on what is next — what test, assignment, reading or clinical is coming up. There has rarely been a moment to be able to live and enjoy the moment for what it is. So, for right now, my only plan is to find a place where I have a healthy work-life balance where I can be who I am fully and that allows me to build upon my passion for caring for others.
MRU grads are helping shape the future here in Calgary and across the country. We invite you to join us in celebrating the unique combination of confidence, vulnerability and boldness that goes into the university student experience and read our profiles of exceptional students from the Class of 2023.
A note for soon-to-be MRU alumni! As you prepare to transition from student life, we encourage you to check out our Alumni Hub — custom-built to inform you about the programs, benefits and services available to you as a member of the MRU alumni community.