$3 million federal investment through PrairiesCan will double MRU's pilot and flight training capacity
Funding will enable program expansion to meet pilot shortage
Peter Glenn — Mount Royal University | Posted: October 20, 2023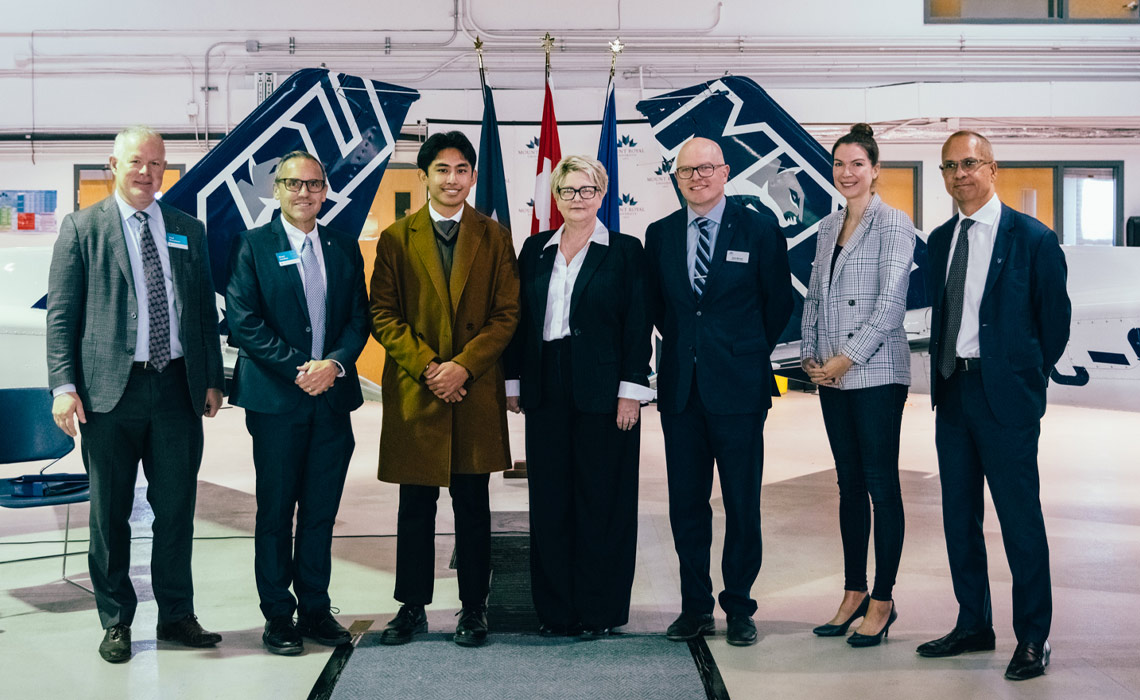 From left: Paul Rossmann, VP University Advancement, MRU; Chad London, provost and VP Academic, Zach Yepes, aviation student; Kelly Williams-Whitt, dean, Faculty of Business and Communications Studies; Dave McLean, director of marketing, Shelagh Hayes, director general, Business Innovation and Community Development, PrairiesCan, and Chris Lee, interim chair, MRU Board of Governors, attend the announcement Friday.
---
A $3 million investment by PrairiesCan will boost the expansion of Mount Royal University's pilot and aviation flight training program  — doubling enrolment to 80 students per year in the Aviation Diploma program and launching a new Bachelor of Aviation Management degree program in 2024. The federal investment will help equip a new hangar and learning facility at the university's Springbank campus, including new virtual reality technology and flight simulators needed to train the next generation of pilots and aircrew.
"The demand for pilots continues to grow and today's announcement speaks to the strength of MRU's aviation program, the vital role of education in advancing the aviation sector and its importance to the future economy of Alberta," said MRU president and vice-chancellor Dr. Tim Rahilly, PhD. "This funding boost allows Mount Royal University to connect even more students, who aspire to be pilots or aviation professionals, with the education they need to meet the demands of the growing aviation sector."
The aviation industry in Alberta and across Canada is growing, resulting in increased demand for pilots and skilled aviation professionals in the air transportation and aircrew industries. The federal government said it is investing in Alberta's aviation sector to support the increasing need for pilots and a flight-ready workforce while creating good-paying jobs and diversifying Alberta's economy.
PrairiesCan, the federal department that works to diversify the prairie economy, made the announcement on Friday, saying it will help drive the continued growth of Alberta and Canada's aviation sector. The funding is allocated through PrairieCan's Community Economic Development and Diversification Program (CEDD). At a media conference at the MRU hangar, MRU provost and vice-president, Academic, Dr. Chad London, PhD, spoke about the program and MRU's gratitude to the federal and provincial governments for supporting it.
Aviation student Zach Yepes thanked PrairiesCan for the funding, saying it will make a real difference for students and the program going forward.
"As future pilots who will be working in this industry, we are excited that others see the great potential in us, and in aviation in our province and across the country. A new hangar with new virtual reality technology, flight simulators and additional aircraft, will open doors for many individuals who are interested in pursuing a career in aviation," Yepes said.
Over the next two years, this investment is expected to create more than 70 jobs, assist approximately 10 small- and medium-sized businesses, and train 140 students — including those currently underrepresented in the aviation industry such as women and Indigenous youth.
"Calgary's post-secondary institutions are playing an essential role in supporting the growth of Alberta's aviation sector. Our government's investment towards expanding Mount Royal University's pilot training facility will help prepare a new generation of aviation professionals to drive the continued growth of Alberta's aviation industry and the high-quality jobs that it creates for people and communities across the province," said Dan Vandal, minister for PrairiesCan, prior to the announcement.
Mount Royal's two-year aviation diploma is one of Canada's elite Aviation Accreditation Board International (AABI) accredited programs, integrating academic preparation with flight training for a Commercial Pilot Licence (CPL) with multi-engine and instrument ratings. With the demand for pilots growing, 86 per cent of graduates have found employment in the field of aviation.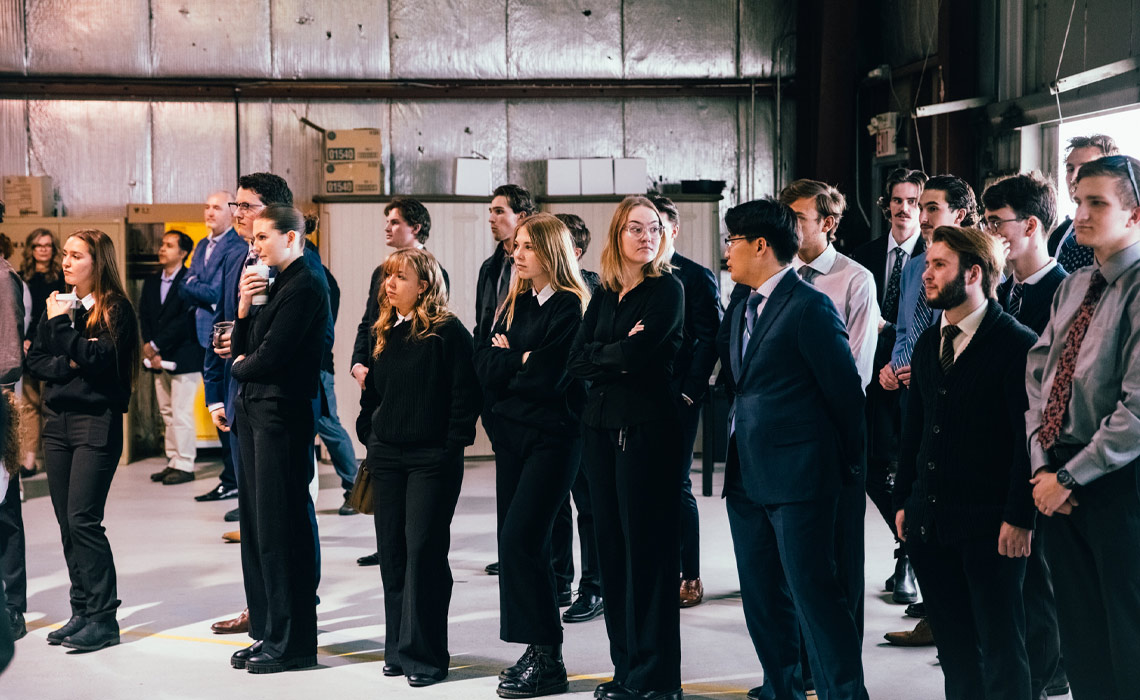 Aviation students watch the announcement of $3 million from the federal government towards MRU's aviation program expansion.
---
In March, the Alberta government committed more than $11 million to support the province's aviation industry, which included funding for Mount Royal's Aviation Diploma. That funding includes $6 million over three years to help Mount Royal establish a Bachelor of Aviation Management. Another $4.5 million will go to a new aviation student bursary, and $500,000 to an aviation centre of excellence.
"Alberta's aviation industry is really taking off. As our economy continues to grow and diversify, investment in aviation skills development, attraction and retention will strengthen Alberta's talent pipeline and keep our province moving forward," said Rajan Sawhney, Alberta's minister of Advanced Education.
Aviation aiming high at MRU
Wide-open spaces, proximity to the mountains and ample good weather makes the Calgary area an excellent destination for flight training. In 2022, the Springbank Airport (CYBW) was ranked ninth-busiest in Canada by aircraft movements, giving students an advanced education in complex airport environments.
Around 10 per cent of active commercial pilots are female and even fewer come from Indigenous backgrounds. In collaboration with organizations such as Canadian North and Elevate Aviation, MRU is actively working to change that.
Expansion plans for the Aviation Diploma include increasing the annual intake from 40 to 80 students by Fall 2024, doubling of the aircraft fleet, building a new hangar to add learning space, increasing program offerings and forging stronger industry connections. The program expansion is being funded by the Government of Alberta (GoA). Capital funding for related hangar construction comes from the GoA, private donors and support from PrairiesCan.
MRU's Bissett School of Business is introducing a four-year Bachelor of Aviation Management in 2024. The degree will provide a business and operations management focus and appeal to pilots or non-pilots looking to open up operations and executive management careers within the industry. The new degree will include topics of study from supply chain and logistics to environmental issues, ethics and financial management — all through an aviation industry lens.
Mount Royal University's main campus sits on the former site of the No. 3 Service Flying Training School, which saw thousands of aviators train for duty during the Second World War under the British Commonwealth Air Training Plan.
A group of Royal Canadian Air Force veterans assembled in 1972 at the then-college to teach the first cohort of students to help address a national shortage of commercial pilots.
After more than 50 years of operation, the MRU aviation program has graduated thousands of commercial pilots who are prepared for the future and have in-demand skills such as crew resource management, assertive communication and advanced situational awareness.