MRU alumnus wins FITT International Business Plan Award
Nidal Islam's business plan submission earns top grade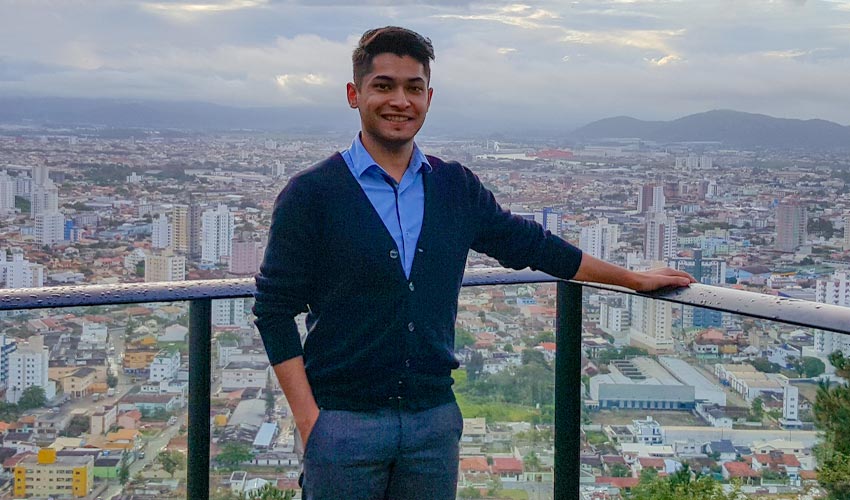 During field school in Itajaí, Brazil, Islam and a cohort of his international business peers learned how to apply academic theory to the real world through a consulting project for a Brazilian company. The experience was foundational to his career and where he is today.
---
Mount Royal alumnus Nidal Islam has been recognized with the International Business Plan Award by the Forum for International Trade Training (FITT), a globally-recognized non-profit that provides international business training, resources and professional certifications.
Mount Royal is a FITT-accredited partner university, meaning many courses offered through the International Business program also count towards the FITT diploma. This gives students the opportunity to work towards both their degree and FITT certification at the same time.
Islam opted for this route and after graduating from the Bachelor of Business Administration — International Business program in 2018, he completed two final FITT courses while also working full time to earn his FITT diploma. He then went one step further and earned his Certified International Trade Professional (CITP) designation from FITT — one of the world's leading professional designations in global business — through a combination of education and work experience.
"I'm really grateful I had professors who saw the value in the certification and promoted it to me as a student. It's something a lot of my employers have taken seriously," Islam says.
The winning international business plan began as a capstone project that Islam and a classmate completed for the International Trade Management course at Mount Royal. Islam says they presented the export-based plan, which focused on partnering with Samsung to include a new feature in its smartwatches, and received plenty of valuable feedback from their professor, Dr. Frank Cotae.
Taking this feedback into considersation, Islam delved into fine-tuning the business plan before submitting it to FITT as one of the final steps for accreditation. His polished submission would earn the highest grade of all those received in the 2020 calendar year, resulting in the International Business Plan Award.
Cotae remembers Islam as being an intellectually curious student who placed keen attention on his academic development.
"Mr. Islam's commitment to the course was commendable and illustrative of an individual that showed the utmost dedication to his studies and professional development," Cotae says.
"His determination to work on designing and writing an actionable trade plan that met the national standard set by FITT showcased his exceptional focus and effort."
"Everyday, I get to go to bat for Canada and help protect and promote the growth of Canadian industries."

Nidal Islam
While Islam has found great success in the world of international business, he admits it wasn't on his radar when he first started studying at Mount Royal. However, after just one international business class he knew that was the concentration he wanted to pursue.
"It seemed like something I had an aptitude for and as a first-generation immigrant, I've always had an interest in learning about the world and other cultures," he says.
Eager to learn more, Islam met with Dr. Halia Valladares Montemayor, the chair of international business at the time, to discuss his options. She told Islam that if he was truly serious about pursuing international business, he should join her and some fellow students on a field school to Brazil.
"That trip was really the beginning for me," Islam says. "We visited real companies to learn about their international marketing and supply chains, and we developed a market entry strategy for a textile manufacturing firm. Being in a cohort of students who were ambitious and organized changed me, and was an important first step to where I am today."
Following field school, Islam continued to explore every opportunity he could. He attended MRU's Networking Day, hosted by the Faculty of Business and Communication Studies, where he made valuable connections, including one that led to an internship with an international business consulting company. He also found a mentor through the Harry G. Schaefer Mentorship Program, who encouraged him to apply for the co-op program where he gained additional work experience, including internships with the U.S. Consulate in Calgary and Small Business BC in Vancouver. He completed one more internship with the Government of Canada's Trade Commissioner Service in Ottawa before graduating.
Islam says the internship opportunities were what enabled him to get his foot in the door with companies after graduation. It also fulfilled the work experience component needed to earn his CITP designation.
Today, Islam works for Global Affairs Canada as a trade commissioner on the U.S. relations team. He says he is driven by the question, "where can I make a difference and have an impact?"
"I found a really good niche in economic development through working for the government and Export Development Canada, and now I've achieved my career-long dream of becoming a trade commissioner," Islam says.
"Everyday, I get to go to bat for Canada and help protect and promote the growth of Canadian industries."
Learn more about the Bachelor of Business Administration — International Business.
Nov. 2, 2021