MRU alumna's marketing career takes off
Co-op experience helps Anna Kennedy land job with WestJet
Oct 27, 2022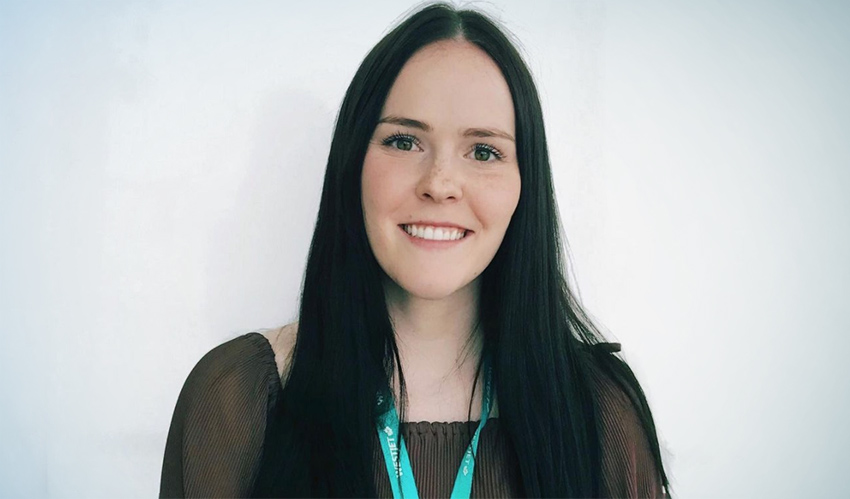 Anna Kennedy first started working for WestJet while studying at MRU through the co-operative education program.
---
From meeting new friends on her first day of class to walking the stage at graduation, alumna Anna Kennedy's time at Mount Royal was filled with stand-out memories. Now a marketing channel strategist at WestJet, it was an accumulation of all those moments in between that helped her make a smooth transition from post-secondary education into a career she loves.
Kennedy shares that the notion of small class sizes played a big role in helping her choose Mount Royal and the Bachelor of Business Administration (BBA) — Marketing program.
"For me, this meant I would be more engaged during lectures, develop stronger relationships with peers and be able to receive direct course assistance from professors when I needed it," she explains. "I didn't want to be just another number in a classroom."
Kennedy took full advantage of opportunities to personalize her degree and gain as much experience as possible while at MRU. This included adding a minor in psychology — something that allowed her to explore a topic of interest outside of her regular courses while also complementing her marketing knowledge.
"My psychology minor allowed me to develop an understanding of the working mind, which has applications in consumer behaviour. I found that both disciplines are very much intertwined, helping me to reinforce my knowledge of course concepts throughout my degree," she says.
Kennedy also chose to apply for the co-operative education program (co-op), an enhanced academic program that alternates classroom learning with paid work terms. It was through co-op that Kennedy first began working for WestJet on a 16-month contract, a position that would ultimately set the course for her future career path.
Summing up her co-op experience, Kennedy says it was "phenomenal." From refining her resume and practising interview skills to learning directly from industry professionals, the program helped her feel "fully equipped for life post-graduation."
"I didn't want to be just another number in a classroom."

Anna Kennedy
She encourages all future BBA students to consider enrolling in co-op and shares a few words of wisdom: be a sponge, absorb as much information as you can and remember to enjoy the experience along the way.
In addition to adding a minor and enrolling in co-op, Kennedy also credits her capstone courses and projects with helping her gain hands-on experience developing comprehensive marketing strategies and brands. She says these experiences were both invaluable for preparing her for the future and "a tremendous amount of fun."
Today, Kennedy's post-graduation life is a direct extension of her time at MRU. Building on her work term placement with WestJet, she was offered a full-time role and currently works as a marketing channel strategist where she develops strategies and plans, authors and reports on performance as it relates to marketing content across various owned channels.
While still fresh to the professional world, there's no denying Kennedy's career is already moving down the runway at full speed.
"Marketing is an exciting, fast-paced and ever-changing field. I get to work in a position, in an industry and for a company that I love," she says. "I am excited about the endless learning and growth opportunities that lie ahead of me."