French MRU student from Congo leaps into Bachelor of Education
English-language program prepares Malaika Kibonge to pursue degree
Ado Nkemka — Mount Royal University | Posted: January 13, 2023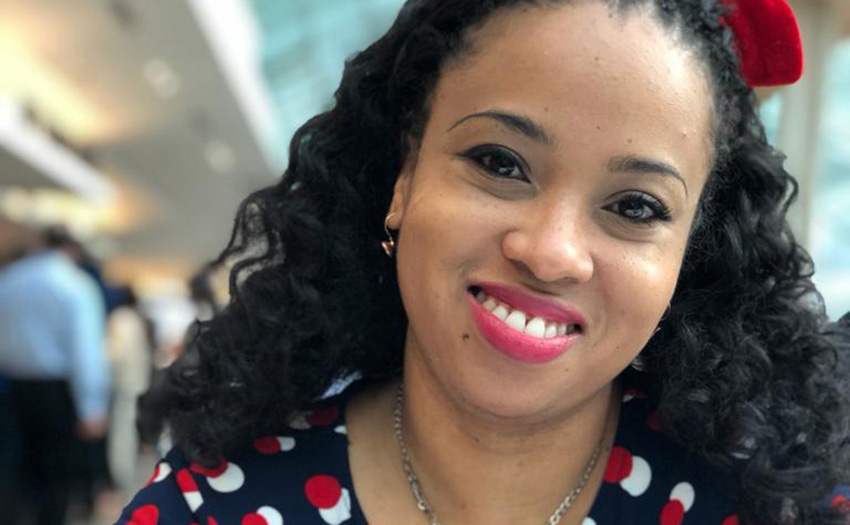 Malaika Kibonge, a French-speaking student from the Democratic Republic of the Congo, completed Mount Royal's LEAP program to help reach her goal of pursuing her Bachelor of Education in Canada.
---
Malaika Kibonge immigrated to Canada from the war-torn Democratic Republic of the Congo in 2005. Three years later, she settled in Calgary. Without any documentation to demonstrate her achievements back home, Kibonge set out to find a way to complete her education here in Canada. 

"When I came to Calgary, I didn't speak English at all, not even a few words, I didn't even understand it." Kibonge began learning English by working in restaurants, interacting with co-workers and customers, watching movies and reading books.

Kibonge's ultimate goal was to pursue a Bachelor of Education. The first step was to improve her English language skills. After weighing her options, she decided Mount Royal's Language Education for Academic Purposes (LEAP) program was the way to go. She learned about the program through her sister, who had completed it herself.

Kibonge was surprised to learn that she could start at LEAP 4, the highest level, after taking a placement test. Once she entered the program, her momentum continued. While she was comfortable with concepts such as reading comprehension, she found learning grammar was more challenging. Kibonge says she was proud when she felt that her grasp of grammar was improving.

"I really liked that you learn so much about the language," she says, adding that LEAP helps students prepare to enter into one of Mount Royal's degree programs. "It gets you ready ... and you don't feel like it's fast paced, so it's good. It's at your level and you can catch up easily, you don't feel pressure or stress."
In addition to learning English, Kibonge says LEAP taught her how to conduct herself in a classroom setting and what to expect from instructors.
"I am lucky to have very good instructors who are always encouraging me."

Malaika Kibonge
As an avid reader, taking LEAP gave Kibonge the opportunity to spend quality time understanding English in the written form. She dove into classic novels like To Kill a Mockingbird and completed critical analyses. Another benefit of the LEAP program, Kibonge says, is the ability to spend time learning the nuances of verbal communication and Western colloquialisms.

After graduating from LEAP in 2020, Kibonge continued her education at Mount Royal. She completed a year of Open Studies courses and is now a first-year student in the Bachelor of Education — Elementary program with a minor in French. She plans on becoming an elementary school teacher.

Reflecting on her journey, Kibonge admits that coming from another country is an intimidating experience for most people. "We have that eagerness to learn and eagerness to do something, but we are scared," she says. This is why those first interactions matter so much, especially in an academic setting. "The first impression we have [comes from the people we first meet] who help us navigate through registration and things like that. It's so important."
During the first semester of her bachelor's program, Kibonge had doubts about whether she made the right choice by pursuing her education in English. An advisor came through with some encouragement and reminded Kibonge of the good grades she received while in LEAP and Open Studies. "I am lucky to have very good instructors who are always encouraging me and always saying, 'just keep pushing,'" she says.

Kibonge is also grateful for Mount Royal's administrative staff for going the extra mile to support her through the registration process. "Those people in registration, they matter a lot," she says.
Learn more about MRU's Language Education for Academic Purposes program.