Expansion on the Roderick Mah Centre for Continuous Learning (RMCCL)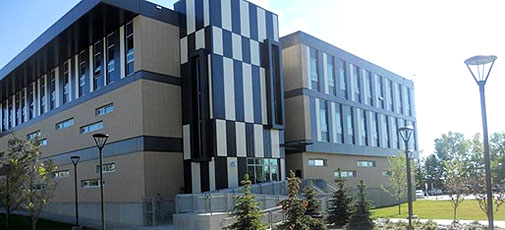 This project saw the construction of a four-storey, 6,279 gross square metre expansion to the existing Roderick Mah Centre for Continuous Learning (RMCCL).
The expansion accommodates state-of-the-art teaching labs, classrooms, a massage therapy program,and offices for the Faculty of Continuing Education and Extension. It is targeting LEED Gold.
The design incorporates a number of important features similar to the existing building in response to meeting sustainability objectives. Systems include:
high thermal mass, high performance external building envelope and glazing system
optimization of natural light and displacement ventilation including the use of atrium for ventilation exhaust.
interior materials selected because they are regionally sourced, have recycled content and minimize volatile organic compounds (VOCs)
a highly reflective roofing system that reduces thermal gradient differences as compared to a typical roof system, reducing the heat island impact on the micro climate, human and wildlife habitat.
Energy and atmosphere

This expansion is served by two air handling systems located on the roof of the building. The classroom ventilation design incorporates using displacement ventilation strategies with a majority of the supply diffusers being at floor level. Many perimeter zones are also equipped with radiant panels for additional heating.

One new domestic water heater and one new hot water boiler were added to the existing system to account for additional load. The chiller is used for both new and existing AHU cooling coils. The chiller is also used to cool domestic cooling water when domestic cooling water temperature set point is exceeded. Domestic cooling water is used in new and existing fan coil units. (Fan coil units in new building for Data/Electrical rooms).

The electrical team modified the existing switchboard to supply power for the expansion, added variable frequency drive (VFD) control for mechanical equipment/motors. The lighting is controlled by photocell and time clocks with indoor illumination levels in accordance with IESNA and controlled by low voltage relays. Occupancy sensors were also included for energy saving.

Mercury causes serious ecological and human health problems when released to the environment. Mercury is often present in fluorescent lamps, some types of batteries, thermostats, thermometers and switches. The expansion project used low mercury lighting and instituted a low mercury purchasing plan to cover future lighting purchases.

Water use reduction

The expansion project was successful in implementing green design features to match those already executed in the existing facility. These include the use of dual-flush toilets, low flow urinals, and the routing of storm water for storage in cisterns, later to be used for toilets. These measures will contribute to a 60% reduction in potable water use for the building. Reducing water usage means less water being drawn from rivers, streams and other water bodies. This can also reduce the maintenance and operation costs for a building and reduce consumer costs for municipal supply and treatment.
Environmental quality

The health of staff, and visitors can be profoundly affected by the quality of the indoor environment which in turn is dependent upon good air circulation, proper temperature and humidity control, choice of building materials, the management of construction odours and dust, and building operations and maintenance.
To create a healthy indoor environment, the project team chose paints, adhesives, coatings, and other finishes that emit few or no volatile organic compounds. Strategies were implemented to reduce the migration of dust during construction, such as walk-off mats, protecting ductwork from dust, and using dust curtains along with portable HEPA filtration systems.
By designing rooms that have views to the outdoors it gives staff a connection to the outdoor and allows for natural light to penetrate into the building. Natural daylight throughout the building increases occupant productivity and comfort, reducing absenteeism and illness.

Building materials

The expansion project diverted 90% of its construction and demolition waste from landfills while also sending unused materials back to the manufacturing process. The project used materials that incorporated an average of 16% recycled content, reducing impacts resulting from the processing and extracting of virgin materials.
By incorporating 21% regional materials and products, the project supported the use of indigenous materials while reducing the environmental impact resulting from the transportation of goods. These LEED approved techniques resulted in a more efficient construction and use of resources.
Sustainable Programs and Policies

Complementing the sustainable design of the building are MRU's sustainable programs and policies that help improve occupant indoor air quality, reduce the negative environmental impacts of material extraction and processing and reduce air pollution from automobile exhaust.
Tobacco smoke is one of the leading causes of preventable death and disability but the negative effects of tobacco use are not limited to smokers; they also place non-smokers at risk from exposure to smoke. MRU has established a No Smoking Policy for the building which requires that any smoking outside of the building is located away from doors, windows and air intakes.

Recycling reduces the amount of waste sent to landfill and reduces the need to extract virgin natural resources. MRU has a recycling program that includes paper, cardboard, glass, plastics, and metals and batteries.

How a facility is cleaned can make a difference in the quality of indoor air and the chemicals to which workers and occupants are exposed. MRU has established a Green Cleaning and Housekeeping policy which reduces the number of chemicals being used in the facility, replaces existing chemicals with Green Seal Certified products, and provides ongoing training for staff in the use of environmentally friendly products and practices.