Roderick Mah Centre for Continuous Learning (RMCCL)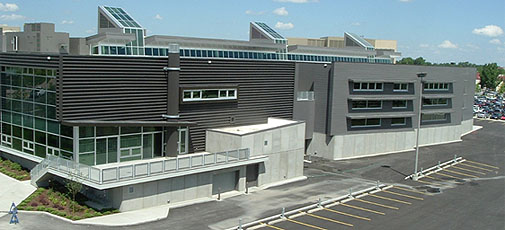 The Roderick Mah Centre for Continuous Learning (RMCCL) is a three-storey, 8,459 gross square metre learning and conference centre that houses training and conference rooms; a food service facility; administration offices and underground parking. Wireless technology and an advanced audio visual system are key components to this flexible facility, but perhaps the most striking feature of the RMCCL is the Ross Glen Hall, a multi-use space that can accommodate 600 people.
The RMCCL is a LEED Gold Certified building. It is 43% more energy-efficient than conventional buildings of similar size. Thanks to its thermal mass, high performance external envelope, extensive natural lighting, and a displacement ventilation system, the RMCCL is as innovative as it is beautiful.
Key features
built with recycled materials
pressed straw ceiling tiles and baffles
wheat board paneling
recycled paint
carpet made with recycled wood
Reduced use of municipal water
natural ventilation reduces requirement for cooling
building pre-cooled during the night, using fresh air
potable water cools building through air handling units
heated by a hot water boiler and exterior panels
heating coils placed in air handling units to heat air
Natural cooling and heating
water employed in heating and cooling of building
rain water collected and stored in a water tank
water is treated then pumped to toilets and outside irrigation system
Additional features:

Capitalizing on the building mass of the structure
Thermal mass, which can be increased by the amount of exposed concrete, moderates the temperature of occupied spaces. Storing and dispelling energy in a day-night-cycle results in the downsizing of cooling and ventilation systems.
Displacement ventilation systems
Air enters near the floor at extremely low velocity and moves across the floor until it rises naturally as it is warmed by people, lights, computers, etc. Benefits of the system include better indoor air quality, reduced cooling requirements and improved effective ventilation. Conditioned air is supplied to offices and other smaller areas through recessed wall diffusers and to large spaces such as classrooms and boardrooms through surface-mounted wall diffusers.
Operable windows and solar chimneys
Windows are opened to introduce fresh air into the facility, supporting the displacement of stale air into the system. To ensure that open windows draw air into the building, there are three solar chimneys in the atrium area. These chimneys draw in air from the atrium via negative air pressure, replacing the need for a return air fan. The building's ventilation system is connected to the outside more than in a conventional building. This brings more fresh air to the occupants as well as more effective cooling/heating of the building, depending on the outside temperature.
100% of spaces are day-lit
The building is designed to take advantage of the sun's light to minimize the need for conventional artificial lighting. On a sunny day, 100% of the regularly occupied spaces in the building are adequately lit by sunlight alone.