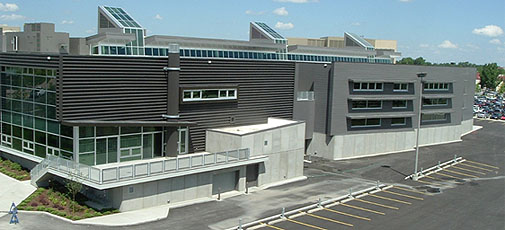 In 2006, Mount Royal University opened its first LEED® certified building: the Roderick Mah Centre for Continuous Learning (RMCCL), which attained LEED Gold status for its integrated design approach.

Since then, all new buildings on campus and any expansion to existing buildings are required to attain LEED status:
What is LEED? The Leadership in Energy and Environmental Design (LEED®) Green Building Rate System encourages and accelerates global adoption of sustainable green building and development practices through the creation and implementation of universally understood and accepted tools and performance criteria.
LEED® is a third-party certification program and internationally accepted benchmark for design, construction and operation of high performance green buildings. It provides building owners and operators the tools they need to have an immediate and measurable impact on their buildings' performance.
LEED® promotes a whole-building approach to sustainability by recognizing performance in five key areas of human and environmental health:
Sustainable development
Water efficiency
Energy efficiency
Materials selection
Indoor environmental quality
To request a tour of LEED® buildings at Mount Royal Universtiy, please contact the Department of Facilities Management.