Mount Royal University is proud to offer Eduroam service to student, staff and faculty from other educational institutions. Eduroam (EDUcation ROAMing) is a wireless network service that provides users secure access the Internet using the credentials of their home institution.. However, the level of services provided may vary among institutions and is determined by the hosting university.
Eduroam sites
To find out more about Eduroam services around the world, check out their websites:
Users visiting Mount Royal
We provide HTTP, HTTPS, SSH and VPN (IPSec and PPTP) services on the Eduroam network. Acceptable use of the network is determined and governed by the hosting university, therefore your access to Mount Royal's Eduroam service is governed by our Acceptable Use Policy for University Computer Resources.
Supported wireless configurations
WPA2 enterprise with AES.
WPA enterprise with TKIP.
Use the same EAP type that your home institution uses. Usually they are either PEAP or TTLS.
To connect to the Mount Royal Eduroam service:
1. Access your wireless connection settings.
2. Enter or select the eduroam SSID . The Enter Credentials dialog box appears.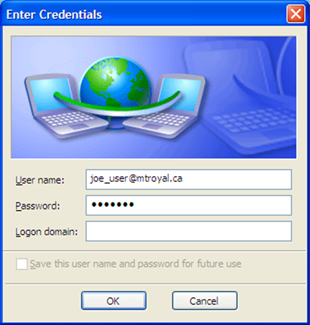 3. Enter your username complete with domain. This is usually your email at your institution.
4. Enter your password.
5. Click the OK button to connect.
If you experience access problems, please contact the IT Service Desk of your institution for support.
Mount Royal University users
To use Eduroam at other institutions, connect to the service the same way you connect to MRsecure at Mount Royal with the following exceptions:
The SSID is eduroam, all in lower case.
Your username is your full email address. For example,  jdoe@mtroyal.ca.
If you are asked which server to connect to, select or enter eduroam-radius.mtroyal.ca.
TRAVEL TIP: Want to make your trip to other institutions less stressful? Before traveling, connect to the Eduroam service here at Mount Royal to test your laptop configuration. However, when at Mount Royal, please use MRsecure as Eduroam is designed for visitors from other institutions and has service restrictions.
If you experience access problems, please contact the IT Service Desk at 403.440.6000, or email: itservicedesk@mtroyal.ca.