Android OS 10 (and up) configuration instructions
Click "Settings" then select "Wireless & Networks" and "WiFi settings".
If WiFi is not enabled, please enable it.
Select "MRsecure".
You may now be asked for a password to protect the credential storage on your device. This is a security setting for your device and not your WiFi password. Please enter a memorable password here to continue.
For "EAP method" select "PEAP".
For "Phase 2 authentication" select "MSCHAPV2".
If you are using the Nougat (7) OS or higher on your Android ...

set "CA Certificate" to "Use system certificates";
set "Online Certificate Status" to "Do not validate";
set "Domain" to "mtroyal.ca".

Enter your Identity as your username (example: nsmit123)
Some devices may have an "Anonymous identity" field. Leave this blank.
Enter your WiFi password.
Touch "Connect".
Your device should show "Obtaining IP address from MRsecure..." then shortly after "Connected to MRsecure"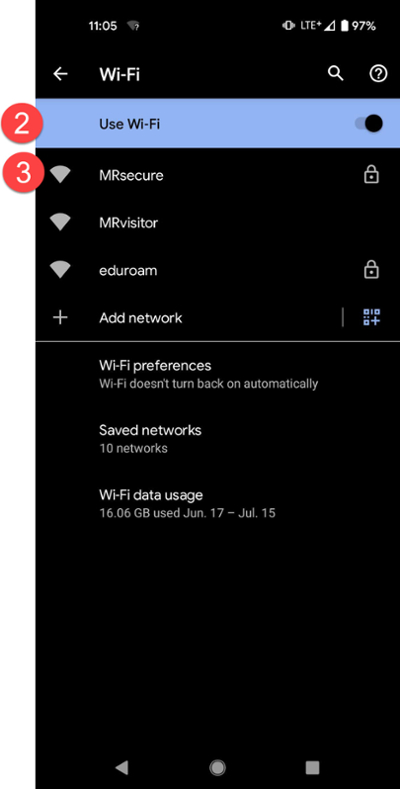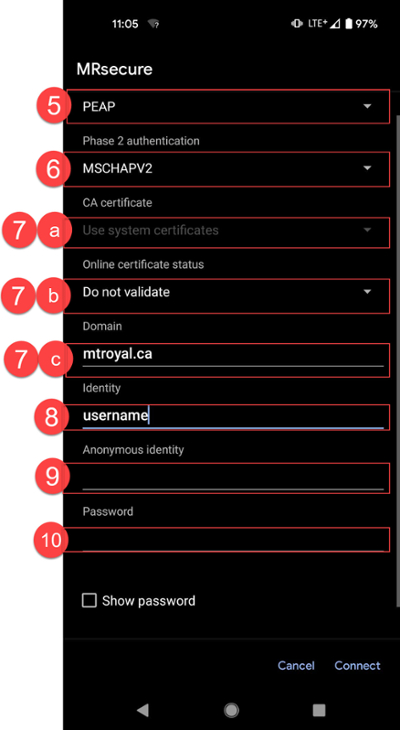 Your device should now connect automatically to the MRsecure wireless network whenever it is in range.