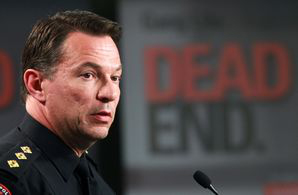 Cliff O'Brien graduated from Mount Royal College in 1990 with a Diploma in Criminology. He continued his education and in 1997 he graduated from Simon Fraser University with a BA; Major in Criminology and Minor in Psychology.
With the Calgary Police Service over the past 19 years, Cliff has worked in a variety of capacities including, patrol officer, a member of the Crowd Control Unit, an investigator in a General Investigations Unit, a Sergeant in the G-8 Planning Team, a Quarry/Instructor for Officer Safety, a Detective in the Robbery and Homicide Units, a Sergeant in the Human Resources Section, a Staff Sergeant in the Professional Standards Section and an Inspector in the Chief's Office. From January 2011 until 2014 Cliff was the Inspector in charge of the Calgary Police Service Major Crimes Section (Domestic Conflict, Homicide, Robbery, Arson, Missing Persons, and Elder Abuse Units).
In January 2014 he took over command of the Downtown District and was responsible for 240 members including the Gang Suppression Team, Beat Officers, Patrol Officers, Community Resource Officers, Mountain Bike Unit, a covert operations team and investigators. In March 2015, Cliff was temporarily re-assigned as an Acting Superintendent in the Chief's office serving the Interim Chief as his Executive Officer.