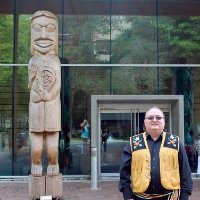 Del Majore MSW - Metis Nation
Del Majore is a citizen of the Metis Nation of Alberta. He is originally from the traditional Metis community of Lebret, located in the Qu'Appelle Valley of southern Saskatchewan and raised in Regina's inner-city. Del has been a social work practitioner for many years, having served Aboriginal and urban communities in a variety of areas. He has worked in education, at the elementary and high school levels, supporting students and in post-secondary as a youth work and social work teacher.
Higher education has been the pathway to his accomplishments. Del has completed programs at University of Regina and Victoria in administration and Indigenous social work. He works to ensure Metis and aboriginal history and culture is integrated in his work with individuals and groups. Del believes in the need for a 'social and political correction' in Canada's settler-aboriginal relationship.
Currently, he works as a social worker with Iikaakiimaat (Blackfoot term for 'try hard and find inner strength') also known as the Aboriginal Mental Health program of Alberta Health Services. Del serves urban Calgary and area, specifically Siksika Nation.