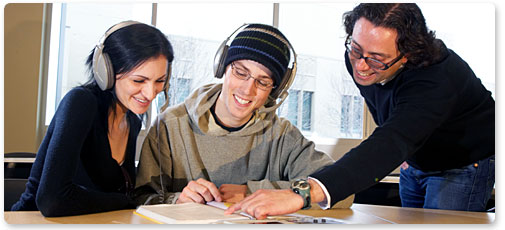 Practice your language skills in state-of-the-art multimedia labs and draw on the linguistic and cultural expertise of faculty members who are mostly native speakers. Mount Royal's English, Languages, and Cultures Department offers credit courses at a variety of levels in:
The Department of English, Languages, and Cultures offers a Minor in Spanish and a Minor in French.

Scholarships and Awards for Students
Through MRU Scholarships and Bursaries, students can apply for 3 awards related to French, 2 awards related to Italian and one general award:
French Awards:
Donna Cox Memorial Award
Robert Spence Memorial Scholarship
Queen Elizabeth II Silver Jubliee Endowment Fund for Study in a Second Officia Language Award
Italian Awards:
Calgary Italian Sportsman Dinner Association Legacy Scholarship
Calgary Italian Sportsman Dinner Association Scholarship
General Award:
Eva Rosenberg Memorial Scholarship
Non-Credit Language Courses
If you are interested in taking non-credit courses, please contact the Languages Institute.
Department Highlights
Bachelor of Arts
Mount Royal's four-year Bachelor of Arts gives you the freedom of countless career destinations. The program offers majors in Anthropology, English, History, Policy Studies, Psychology, and Sociology as well as minors in 22 subject areas. For a list of both majors and minors available through the Bachelor of Arts please visit the Majors and Minors page.