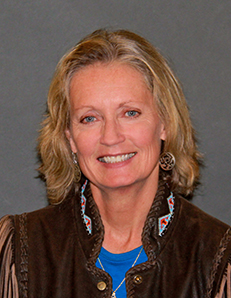 Education:
2001 Ph.D. Human Services (Capella University).
1993 M.A. Anthropology, Specialization: Primatology (University of Calgary).
1983 B.Sc. Geography (University of Calgary).

Office: B349Q
Email: cgiancarlo@mtroyal.ca
Phone: 403.440.5990
Fax: 403.440.8420
Since 1992, Chris has worked to demonstrate to students and others how science and culture are linked together as the potential key to the future. With her side interests in biology and geography, she suggests a new worldview that is both productive and sustainable based on communication - between individuals, between factions of society and between whole cultures. During her fieldwork in Texas, she studied a population of semi free-ranging snow monkeys. This work provided her with many insights into the common evolutionary past of all primates including the human ones, especially in mother-infant relationships, nurturance, aggression and dependence on social and environmental circumstances.
As an applied anthropologist, Chris applies these lessons from nonhuman society to human culture in such areas as human sustainability, global population growth, the environment and marginalized populations. Her research projects and special expertise lie in social and environmental impact assessment, child welfare and parental alienation, gender, multiculturalism, and cross-cultural and cross-species relations.
Chris is one of the Leading Women for Shared Parenting (LW4SP), and an active member of The Great Ape Project, Orangutan Foundation International, Nature Conservancy and the David Suzuki Foundation. She also holds memberships with the Canadian Anthropology Society (CASCA) and the American Anthropological Association (AAA).
TEACHING BACKGROUND
1992-present Mount Royal University
1996-1999-
2002, 2006, 2008 Alberta College of Art and Design
2005, 2007 University of Calgary
COURSES CURRENTLY TEACHING/TAUGHT:
Anthropology:
Primatology & Human Evolution
Introduction to Cultural Anthropology
Primate Behaviour
The Anthropology of Race
Intercultural Communication
Ethnography in Anthropology
General Education (GNED):
Globalization
Communities & Societies
PUBLICATIONS
International Journal of Interdisciplinary Social and Community Studies 2014
Kids Come Last: The Effect of Family Law in Parental Alienation
(Annual Review)
Canadian Journal of Education 2007
International Project Participation of Women Academics
Jan 1, 2007, Vol. 30, Issue 1, p323-48.

World Bank, Annual Report 2004
Socio-Economic Impact Assessment
Preliminary Gender Baseline and Relocation Issue Identification Study
Nui-Phao, Vietnam
International Financial Corporation (IFC) 2004
Socio-Economic Impact Assessment
Preliminary Gender Baseline and Relocation Issue Identification Study
Nui-Phao, Vietnam
Doctoral Dissertation, Capella University 2001
The Contribution of Worldview to Sustainability
UMI, Bell and Howell Publishing; Ann Arbor, MI.
Masters Thesis, University of Calgary 1993
Mother-Offspring Interactions in Japanese Macaques
Colin Bates Publishing; Calgary, AB.
PRESENTATIONS
Sociology and Anthropology Colloquium Series November 2014
Mount Royal University
Calgary, AB.
Topic: Kids Come Last: The Effect of Family Law on Parental Alienation
Common Ground: International Social Science Conference June 2014
University of British Columbia
Vancouver, BC.
Presenter
Topic: Kids Come Last: The Effect of Family Law on Parental Alienation
Canadian Anthropology Society (CASCA) May 2014
York University
Toronto, ON.
Presenter
Topic: Family Law as a Remedy to Parental Alienation
Fig Tree Foundation 2011
Calgary. AB.
Presenter on Biluany Society
Topic: Water Wells for Southern Sudan
Teaching for a Change Conference 2009
Flagstaff, Arizona
Presenter of 90 minute Seminar
Topic: Intercultural Competency in the Classroom
Canadian Association for the Study of Women and Education 2006
University of Western Ontario
Presenter at Congress of the Humanities and Social Sciences
Topic: Families in Transition: Sustaining livelihoods in rural Vietnam
Canadian Gender Symposium 2005
University of Calgary
Co-Presenter with Dr. Nancy Arthur, Canada Research Chair
Topic: Women Academics and International Projects: Guarded borders or career opportunities?
Canadian Society for the Study of Education 2005
University of Manitoba
Congress for the Humanities and Social Sciences
Co-Presenter with Dr. Nancy Arthur
Topic: International Project Participation of Women Academics
Canadian Association of Public Relations 2002
Keynote Speaker
National Conference, Marriott Hotel, Eaton Centre, Toronto
Topic: Past, Present, and Future Perspectives on Stakeholder Relationships
University of Calgary 2001
Presenter
Anthropology Colloquium Series
Topic: Human Survival: Toward a Sustainable Worldview
Capella University 2001
Keynote Speaker
Annual Extended Seminar Series
Topic: Global Sustainability and Western Thought
RESEARCH
Mount Royal University 2012-2013
Primary Investigator & Co-Author
Alberta and British Columbia
Project: Kids Come Last: The Effect of Family Law on Parental Alienation
University of Calgary 2007-2008
Field Researcher & Analyst
Urban and Reserve sites in five Alberta Health Regions
Project: Aboriginal Women and Bone Health
University of Calgary 2006-2007
Field Researcher & Research Associate
Medical clinics and hospitals in six Alberta Health Regions
Project: The Role of Family Physicians in Fracture Prevention
Tiberon Minerals Ltd. 2003-2006
Socio-Economic Impact Assessment Team
(in Hanoi, Vietnam)
Co-Researcher
Calgary Project: Nui Phao Gender Survey: Ensuring the sustainability of livelihoods in rural Vietnam
Queensland University of Technology, 2003-2004
Australia and University of Calgary
Co-Author & Field Researcher
Calgary
Project: International Project Participation of Women Academics
Texas Snow Monkey Sanctuary 1991, 1992, 1993 & 1998
University of Calgary
Primatology Field Researcher & Author
Thesis: Mother-Offspring Interactions in Japanese Macaques
Project: Immunization, Sterilization and Transfer to permanent Born Free primate sanctuary
CURRENT PROFESSIONAL ASSOCIATIONS AND AFFILIATIONS
CASCA - Canadian Anthropology Society
AAA - American Anthropological Association
LW4SP - Leading Women for Shared Parenting