Julie Cormack, Professor Emerita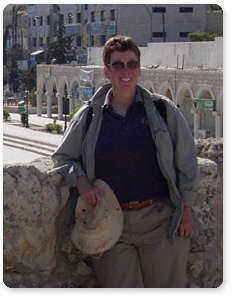 Education:
I have a First Class Honours BSc in Anthropology with a minor in Biology from Trent University. My MA thesis on Miocene (fossil) primate jaw structure is from the University of Alberta, and my PhD dissertation on Early Stone Age stone artefacts from East Africa from the University of Liverpool.
Professor Emerita
Mount Royal University
E-mail: jcormack@mtroyal.ca
Research Interests:
Prehistoric Archaeology; Biological Anthropology: Palaeoanthropology (human evolution); Lithics (stone artefacts); Human Osteology; Racial Studies; History of Anthropological Science; China; Jordan; Sub-Saharan Africa
Current Research Projects:
http://research.mtroyal.ca/research.php?action=view&type=researchers&rid=628

http://www.mtroyal.ca/ProgramsCourses/FacultiesSchoolsCentres/Arts/TeachingInnovation/arts%20learning%20jcormack.htm

Authorized Biography on Davidson Black
Dr. Davidson Black, a Canadian anthropologist, was a member of an international multidisciplinary research team who in the 1920s and 30s conducted the first excavations at Zhoukoudian (the Peking Man site) in China. It was Black's descriptive analysis of our direct human ancestor Sinanthropus pekinensis (dates ~730,000 years) that was Dr. Black's legacy. This authorized biography, which has been submitted to a Canadian publisher, is based on historical documents from family, national, and international archives.
Madaba Plains Project (MPP), Jordan http://www.madabaplains.org/umayri/
This internationally recognized archaeological programme involves the excavation and analysis of biological and cultural materials from the 5000-year-old Bronze and Iron Age site of Tell al-'Umayri. My role in MPP is as lithics and human osteology expert, educational co-coordinator, square supervisor, and director for all Calgary participants, which has numbered 31 in the field and over 30 in the lab. Since 2002, every two years, students and volunteers participate in field excavations at this ancient city located outside of Amman, Jordan. Students can get a Mount Royal course credit (ANTH 2290 (3 weeks) or ANTH 2291 (6 weeks)) for participating in this dig. The next field season is July/August 2014; with security forms due by March 1, 2014. Research assistants and volunteers actively work in the Anthropology research lab, sorting, washing, cataloguing and analyzing ancient Jordanian stone tools. If you are interested in this programme, please contact me at jcormack@mtroyal.ca or 403.440.7012.

Reading Relics
This website http://www.readingrelics.com is a moderated online forum for topics in Archaeology and Biological Anthropology that is open for dialogue and comments by anyone. Every Friday, a new topic with links is posted. The Twitter account is @ReadingRelics.

Technical Analysis of Microwear and Edge Wear in Archaeological Lithic Artefacts
Animal Bones Experiment: Boiling and Cutmark Analysis

Past Research Projects:
Open Air Designs - Osteometric Board DesignOpen Air Designs - Osteometric Board Design
Under my direction, Mount Royal Engineering students designed and built a functional osteometric board for use in Biological Anthropology laboratories. This board has been sold to academic institutions and government agencies.