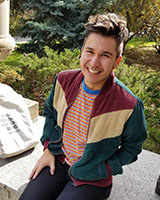 Billy-Ray Belcourt presents new poetry and non-fiction. His writing seeks to articulate a theory of ethical living from the position of queer indigeneity. He is interested in the ways in which Indigenous peoples perform a politics in the register of futurity and utopia.
Event detailsMarch 7, 2019
1 to 3 p.m.
EA3001 (The Knuckle)
Faculty of Arts Building
PLUS after the show, get your book autographed by Billy-Ray.
This event is free. All are welcome.
---
Learn more about Mount Royal's Writer-in-Residence program.
---
About

Billy-Ray Belcourt is from the Driftpile Cree Nation. He is a PhD student (though I should *fingers-crossed* be a candidate by the time the residency happens) and 2018 Pierre Elliott Trudeau Foundation Scholar in the Dept. of English & Film Studies at the University of Alberta. His first book, THIS WOUND IS A WORLD (Frontenac House 2017), won the 2018 Canadian Griffin Poetry Prize (making him the youngest winner ever), the 2018 Robert Kroetsch City of Edmonton Book Prize, and a 2018 Indigenous Voices Award. His next book, NDN COPING MECHANISMS: NOTES FROM THE FIELD, is due out with House of Anansi in the fall of 2019.





Everyone is Lonelyeveryone is lonely
but no one knows
what to do about it.
once a week
i curate
obituaries
on my facebook wall
without even trying.
the wind
makes away
with parts of my body
but i don't
notice the difference.
my mom
couldn't get enough
of the sight
of broken twigs
and thus
i was born.
i am single
because i haven't dated
anyone who is
broken twig enough.
he's a little bit
country,
i'm a little bit
barbed-wire fence.

From This Wound is a World by Billy-Ray Belcourt
Copyright © 2017 by Billy-Ray Belcourt
More on-campus opportunities to meet Billy-Ray
The Writer-in-Residence program explores opportunities for authors, students and faculty to meet, exchange ideas and increase awareness of scholarly and artistic endeavours. Want to be involved? Here are a couple ways you can participate:
MRU Faculty find out more on how you can bring Billy-Ray into one your classes during his week-long residency. For booking information, contact Natalie Meisner.
MRU Students submit your manuscripts (7-10 pages/1,700 words of creative writing any genre) for Billy-Ray's review by Feb.15. You'll get a chance to have a follow up one-on-one working session. Please email Natalie Meisner your manuscript and to book your working sessions.