Kate Bornstein is a Queer and Pleasant Danger

Mount Royal University, Faculty of Arts is pleased to partner with Mount Royal's Diversity and Human Rights, SAMRU and Fairytales Presentation Society to bring author, playwright and performance artist, Kate Bornstein and documentary filmmaker, Sam Feder to Calgary from March 9-10, 2016, for the Alberta premiere screening of their documentary film, Kate Bornstein is a Queer and Pleasant Danger, and an informal, open campus conversation with Kate and Sam.
---
Alberta Premiere Film Screening, Kate Bornstein is a Queer and Pleasant DangerWednesday, March 9
7 p.m.
Tickets: Minimum $10 donation at the door. To register, visit mru.ca/katebornstein
Plaza Theatre
1133 Kensington Rd NW
Calgary, AB
---
A Queer & Pleasant Danger: A Campus Conversation
with Trans Activist Kate Bornstein and Documentary Filmmaker Sam Feder
Wednesday, March 10
10:30 a.m.
Tickets: This event is free. To register, visit mru.ca/katebornstein

Lincoln Park Room (J301)
Mount Royal University
4825 Mount Royal Gate SW
---
Campus Student Luncheon with Kate Bornstein and Sam FederWednesday, March 10
12 p.m.
Free event. Restricted to MRU students only.
For more information about the luncheon, please contact Melanie Carroll, Relationships, Identity and Sex Programmer, SAMRU
Council Chambers
Wyckham House Student Centre
4825 Mount Royal Gate SW .
---
For more information on these events, please contact Kimberly Williams, Associate Professor and Program Coordinator, Women's & Gender Studies, Department of Humanities.
---
About
Kate Bornstein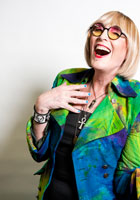 Celebrated transgender trailblazer Kate Bornstein has - with humour and spunk - ushered us into a world of limitless possibility through a daring re-envisionment of the gender system as we know it. Kate lives on the edge of paradox: she is not a man, and not a woman. She looks beyond the binary to see gender as both a conscious practice, and a playful journey.
Kate was born Albert Bornstein in 1948, in Asbury Park, New Jersey. At an early age, he came to the conclusion that he wasn't a boy, and she didn't want to grow up to be a man. To Kate, being a boy was all acting-which served her in good stead as the first person to graduate from Brown University with a degree in Theatre Arts. As a highly skilled actor, Kate knows what she's talking about when she speaks of gender as performative.
Kate's work is taught in five languages, in over 200 high schools, colleges, and universities around the world. The titles of her books say a lot about who she is, and how she views things:
Gender Outlaw: On Men, Women, and the Rest of Us
My New Gender Workbook: A Step-by-Step Guide to Achieving World Peace Through Gender Anarchy and Sex Positivity.
Hello, Cruel World: 101 Alternatives to Suicide for Teens, Freaks, and Other Outlaws
A Queer and Pleasant Danger: The True Story of a Nice Jewish Boy Who Joins the Church of Scientology and Leaves Twelve Years Later to Become the Lovely Lady She Is Today
Kate has been lecturing and performing for over 25 years. Recently, she's been featured on MSNBC's "Melissa Harris Perry" show, and she is the subject of the award-winning documentary, "Kate Bornstein Is a Queer and Pleasant Danger," by Sam Feder. Kate's work on suicide prevention, and her advocacy for marginalized and at-risk youth earned her two citations of outstanding citizenship from the New York City Council.
If you haven't read Kate's work or heard her speak before, get ready-she is the radical role model, the affectionate best friend, and the guiding mentor all in one. You will come away energized, comforted, and full of hope.
"It's simple: do whatever it takes to make your life more worth living. And there's only one rule you need to follow to make that kind of blanket permission work: don't be mean."

- Kate Bornstein

Sam Feder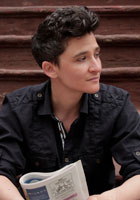 Sam Feder is an award-winning filmmaker exploring the power dynamics and politics of media-driven identity. Their directorial debut, the award-winning feature film, "Boy I Am," is cited by Curve Magazine as one of the "10 Must-See Gender Documentaries."
Feder's most recent film is "Kate Bornstein is a Queer & Pleasant Danger," the first feature-length documentary portrait of the pioneer transgender author and performer Kate Bornstein. Named by The Advocate as one of the best LGBT documentaries of 2014, this film is an intimate portrait illuminating one of gender theory's most influential minds. Recently, the film recently won two Best Feature Awards and were honoured with the James Aaronson Award for Social Justice Journalism.
Director Sam Feder's film captures the many facets of this queer hero and pioneering gender outlaw. Whether she is charming an enraptured audience on her latest book tour, tweeting to thousands of fans, or deconstructing postmodern theory, Kate's bold thinking, wicked wit, and astonishing candor get to the heart of transformations in gender and sexuality today. The documentary sheds new light on issues of critical importance to trans and queer communities such as: gender theory as a survival strategy; depression and alternatives to suicide; a broad gender spectrum vs. the rigid gender binary; illness, treatment, and recovery; and notions of queer family and legacy.
Since 2006, Feder's work has been taught in over 200 colleges and universities and screened internationally at festivals and museums. A popular speaker for Transgender Awareness and LGBTQ Pride events, Feder's presentations can include lectures, class visits, screening one of their films and a post-screening discussion.
Sam is in pre-production on a historical documentary that examines the depiction of transgender people that permeate popular culture and the attitudes behind them throughout the history of North American media.
Feder's work continues to raise the bar in trans-film and transgender media representation. They have been honoured with a number of national grants, fellowships and residencies from The Jerome Foundation Grant, Frameline Completion Fund, Crossroads Foundation, Funding Exchange, Astraea Foundation for Social Justice, and The John D. and Catherine T. MacArthur Foundation.
They were an ongoing fellow at the Ellen Stone Belic Institute for the Study of Gender in the Arts and Media (2007-2013), were granted a 2013 Yaddo Artist Residency and a 2013 MacDowell Colony Fellow Residency.
---
Transgender Activist Kate Bornstein hosts intimate campus chat
Our 2016 Distinguished Arts Speaker is the remarkable Kate Bornstein, who tackles the issue of gender identity head-on in both her personal and writing lives with vibrant humour and salty sarcasm. Read more on how
"Auntie" leads the way
.
---
Presented by
Kate Bornstein and Sam Feder are 2016 winners of the Mount Royal University, Faculty of Arts, Arts Distinguished Speaker Series. The winner of the award is someone who would typically, through her/his scholarship, advocacy, or service, be considered as a champion for advancing the importance of the Arts and/or Social Sciences.