G. Willow Wilson and Ms. Marvel


Smash cultural boundaries. Embiggen thought processes. Warp through stereotypes.
Co-creator and writer of Ms. Marvel, the first teenage, Muslim and female superhero comic book, G. Willow Wilson is coming to MRU's campus to discuss how graphic novels can effectively grapple with tensions between the west and east and contribute to positive dialogue.
G. Willow Wilson will autograph books after the talk.
Event DetailsNov. 4, 2016
7 p.m.
This event is free. RSVP at mru.ca/msmarvel
For more information, please contact Richard Harrison, professor, Department of English, Languages, and Cultures.
Bella Concert Hall
Taylor Centre for the Performing Arts
Mount Royal University
4825 Mount Royal Gate SW
Click here for more information on directions and parking to the Taylor Centre for the Performing Arts.
---
A true character "for the ages," Ms. Marvel (AKA Kamala Kahn) is young, sassy and modern. She is a Pakistani-American born in Jersey City who gained her powers through Kree technologies, when a Terrigen Mist activated a latent genetic mutation that allows her to shapeshift - grow very large, shrink to the size of an ant, and choose certain parts of her body to "embiggen."
The female complement to Captain Marvel and the 21st century version of Carol Danvers, Ms. Marvel is the first all-at-once teenage, Muslim and female comic book superhero. Khan not only struggles with trying to hide her identity while pursuing the bad guys constantly invading her city, she also has to balance her upbringing and beliefs in a world where her cultural philosophies can seem as strange as her powers. All of this makes her an unusually approachable and contemporary character.
"Ms. Marvel has captured the imagination of new readers and readers who have not seen themselves on the main stage of the superhero universe before," says Lee Easton, PhD and English professor at Mount Royal.
Khan provides a bridge between what makes us all human (family, school and work responsibilities, religious identity, indecision and lack of confidence), and what can also make us all a little super-human, such as using what we're good at to join together to fight evil.
"I think Ms. Marvel came along at exactly the right time in the comic book world, and has gone back to what made Marvel famous: dealing with vagaries and challenges of being a young person, but updated for a young woman in 21st century America," says Easton.
Also created by editors Sana Amanat and Stephen Wacker, and illustrated by artist Adrian Alphona, in recent Ms. Marvel editions Khan has also become part of the Avengers, often seeking the advice of long-time battlers-of-evil such as Wolverine, Iron Man and Spider-Man. She has also joined the Champions, a teenage group of superheroes that spun off on their own due to the aftermath of Civil War II. Set to become a permanent and important part of the Marvel Universe, Khan is truly "marvel-ous."
---
About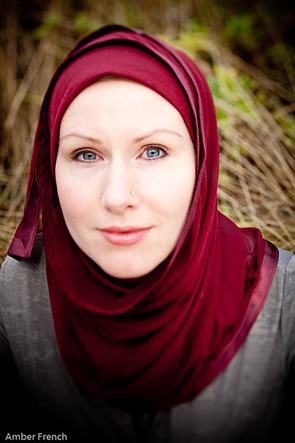 G. Willow Wilson is an author of exceptional talent and courage. Her writing tackles, across multiple genres, the most pressing issues of our time including religious intolerance and gender politics.
An American convert to Islam, Willow lives today in both Egypt and the United States. Her articles, graphic novels and books reflect her extraordinary cross-cultural experiences with remarkable originality and insight. She is the author of two books, five graphic novels and two comic book series including the groundbreaking Ms. Marvel.
In a field typically dominated by male novelists Willow stands out no less than the strong female characters she creates. Her first novel, Alif the Unseen, was a contender for the Orange Prize and was awarded the World Fantasy Prize. Her comic book series Ms. Marvel, called "pitch perfect" by The New York Times, won the Hugo Award for Best Graphic Story.
Willow was the first westerner to be granted a private interview with Sheikh Ali Gomaa and her articles about the Middle East and modern Islam have appeared in The New York Times Magazine, The Atlantic and The Canada National Post. Her memoir about life in Egypt during the waning years of the Mubarak regime, The Butterfly Mosque, has served as a common read for communities and campuses across the country.