International Humanitarian Law Conference 2016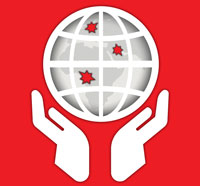 Humanitarianism in an Age of SecurityCanadian Red Cross and the Department of Economics, Justice, and Policy Studies at Mount Royal University are hosting a conference focusing on International Humanitarian Law. Discussion will centre on International Humanitarian Law and its relevance in an age of security. The conference will bring together experts to discuss the challenges and controversies.
Event DetailsMonday, March 7, 2016
1-4:30 p.m.
To guarantee a seat, please RSVP at http://evite.me/c1D69UkfSJ
Lincoln Park Room, J301
Mount Royal University
4825 Mount Royal Gate SW
For more information, please contact Claudine St-Jean, Associate, Operations Support, Calgary, Canadian Red Cross, Western Zone.
About Panelists
International Committee of the Red Cross
Chris Harland
Legal Advisor in the Regional Delegation for the United States and Canada
Mount Royal University
Kelly Sundberg, PhD
Associate Professor, Department of Economics, Justice, and Policy Studies
Presenter
Canadian Red Cross
Catherine Gribbin
Senior Legal Advisor - International Humanitarian Law
Moderator
Mount Royal University
Duane Bratt, PhD
Chair and Professor, Department of Economics, Justice, and Policy Studies
Emcee
Pakistan Television News
Israr Kasana
Journalist/Host (and Red Cross volunteer)