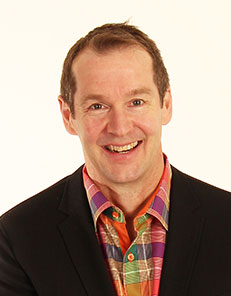 Dr. Brad Clark
Broadcast Media Studies Professor
Dr. Brad Clark worked as a journalist for 20 years in both print and broadcasting before entering
the academy. At the Canadian Broadcasting Corporation in the 1990s he worked on an award-
winning investigative unit for CBC Radio in Edmonton, and became a national reporter based in
Calgary in 2000. His assignments included features on the oil industry under Hugo Chavez in
Venezuela, the Winter Paralympics in Salt Lake City, and the 2004 Summer Olympics in
Athens, when the games returned to their Greek roots. In 2006, Brad left the CBC to teach in the
broadcast diploma program at what was then Mount Royal College. When the college became a
university, he enrolled in a doctoral program at Charles Sturt University in Australia. His
dissertation examined network television news representations of Indigenous Peoples and
racialized groups in Canada. His subsequent research has focused on diversity, equity and
inclusion in news, social media, and eSports, and podcasting as an emerging and inclusive digital
medium.