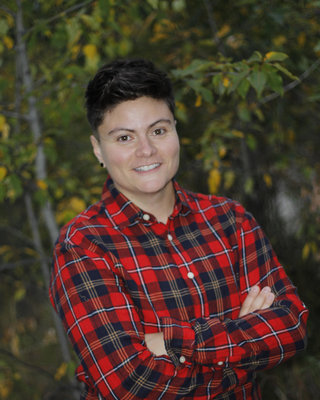 My social work career began as a youth and family counsellor, working with residential treatment centers and group homes. After obtaining my master's in clinical social work I became a mental health counsellor specializing with families and adolescents struggling with complex trauma and addictions. Currently, I specialize in providing couple's therapy with a focus on sex and intimacy with diverse gender and sexual identities and non-monogamous relationships. Gio uses the pronouns they/them. 
Areas of instruction
Emerging Issues 

Mental Health

Research
Areas of scholarship
Clinical Social Work  

Social Work Professional Practice  

Couples Therapy and Sytemic Approaches 

Diversity and Inclusion 

Sex Therapy
Selected Publications
Dolcecore, G., Akapnitis, I., Jenkins, G., Klemmer, C. (2020). Substance use and transgender nonbinary populations. In Social Work and health care practice with transgender and nonbinary individuals and communities: voices for equity, inclusion, and resilience. Routledge, Taylor & Francis Group. 10.43249780429443176-10
Walsh, C., Mulligan, C., Dolcecore, G. (2016). Social work and sexual diversity: A review Al Krenawi, A., Graham, J.R., Habibov, N. (Eds), Diversity and Social Work in Canada (Chapter 12). Don MIlls, ON: Oxford University Press.
Selected Media 
Pride struggles to 'balance' competing interests of minority groups - CBC
Calgary's Dyke and Trans March - GayCalgary.com
This counsellor is helping more 2SLGBTQ+ people become therapists and social workers - Calgary Journal