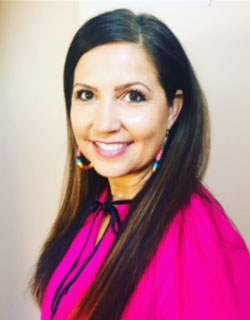 Audra Foggin, MSW, RSW, BA
Academic Title: Associate Professor
Degrees
MSW, University of Calgary
BSW, University of Calgary
BA, University of Lethbridge
Phone: 403.440.8976
Email: afoggin@mtroyal.ca
With a background in Child and Family Services, Audra's interests are in community collaboration, mental health, anti-racism, anti-oppressive practices, mentorship and Indigenous knowledges. Audra is a member of the ACSW and a Registered Social Worker.
Areas of Instruction 
Social Work with Communities 
Addictions and Mental Health 
Indigenous Knowledges in the Helping Profession 
Leadership and Interprofessional Practice 
Professional Communication 
Areas of Scholarship 
Child Welfare 
Indigenous Knowledges
Anti-Racism
Decolonial Pedagogy
Selected Publications 
Bearchief, R., Audra, F., Karen, P., & Donna, S. (2020). Ai so kso tsipa iisko tsiki: (Dismantling the past). Decolonization through education using the Anitopisi framework:from irrelevance to relevance.
Choate, P., & Foggin, A. (2020). Truth, reconciliation and social work. SWSD Annual Social Work , Social Development Conference.
SWSD Joint World Conference on Social Work, Education and Social Development. Foggin, A. C., & Smith, D. (n.d.). Doing no harm: the role of the ally in Indigenous social work practice. SWSD Annual Social Work, Social Development Conference
Tortorelli, C. D., Dean, Y. Z., Ferguson, M. J., Foggin, A. C., Choate, P. W., Adams, G., … Kaur, S. (2020). Supporting Success with International Students in Social Work Education. International Federation of Social Workers.
Selected Presentations 
City of Calgary Town Hall Forum on Racism City of Calgary A call for community members from the Black, Indigenous, People of Color to discuss racism and experiences within the City of Calgary. Recommendations and strategies were discussed. July 17, 2020
Community Collaboration through Changemakers Studio, Equine Therapy Project.
Foggin, A. C., & Littlelight, B. (2020). Anti-Racism In Alberta. https://www.youtube.com/watch?v=7Uu0Dzo_exY 
Raven, S., & Audra, F. (2020). Discussion about Decolonial Pedagogy. Video Recording.