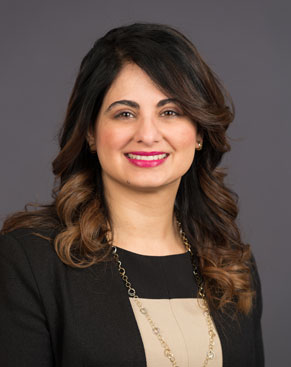 Academic title: Professor
Office: Y458
Phone: 403.440.8631
Email: adosani@mtroyal.ca
Education
PhD (Population/Public Health), University of Calgary, Faculty of Medicine, Department of Community Health Sciences
MPH (Health Policy Research), University of Alberta, Faculty of Medicine and Dentistry, Department of Public Health Sciences
BN (with Distinction), University of Calgary, Faculty of Nursing
Aliyah Dosani, RN, BN, MPH, PhD, is a Professor in the School of Nursing and Midwifery, Faculty of Health, Community and Education at Mount Royal University in Calgary Alberta. She is also an Adjunct Associate Professor in the Department of Community Health Sciences, Cumming School of Medicine, at University of Calgary in Calgary. She holds a PhD from the University of Calgary with a specialization in population/public health. Her nursing practice includes instructing students in the Bachelor of Nursing Program, population/public health, community health nursing, and legal issues in nursing. Her work focuses on maternal, newborn, and child health. Her research interests include working with at risk populations through community-based programs and interventions. She also shares a passion for global health issues. She is Lead Editor of Community Health Nursing: A Canadian Perspective.
Areas of Instruction
Community Health Nursing, Population Health, Public Health, Global Health
 Scholarly Interests
Maternal, infant, and child health

Community Health 
Social Justice & Health Equity 
Population/Public Health
Global Health
Recent Publications
Stamler, L.L., Yiu, L., Dosani, A., Etowa, J., & van Daalen-Smith. (Eds.) (2020). Community Health Nursing: A Canadian Perspective, 5th Edition. Toronto Ontario: Pearson. (Role: Lead Editor; Status: In Print)
Premji, S. S., Reilly, S., Currie, G., Dosani, A., Oliver, L. M., Lodha, A. K., Young, M, Hall, M., & Williamson, T. (2020). Experiences, Mental Well-Being and Community-Based Care Needs of Fathers of Their Late Preterm Infants: A Mixed Methods Pilot Study. Nursing Open, 7, 1027-136. https://doi.org/10.1002/nop2.370
Dosani, A., Lind, C., Loewen, S. (2019). Concept Mapping: An Innovative Tool to Teach Critical Community Health Nursing Using the Example of Population Health Promotion. Witness: The Canadian Journal of Critical Nursing Discourse, 1(2), 30-48. https://doi.org/10.25071/2291-5796.29.
Fast, O., Uzoka, F. M., Cuncannon, A., Fast, C., Maduka, T., Dosani, A., Nyanza, E. C., Fast, D. (2019). Assessment of the Impact of Education and Mentoring on Sterile Processing in Northwest Tanzania. Antimicrobial Resistance and Infection Control, 8(183). https://doi.org/10.1186/s13756-019-0633-0
Murthy, P., Dosani, A., & Lodha, A. K. (2019). Acid Suppression in Neonates: Friend or Foe. Indian Pediatrics, 56, 541-546.
Currie, G., Dosani, A., Premji, S. S., Reilly, S. M., Lodha, A. K., & Young, M. (2018). Caring for Late Preterm Infants: Public Health Nurses' Experiences. BMC Nursing, 17, 16. https://doi.org/10.1186/s12912-018-0286-y
Selected Presentations
Richardson, D., Myllykoski, H. & Dosani, A. (February 28, 2019). Nursing Outside the Box: What TB Can Tell Us About Global Health and the Power of Nurses to Change the World. Mount Royal University Public Talk. Calgary, Alberta. (Role: Invited Panel Discussant)
Jorgenson, K., Dosani, A., Singhal A. (April 24, 2018). Positional Head Shape Abnormalities: Prevention, Assessment, and Intervention. Neonatal Grand Rounds, Department of Pediatrics, Cumming School of Medicine, University of Calgary & Alberta Health Services, Calgary, Alberta. (Role: Invited Speaker)
Van Daalen-Smith, C. & Dosani, A. (2019, May). Towards Gender Transformativity in Community Health Nursing Practice. 2019 National Community Health Nursing Conference: Harnessing the Power of Community Health Nursing. Saint John, New Brunswick. Workshop
Etowa, J., Dosani, A., & van Daalen-Smith. (2018, June 28). Critical Community Health Nursing: A Canadian Call to Action. 60 Minute Engaging Open Session Format at the 2018 Annual Community Health Nursing Conference from June 26-28, Regina, Saskatchewan. (Role: Presenter)
Premji, S., Dosani, A., Reilly, S., Currie, G., Oliver, L. M., Lodha, A., Young, M., Hall, M., & Williamson, T. (2018, February 14). Fathers of Late Preterm Infants and Their Experience with Community-Based Care. Abstract and Poster presentation at the 5th Canadian National Perinatal Research Meeting from February 14-17 at the Banff Centre, Banff, Alberta. (Role: Presenter)
Community Service
National Child Health Lead, Aga Khan Health Board for Canada (2016-2019)
Community Health Nurses of Canada, The Standards and Competencies Standing Committee (2019 - Present)
Generations: A Multigenerational Housing Community, Policy, Procedures, and Operations Committee (2019 - Present)