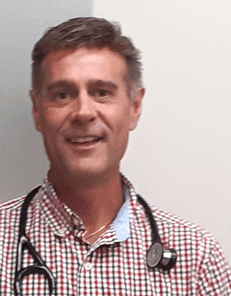 Academic title: Associate Professor

Education
PhD, University of Calgary, Cumming School of Medicine
MN-ANP, University of Alberta
BScN (honours), University of Alberta

Contact Information
Email: gtrueman@mtroyal.ca
Phone: 403.440.6109
Gregg Trueman, PhD, is a primary care nurse practitioner with a clinical and scholarly background in Calgary's inner-city. His PhD from the University of Calgary Cumming School of Medicine sampled the College of Physicians and Surgeons of Alberta nine medical sub-specialties to examine the impact co-worker's feedback had on improving physician practice.
Clinically, Gregg follows street-involved men providing primary care to those who live marginalized by poverty, chronic pain, addiction, gender, mental health, and chronic disease. He is an active advocate for nurse practitioner integration in Alberta and across Canada.
Gregg teaches in the 4th year of Mount Royal University's Bachelor of Nursing program and acts as an external examiner for PhD candidates at the University of Calgary and the University of Twente. He is published in primary health care, gender, and hospice palliative care and is presently building a program of research looking at opioid use disorder in southern Alberta.

Areas of Instruction
Integrated Professional Practice
Transition to Independent Practice
Hospice Palliative Care
Elder Health
Adult Health

Areas of Scholarship
Opioid Use Disorder
Palliation
Gender
Primary Health Care
Selected Presentations
The Patient Voice: How Expert Nurses Support Diabetes Self Management on the Street
Co-worker Assessment and Physician Multisource Feedback. Transforming Healthcare Through Excellence in Assessment and Evaluation
Visual Narrative Illustrations: A Novel Teaching and Learning Strategy in Undergraduate Nursing Education
Using Dyads to Foster Collaborative Learning in the Clinical Setting: A Qualitative Nursing Inquiry. Education for Leadership: Imagining the Possibilities
Primary Hospice Palliative Care in the East Village: From Diagnosis to Death, A Nurse Practitioner's Patient.

Relevant Community Service
Calgary Drop-In Centre (outreach)
Alpha House (outreach)
Mustard Seed (outreach)
High Country Equestrian Centre