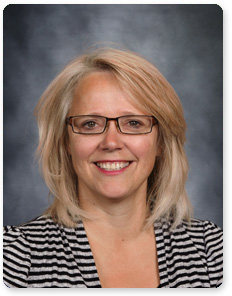 Academic Title: Associate Professor
Office: Y453
email: jbouma@mtroyal.ca
phone: 403.440.6578 
Education
MN, University of Calgary
BN, University of Lethbridge
RN, Foothills Hospital of Nursing
 Joanne's nursing career has included ICU/ED, rural Alberta, and northern outposts. Her post-secondary teaching career is focused in the undergraduate Bachelor of Nursing Program. She is very engaged in supportive learning environments both in the classroom and in clinical settings and offers one on one student support in the area of learning strategies. Joanne also works with NCLEX repeat writers from various nursing programs. She maintains current clinical practice as an ICU nurse.
Areas of instruction
Medical/Surgical Nursing: Adult

Pathophysiology

Pharmacology

Clinical coordination in medical/surgical acute care

Nursing Management of Care
Areas of scholarship
Support of struggling students
Use of learning strategies for student success
Cross disciplinary teaching
 
Selected Presentations
Western Northern Regional Canadian Schools of Nursing (WNRCASN) Feb 2019. Edmonton. Presentation: "I don't know how to pull it all together". Concept Mapping and Nursing Care Plans: Strategies to Help Struggling Students.
International Society for the Scholarship of Teaching and Learning (ISOTL) Oct 2018 Bergen, Norway: Presentation: "Student perceptions of using concept maps over four years", Concurrent Workshop: Concept maps: "What to do with complex learning artifacts in SoTL?"
Western Northern Regional Canadian Schools of Nursing (WNRCASN) Feb 2018 Presentation: Bringing knowledge forward: Linking disciplines in a nursing program.