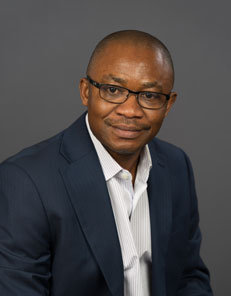 Academic Title: Professor

Office: Y452
Email:josuji@mtroyal.ca
Phone: 403.440.6559
Education
PhD, University of Calgary
MN, University of Calgary
BN, University of Nigeria, Nsukka (Enugu Campus)


Professor at the School of Nursing & Midwifery, Mount Royal University, Calgary. He is a Carnegie scholar and holds a visiting scholar appointment with the University of Nigeria, Nsukka. His current teaching assignments are Medical-Surgical Nursing, Pharmacology, Pathophysiology, Community Health, Chronic Disease Management, and Advanced Biostatistics. Dr. Osuji has published widely, has authored and contributed chapters on Medical/Surgical Nursing, Research Methods, Pharmacology, and Chronic Disease Management. Dr. Osuji has received major fellowship awards, research nominations, and academic awards for his work. He is interested in research questions that deal with the social determinants of health, homelessness, social justice and poverty, soft computing modelling and informatics, teaching and learning processes in students, clinical reasoning among Registered Nurses, and nursing workforce turnover and retention. He has been published in several peer-reviewed journals and has presented on related topics in conferences, both locally and internationally. Prof. Osuji is the proud husband to Mrs. Genevieve Osuji and the father of three girls and two boys.
Areas of Instruction
Pharmacology
Pathophysiology
Medical/Surgical Nursing
Biostatistics
Chronic Disease Management
Areas of Scholarship
Medical and Nursing informatics

Homelessness

Teaching and learning processes

Clinical reasoning

Nursing workforce turnover determinants
Selected Publications
Osuji, J., Onyiapat, J., El-Hussein, M., Iheanacho, P., Ogbogu, C., Ubochi, N., & Obiekwu, A. (2019). "Relational Transformation": A Grounded Theory of the Processes Clinical Nurse-Educators (CNEs) Use to Assist Students Bridge the Theory-Practice Gap. American Journal of Qualitative Research, 3(2), 71-86. https://doi.org/10.29333/ajqr/6435
El Hussein, M., Osuji, J. C., & Hirst, S. (2017). Clinical reasoning processes to recognize delirium: comparing Registered Nurses (RNs) with Licensed Practical Nurses (LPNs). International Journal of Qualitative Methods, 16 (1).
Osuji, J. C. & Hirst, S. (2015) History of abuse and the experience of homelessness: A framework for assisting women overcome housing instability. Housing, Care and Support 18(3/4), 89-100.
Selected Presentations
Osuji, J. C. & Chinweuba A. (2018). Deconstructing theory-practice relationship in nursing: A grounded theory of the processes nurse educators employ to assist Students Bridge the gap. 4th World Nursing and Health care Conference, Rome Italy Aug. 20-22, 2018. Role- Presenter.

El-Hussein, M., Osuji, J., & Salyers, V (2016). Delirium in the Emergency Department: The Emerging Epidemic. National Emergency Nurses Association, Annual Conference. April 22, 2016. 2016. Montreal (Quebec). Role- Presenter and co-author.

Osuji, J.C., El-Hussein, M., & Hirst, S. (2014). Tri-Contextualizing Delirium: A nursing model for the recognition and management of delirium in older adults. Alberta Gerontological Nurses Association, Annual Conference, April 05, 2014. Red Deer Alberta. Role-Presenter.
Relevant Community Service
2016çPresent: Nursing Education Perspectives (Conference and Journal abstract reviewer).
2014–Present: Canadian Institute for Innovation and Development (CANIDEV), (International Conference abstract reviewer and conference co-chair)
2013–Present: National book drive for Nursing departmental Library donation, International
2017: Invited Member Masters in Nursing Curriculum development committee for Imo State University, Nigeria, Department of Nursing Sciences