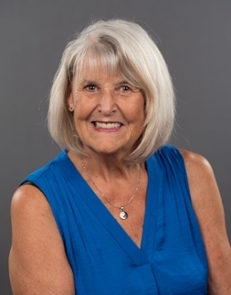 Academic Title: Associate Professor
Office: Y358
email: jwoods@mtroyal.ca
phone: 403.440.6213
Education
PhD, Pacific Western University
MEd, Univeristy of Manitoba
BN and BA, University of Manitoba
In 45 years of nursing, I have been privileged to teach in general nursing, ICU, community, mental health, geriatrics and environmental health as general duty nurse, nursing educator, clinical educator, director of two schools of nursing, and senior health consultant for the City of Calgary. Each opportunity has shaped my belief that creating a positive environment and a safe space allows learners to become empowered, to think critically and creatively and develop new insight and knowledge about learning and their responsibilities. Learners need to openly discuss their findings, think out loud, take risks by integrating new ideas for learning and practice, evaluate their effectiveness, challenge themselves by exploring the unknown, improve their skills and abilities and feel satisfaction and pride in their overall performance. Adult learners make a very conscientious choice about the path they will take on their career journey and I endeavor to walk that path with them.
Areas of Instruction

Health Promotion 1 
Theoretical Foundations of Nursing
Transition to Independent Profession Practice
Integrative Healing Practices (for 4th year nursing option)
Senior's Health
Scholarly Interests
2019 - ongoing - RN's role in patient health outcomes using Electronic Medical Records. This paper will demonstrate that there is a bigger role for RNs in the primary care seting in terms of collaborating with clients whose lab values/collected data trend is indicating a potential health issue or risk (clients are identified through the use of EMR filters) using an upstream approach and following up with clients to evaluate the health care plan/progress. (Role: Co-Investigator)

2016 - 2019 - Use of Electronic Medical Records for Registered Nurses in Primary Health Care Settings - Electronic medical records (EMR) are now recognized as an essential part of the healthcare landscape. Their ability to organize client health information and encounters, track trends in the health status of clients, and enhance clinical office workflows has greatly improved care( PricewaterhouseCoopers, 2015, p. 9). The inherent database analytic capabilities within EMR's allows for client health information to direct care in a proactive and collaborative manner. At the present time, there is minimal research on the roles of Registered Nurses (RNs) in influencing client health outcomes with the use of EMRs. Hence, the purpose of this paper is to examine how the utilization of EMRs by healthcare providers can lead to improved client health outcomes, proactivity and increased client self-management of disease, collaboration and communication between healthcare providers and clients, and improved client satisfaction. (Role: Co-Investigator)

2012-2014 - Transfer of Learning from a Simulation Learning Setting to the Clinical Setting". SoTL project designed to investigate the following: "Are purposeful instructional strategies designed to reduce anxiety and improve performance of first year nursing students transferable from the simulation learning setting to the clinical setting? (Role: Principal Investigator)

2011 - 2012 - Reducing Anxiety in First Year Nursing Simulation Labs - Anxiety in first year nursing in the laboratory setting". Research project was designed to investigate the following: Do structured instructional strategies within a first year nursing laboratory setting decrease anxiety, resulting in increased student performance? (Role: Principal Investigator)

 
Recent Publications
Submitted June 2019 to the journal "Computers, Informatics and Nursing: "The Health Impact of Electronic Clinical Tools within Primary Health Care", Woods, J.M., Choi, L., Tea, Kathy and Tea, Keely. Under peer-review
November 2019 - Woods, J.M. "Teaching Tips to Consider for Your Classroom: 7 teaching tips to consider for your classroom: what is the one teaching tip, tool or technique you can't live without?
Larsen, P., & Woods, J. (2012, December). Complementary and Alternative Therapies. In. ( , Ed.), Chronic Illness (pp.1). Burlington, MA: Jones and Bartlett Learning. (Status: Published).
Woods, J.M. (2012). Indoor Air Pollution, the Silent Killer, 4th Edition. Calgary, Alberta: Self-published. Currently working on 5th Edition - (Not yet completed)
Selected Presentations
Woods, J. (2011, June 3). Children Run Better Unleaded. Presented at Improving Health for Children: What Works? (Waskesiu, Sask) (Accepted). (Role: Invited Speaker)
2011, November 1. "What is Being Well".Presented at Women's Resource Center, Alberta Health Services monthly seminars, Women's Resource Center, Foothills Medical Center, Calgary. Role: Invited Speaker
2010, May. ""Am I Losing My Mind?"". Presented at BodyWorld - Telus World of Science, Gunther von Hagens BodyWorlds, The Original Exhibition. Of "The Brain". Invited Speaker
2010. "Learning Contract and Dealing with Difficult Students". Presented to Sessional nursing instructors from University of Calgary, Mount Royal University and Bow Valley College, Clinical Teaching Collaborative. Invited Speaker
2010. "A basic environmental health assessment of group child care settings", MRU Faculty Scholars' Showcase
Service
2014 - present. Coordinator for nursing students to participate in Calgary Flames Wellness Camp - Annual Event
2009 - present - Advisory Board Member, with Coalition for Healthy Calgary
2016 - present - Advisory Board member - Eco Village China
2007-2015 - Advisory Committee Member, with Integrative Health Institute at MRU
2006 - present. Consistently present to community interest groups on the following topics: "Am I Losing My Mind", "Mark My Words: early signs of dementia", "Obesogenics", "Is My Home Making Me Sick", "What Are My Blood Values Telling Me?", "Children's Environmental Health"