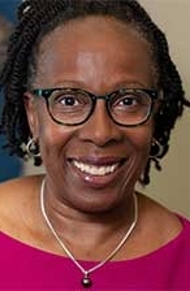 Marva J. Ferguson, PhD(c), RSW
Academic Title: Assistant Professor
Degrees
PhD Candidate, Memorial University, Newfoundland & Labrador
MSW, University of Calgary
BSW, University of Calgary
Phone: 403.440.7083
Email: mferguson@mtroyal.ca
Marva is a social worker, advocate and educator. A graduate of the University of Calgary, she holds a BSW and MSW in social work specializing in Leadership in the Human Services, certificate in Disaster Management, and trainer/facilitator in Mental Health First Aid and Critical Incident Stress Management (CISM).
Marva's current interest is in anti-Black racism, anti-oppression, and critical race theory approaches to social work practice. She encourages students to stay curious and to question knowledge continuously.
Marva's current research interest is in sequence migration with a focus on The Personal Stories of Jamaican Adults who migrated to Canada as Children.
Other teaching and research interest include: " Voices of Immigrants and Refugees in Disaster Management"; "Equity in Education"; " Transnational Feminisms"; "The role of Parents/Grandparents in Family Structures"; "Gender and Sexual Diversity"; " The Complexity of Caregiving from Afar."
Marva sticks close to her Jamaica roots and organises the "Quick Response Project" that provides resources for individuals struggling with the outcome of COVID-19.
Areas of Instruction
Counselling Skills
Introduction to Social Work Practice
Social Work Knowledge and Skills for Group Work
Social Work Assessment and Documentation
Interpersonal Communication
Areas of Scholarship
Voices of Immigrants and Refugees in Disaster Management
Equity in Education
Transnational Feminisms
The Role of Parents/Grandparents in Family Structures
The Complexity of Caregiving from Afar
Selected Publications
Ferguson, M. (2016), June's Story...Getting help after a sexual assault. In S. Hick and J. Stokes (Eds.). Social Work in Canada, 4th ed, p. 269 Toronto ON: Thompson
Selected Presentations 
Ferguson, M. "Voices of Social Workers," Challenging Explicit and Subtle Forms of Racism in Higher Education. Paper presented at the SocialWork History Month, Diversity and Equity Committee, Dalhousie University, March 2021
Ferguson, M., Equity in Education, Transforming Social Work Education, Leading with Passion and Determination in a Changing World. Paper presented at the Black History Month Event, Mount Royal Faculty Association Diversity & Equity Committee and the Women and Gender Studies Program, Mount Royal University, February 5, 2020
Ferguson, M. "I have to Go Back Home": The Complexities of Caregiving from Afar. Paper presented at the Social Protection & Human Dignity, International Federation of Social Workers (IFSW), Vienna, Austria September 10, 2019
Adjei, P., Issahaku, P., Giwa, S., Ferguson, M., Gateri, H., Richard, D., (2018). "An octopus skating, the sensation of moving while standing": The racial diaries of Black social work educators in the era of Donald Trump presidency. Presentation at the Congress of Humanities and Social Sciences, Regina, Saskatchewan, May 31, 2018.
Ferguson, M., Post-migration era: The role of parents/grandparents in family structures, family stability, and sustainability in new Homelands. Presentation at Strangers in the New Homelands, 10th Anniversary Celebration, Conference, Winnipeg, Manitoba, November 2, 2017.
Oliver, B., Van Tassel, B., Ferguson, M., O'Brien, K., (2017) Creating a culture of respect: Delivering gender and sexual diversity curriculum to students in the helping professions. Paper presented at The International Society for the Scholarship for Teaching and Learning Conference (ISSOTL), Calgary, Alberta.
Relevant Community Service
Strategic Plan Implementation Committee
Member, Jamaica Canadian Association
Black Indigenous and People of Colour Committee
Diverse Cultures and Community Impact
Teaching and Learning Committee