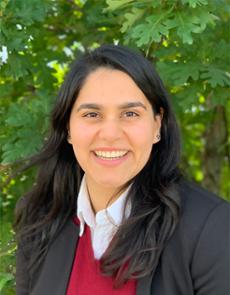 Nausheen Sadiq
Nausheen Sadiq 
Assistant Professor
Degrees:
PhD Chemistry, Queen's University
Office: B233N
Phone: 403-440-8933
Email: nsadiq@mtroyal.ca
Dr. Nausheen Sadiq joined the Department of Chemistry and Physics at MRU in 2021 as an Assistant Professor.  Nausheen will be teaching the introductory and advanced analytical chemistry courses. Her journey began at 5.5 lbs in Lahore, Pakistan.  Being a future globe trotter, she celebrated her first birthday in Saudi Arabia and her second in Canada, her new home!
Nausheen grew up in Calgary, Alberta Canada, home of the Calgary Stampede (the greatest outdoor show in the World)! She obtained her BSc.H. and her Ph.D. in Chemistry from Queen's University in Kingston, Ontario.  Following her time focusing on food safety analysis using ICP-MS (arsenic in Rice) she did a postdoctoral fellowship at McGill University in Montreal, Quebec.  Here her research allowed her to study anti-oxidant and anti-microbial properties using LC-MS. After a year of trying to find the island's best poutine and almond croissant, Nausheen joined the Research & Development team at Brooks Applied Labs (BAL).
Nausheen worked as a research chemist at BAL and developed new methods to conduct food, water, soil and pharmaceutical testing at the elemental level to ensure safety and risk mitigation. Although she will miss seeing Mt. Rainier on a daily basis, Nausheen is thrilled to come back home and to begin a new journey where she will be able to share her love and passion for all things analytical!