Fostering an age-friendly city
Dementia Network Calgary makes public launch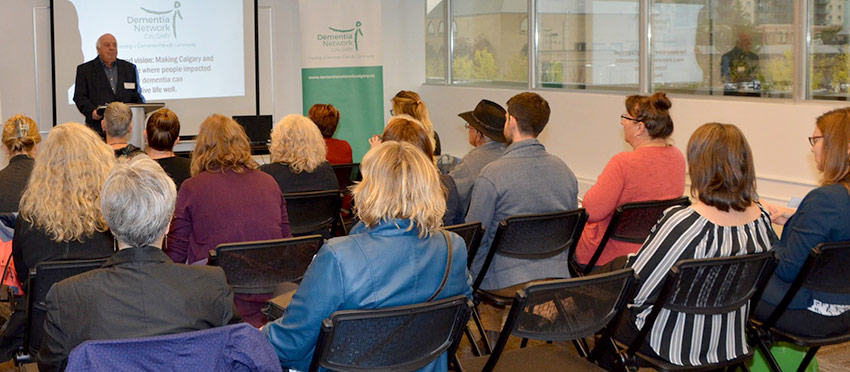 One in five. One in 10.
According to the newly launched Dementia Network Calgary, that's the risk for women and men (respectively) to develop dementia in their lifetime.
And for every person experiencing dementia, the organization states another 10 to 12 are indirectly impacted.
With roughly 12,000 people in Calgary currently diagnosed with dementia, that means 10 per cent of Calgary's population is in some way feeling the despair brought on by dementia - a chronic or persistent disorder of the mental processes caused by brain disease or injury and marked by memory disorders, personality changes and impaired reasoning.
The number is staggering.
Dementia Network Calgary is working towards local solutions to a worldwide issue and shared its message at a media launch on Sept. 21 in downtown Calgary.
Though the organization has operated since 2013, executive director Barb Ferguson says the event was about implementing its strategic plan to activate the public, and ultimately making Calgary a city where those affected with dementia can "live life well."
"If we are really going to make a change in our community around dementia, we need to create a movement around it," Ferguson said in her opening remarks. "And like every great movement, we need to engage the citizens of our city."
Dementia Network Calgary is driven by a collective impact model, addressing social problems with persons across different sectors that are committed to a common agenda.
In these certificate programs, students gain valuable knowledge and skils for application in professional or personal settings.


Advanced Dementia Care Extension Certificate
- as a health care professional you will explore current research and best practice knowledge in dementia care.


Dementia Care Certificate of Completion
- gain insight on the challenges of dementia care and how to best support patients and their families dealing with a dementia.


Dr. David Hogan of the University of Calgary estimates that because of the aging core population, the number of people with dementia in Canada will double from 500,000 to 1 million in the next 15 years.
The reason behind the steady increase in dementia remains a mystery, but Mount Royal's Sandra Gordon, associate professor in the School of Nursing and Midwifery who teaches health for seniors, points to possible changes in stress levels, diabetes and overall lifestyle shifts.
She and Hogan agree on one correlation with dementia - aging.
Gordon has played a key role in the organization as one of its founding partners. Her experience in geriatric care and role in education lends itself to a unique learning experience for students.
"There is a prevailing stigma around dementia. It's not treated like heart disease or cancer is," Gordon said. "We first need to transform the thinking around it."
Diverse sectors were present at the media launch. Speakers included representatives from the United Way, the Brenda Strafford Foundation and the University of Calgary, as well as Calgary's own NHL broadcasting icon Peter Maher, who's experienced firsthand the challenges of a family member affected by dementia.
Each speaker had their own personal connection to the cause, and most were living, or had lived with, an affected loved one.
Beth Gignac, chief operations officer of the United Way, described the importance of understanding how a person can consider themselves a part of a community versus being apart from it.
"We all suffer, we're all vulnerable at any point in time, but together we are a community," she said.

Dementia is an umbrella term that can be used to refer to the symptoms caused by diseases such as Alzheimer's, Parkinson's and Huntington's.
Symptoms are progressive, and there is currently no cure.
Third-year MRU nursing student Emily McCabe, a student of Gordon's, says her perception and understanding of dementia has changed since studying the disease process.
McCabe has witnessed her grandmother enter and progress through severe vascular dementia. She credits her schooling, in part, to how she's learned different ways to respond to her grandmother.
"Seeing my grandma go through the process is very hard. As a nurse, it makes me want to reach out to more patients so they can have a higher quality of life," McCabe said. "They shouldn't have to lose out on life just because they have some sort of impairment."
Calgary establishments, such as City of Calgary recreation facilities and the Calgary Airport Authority, have begun to train employees in dementia. Ferguson's dream for the Dementia Network is to have the capacity to apply this training and education city-wide.
The organization recently published Dementia Connections, a magazine headed by Lisa Poole. Poole works with the Brenda Stafford Foundation and is a member of the Dementia Network's strategic council.

"The purpose of the magazine is to reduce fear, stigma and shame and increase public awareness around dementia," Poole said. "It offers information and can act as a resource for families and those who are interested in learning."
McCabe's perspective echoes the sentiments of the overarching goal of Dementia Network Calgary.
"We make places wheelchair-accessible, why not make them dementia-accessible?"
Oct. 5, 2017 — Nicole Herback

Media request contact information.
Have a story idea? Please fill out this form.