Employers value MRU's Continuing Education programs
Career fair highlights demand for Massage Therapy and Personal Fitness Trainer grads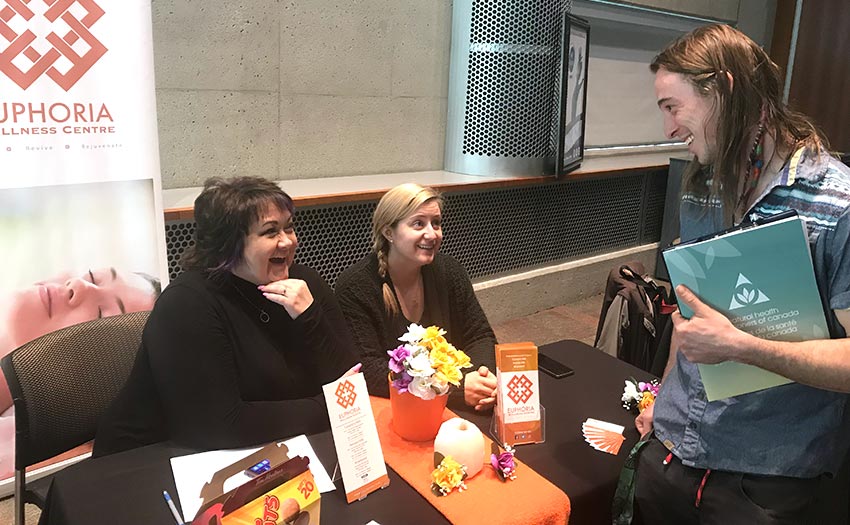 You know you're doing something right when employers line up to hire your students.
That's the case with Mount Royal University's Massage Therapy and Personal Fitness Trainer Diploma programs, which hosted their sixth-annual career fair recently.
"We originally created the event because the demand from employers who want to speak with our students is so high. It's grown every year," said Gillian Lebel, program coordinator with Mount Royal's Centre for Extension Credit. "Our students are highly valued because of the experience they get with our hands-on practical training in conjunction with the rigour of our programs."
Second-year massage therapy student Will Tanner navigated the crowds in Ross Glen Hall to spend time at numerous employer booths. He was looking to speak with potential employers to gauge how he might fit into their practice, and how they might fit into his longer-term career goals.
"I want to build experience in spa and clinic settings and learn as much as possible. I really want to keep my education going," the 26-year-old said.
The two occupational diploma programs at Mount Royal include academic, practical and experiential learning in the community. They're designed to be flexible and geared toward the needs of students. The programs appeal to students from all walks of life, from recent high-school graduates to those looking to start a new career.
More than 30 employers attended the event, ranging from fitness facilities to rehabilitation clinics to spas. Some, like the Calgary Winter Club, were looking to hire grads from both programs. Students created relationships with potential employers, as well as explored a variety of careers. The fair also included representatives from Alberta's three massage therapy associations.
"We have employers who return to the career fair every year," Lebel adds. "They have hired MRU grads for a long time because they know the quality of education our graduates receive. And they want more of them every year."
Euphoria Wellness Centre was among those repeat visitors. Shawna Milutinovic, director of operations, says the centre employs 30 to 35 massage therapists at its three locations. And she definitely has a preference when it comes time to hire.
"Mount Royal continues to have the most professional, well-informed graduates. It's the truth," Milutinovic said.
She was accompanied at the career fair by Sabrina Fulmer, lead therapist at Euphoria Wellness Centre. Fulmer, who graduated from Mount Royal's program, says the field is continuing to grow as people look to massage therapy as a non-prescription means to treat a variety of medical conditions.
For more information, visit MRU.ca/Massage and MRU.ca/PFT.
March 21, 2018 — Ruth Myles
Media request contact information.
Have a story idea? Please fill out this form.