Students help foster a healthy work environment
Capstone human resources course provides actionable recommendationsA fundamental practice at Mount Royal University, Bissett School of Business Human Resources faculty have tactically integrated the Community Service Learning (CSL) teaching pedagogy into the capstone human resources class by arranging a convenient, yet strategic, partner of support in MRU's own Human Resources (HR) department.
"I first connected with Ariane Tennant, the associate vice-president of (the Department of) Human Resources, to pitch this idea, and she was so enthusiastic for both the learning opportunities for the students as well as her department that it was just too good of a fit to not proceed," says Professor Christian Cook, PhD, who teaches HRES 5101 - Strategic Human Resources Management.
She continues, "When seeking a community partner, we actually had the good fortune of being able to consider many organizations. Although with such great expertise in-house, it made a lot of sense to collaborate with an internal rather than external partner."
The feeling was mutual, as described by Tennant.
"I was so pleased that Dr. Cook identified our department as a community partner. It is exciting that we may directly contribute to a number of student success outcomes with a view for fostering employability."
Throughout the university, CSL provides students with the opportunity to apply classroom theory to projects that support community organizations. During the 2015/16 academic year, 25% of MRU students participated in CSL through 42 courses. That translates into nearly 300,000 hours of community service with 475 partner organizations. MRU even hosted a national conference on CSL earlier in 2016.
Cook's capstone class project guides the students to shift their way of thinking from that of a university student to an actual employee of a university, which is a very different perspective.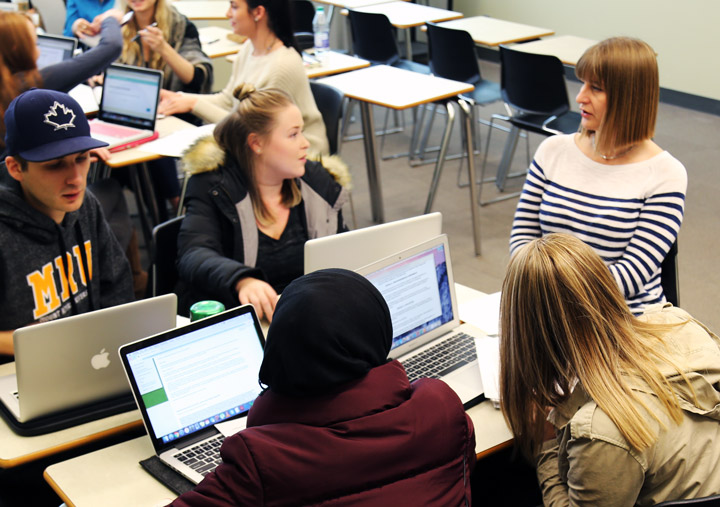 I feel it is a valuable experience for the students to see their University through a new lens and also to gain further experience applying their knowledge to real HR issues and initiatives," says Cook.
Cook's vision to use CSL as a teaching tool in HRES 5101 was comprehensive. She envisioned her graduating class rolling up their sleeves and working directly with a complementary and accessible partner to address the challenges that face complex organizations, as well as supporting an important MRU initiative.
Learning Together, Leading TogetherUltimately, the final project asked students, organized within groups, to collaborate with MRU HR to identify opportunities to move the needle forward and help the department reach the goals outlined in Learning Together, Leading Together - MRU's Strategic Plan to 2025.
"It is an opportunity to take accountability for the Strategic Plan, which I think is important for every campus citizen," says Cook.
She adds, "Personally, I feel the strategic plan is really representative of the entire campus community because first, it is very good, and second, because so many stakeholders contributed to it. It just makes sense that students can have a hand in helping to ensure that we implement the strategic plan."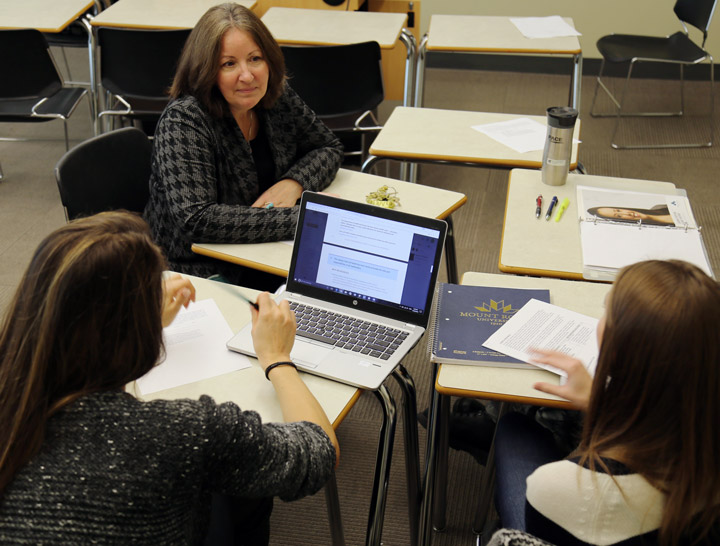 Ravi Chung is an MRU student that was positively impacted by the CSL approach to learning and HR collaboration.
"My team was paired with the associate vice-president of Human Resources, who challenged us to think creatively and to look broadly for possible solutions," says Chung.
"The hard work paid off as I was hired as a summer student to work with the department to implement my team's project." says Chung, who continues to work in the department part-time as he completes his final year in the program.
Capstone projectThe five student projects, each taking approximately 50 to 60 hours to complete and worth 50% of the students' final grades, will play a significant part in preparing students for the working world and help MRU's Human Resources department meet strategy six of the Strategic Plan, which is to ultimately Foster a Healthy Work Environment.
The final projects will address the following areas:
Supporting academic chairs
Benchmarking compensation
Assessment of employment equity, diversity and inclusion practices
Employee benefits
Enabling the launch of the Hazard Assessment and Safety Campaign
Cook says the diversity of the projects has allowed them to be particularly meaningful for students in that they have been able to work on a topic they are passionate about.
Pilot projectCook's plan to combine CSL with the University's HR team was initially executed as a pilot during the 2015 winter semester.
"It was an amazing teaching and learning experience," she says.
"That said, we did learn a few things along the way. As an example, we spent a little bit more time on how to deal with the ambiguity of approaching such large projects and also how to work professionally and effectively in a team when engaged in a cross functional collaboration."
After taking the summer to reflect and speak to various stakeholders within the Department of Human Resources, Cook and the Bissett School of Business deemed the pilot a success to continue. And the value add to MRU's HR department was tangible.
"The students were instrumental in advancing a number of initiatives," says Tennant.
She adds, "The foundation of an employee value proposition is serving to build our new recruitment strategy and employee branding. Insights on benefits flexibility and value will be included in our conversations with the Benefits Committee. Other recommendations have been provided to Environmental, Health and Safety as we continue to foster a healthy and safe work culture."
Presentation dayDec. 2 marks the completion of the class projects where each group will deliver a formal recommendation by way of presentation to the members of MRU Human Resources and several stakeholders whose work is connected to the topic areas.
"The students have the challenging task of consolidating their work over the semester into a 12-minute presentation, which explains the significance of their projects and affords each team the opportunity to present recommendations to their audience - in addition to their comprehensive written research report and recommendations," says Cook.
In the end, this initiative will serve the graduating class well as they prepare to enter the workforce.
"One of my best days at work last year was when I learned a student was successful in getting a job in part because of their learning in their project," says Tennant.
Nov. 14, 2016 - Rob Petrollini