Scholarly award for Dave Marshall
The Canadian Society for the Study of Higher Education (CSSHE) has named an article by Mount Royal President Dave Marshall, PhD, as the best scholarly paper to be published in its flagship journal during 2008.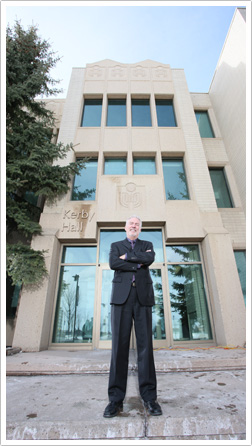 The CSSHE presented Marshall with its Sheffield Award on May 25 during its awards banquet in Ottawa.
"One of the key roles of our society is to recognize excellence in contributions to the study and practice of higher education, and the Sheffield Award is reserved for scholars engaged in high quality, peer-reviewed scholarship," says CSSHE President Keith Archer. "The selection committee emphasized the high quality of research in (Marshall's) article, its timeliness, and its important contribution to a key topic in higher education."
Differentiation by Degrees
The article - Differentiation by Degrees - explores undergraduate education in Canada and how it has changed over the past 15 years. Marshall draws on his 20 years of leadership in post-secondary education to outline the challenges facing undergraduate education in different provinces and to identify solutions for meeting those challenges.
It was published in Volume 38, number 3 of The Canadian Journal of Higher Education, which has a readership of scholars with an academic interest in higher education, and practitioners who hold administrative appointments at universities and colleges as well as government officials and people involved in funding agencies.
"David Marshall's article brought forward important evidence on the changing face of higher education in Canada, and thus contributes directly to policy discussions on the nature of the higher education experience," Archer says.
Marshall says he was a little surprised at being presented with the award.
Tables turned
"As a long-serving president, I've spent most of my working life admiring the outstanding scholarly work that my faculty do," he says. "I can genuinely tell you that this was a surprise and a twist for me to be recognized for my scholarly contribution.
"The important thing to me about winning this award is that I write when I want to impact policy in some way," Marshall says. "In this particular paper, I wanted to give everybody who is talking about undergraduate education a starting point in what's going on in the country so they can make their policy from a basis of fact."
Archer says the Sheffield Award is both an acknowledgement of the excellence of the research in Marshall's article, and an opportunity for it to be more widely read.
"This article meets the highest standards of scholarly excellence, and is highly deserving of the wider dissemination that will inevitably be generated from the receipt of the Sheffield Award.
"We are delighted that Dave chose to submit this manuscript to our Journal, and are equally delighted in providing this article, and the author, the recognition that they deserve."
- Nancy Cope
May 27, 2009